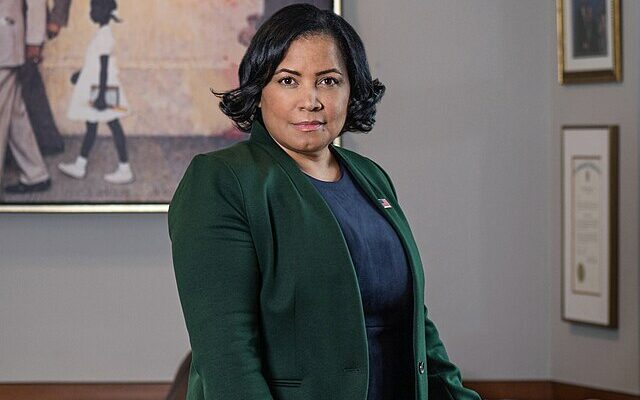 One of Biden's top appointees as a U.S. prosecutor has resigned after reports revealed the blatant misuse of her office for political gain. Politico reports, "The U.S. attorney for Massachusetts, Rachael Rollins, will resign after a lengthy Justice Department ethics investigation into her appearance at a political fundraiser and other matters.
The Justice Department's inspector general hasn't released the final report. But an attorney for Rollins said on Tuesday that she intended to submit her letter of resignation to President Joe Biden by the close of business Friday.
A Justice Department spokesperson had no immediate comment, and a spokesperson for the department's inspector general did not immediately reply to a request for comment."
The position Rollins previously held has often been viewed as a jumping-off point in Massachusetts politics for winning higher office. Still, it's clear that the Biden lawyer could not separate the ethics of her day job from her ambition. 
Last November, The Associated Press reported that "the Justice Department's inspector general has opened an investigation of the top federal prosecutor in Massachusetts, prompted by U.S. Attorney Rachel Rollins' appearance at a political fundraiser featuring first lady Jill Biden.

An investigation by the department's internal watchdog targeting one of the nation's 93 U.S. attorneys — political appointees who are some of the highest-ranking federal law enforcement officials — is highly unusual. The ethics concerns surrounding Rollins threaten to undermine Attorney General Merrick Garland's efforts to restore the Justice Department's reputation for political independence after tumultuous years under Republican President Donald Trump.

The inspector general's office is focusing on Rollins' attendance at the Democratic National Committee event in July as well as her use of her personal cellphone to conduct official business, according to two people briefed on the investigation, which has been underway for weeks.

Also being examined is a trip that Rollins took to California that was paid for by an outside group, they said.
She could only run for a corrupt office for so long, even in a Biden White House that has been criticized for politicizing the Justice Department. 
The Biden-appointed U.S. Attorney for Massachusetts has resigned after a special counsel's investigation found "the most egregious Hatch Act violations" the Office of Special Counsel has ever investigated — calling it "an extraordinary breach of public trust." pic.twitter.com/3AeCCoBC8P

— RNC Research (@RNCResearch) May 17, 2023
Investigators said that after Rollins got the invitation to the Democratic National Committee fundraiser, "she got official advice that she could ethically do a brief meet and greet with Jill Biden outside the home where the fundraiser was held before leaving. Instead, the report said Rollins went inside, joined a receiving line and posed for photos with the hosts and other guests, including a U.S. senator.
Rollins told investigators she had not been aware she wasn't supposed to go inside the home. She believed that as long as she left before the formal fundraising event began, she wouldn't be violating the Hatch Act, her attorney told the Office of Special Counsel.
The inspector general also found that Rollins accepted payment for travel expenses for two different trips without proper approval and flouted federal record-keeping rules by routinely using her personal cellphone to communicate with staff about Justice Department business, according to ABC News.
Reporting also noted that the Inspector General accused Rollins of violating ethics rules after she requested 30 free tickets to an April 2022 Boston Celtics game for a youth basketball team. She also obtained a pair of free tickets to the game for herself and sent a note to a Celtics staff member that read: "Amazing! Yes. Received. Thank you!!!"
In 2018, Rollins won a crowded Democratic primary to become the first black woman to become Boston's district attorney. She was seen as a fast riser who would be a future leader of liberal politics.
She often played to her leftwing base. Yahoo writes, "Taking cues from fellow progressive district attorneys Larry Krasner of Philadelphia and Kim Foxx of Chicago, Rollins said she would no longer prosecute certain crimes, including shoplifting and larceny involving goods valued at less than $250.
One local publication called Rollins "Boston's greatest hope to bring the criminal justice system into the wide, woke 21st century."
In mid-2021, President Biden nominated Rollins to serve as the U.S. attorney for Massachusetts. Again, she would be the first Black woman in that role. The nomination received high praise from Massachusetts Sen. Elizabeth Warren and Sen. Ed Markey, both Democrats, who called her a 'national leader on transforming the criminal justice system.'"
Arkansas Senator Tom Cotton offered quite the I-told-you-so earlier in week when it became apparent that Biden's choice for prosecutor was resigning in disgrace. 
I warned Rachael Rollins was unfit to serve as a U.S. Attorney. Now she's resigning in disgrace.

Good riddance. pic.twitter.com/hazBFR4cTQ

— Tom Cotton (@SenTomCotton) May 17, 2023
Last summer, Cotton lead the charge against Rollins' corruption.The senator delivered a letter to Department of Justice Inspector General Michael Horowitz asking that she be investigated for violating the Hatch Act.
In part, Cotton wrote, "It has been publicly reported that Ms. Rollins attended a high-dollar political fundraiser at a private home in Andover, Massachusetts yesterday. The fundraiser, which featured First Lady Jill Biden and began during typical business hours, was one that Ms. Rollins attended in her official capacity as United States Attorney for the District of Massachusetts. She reportedly even used a vehicle with government license plates to travel to and from the event."
"The Hatch Act expressly prohibits covered federal employees, such as Ms. Rollins, from using their official positions for partisan political purposes, including attending partisan political events in their official capacities. The Hatch Act is intended to prevent the use of official resources for partisan political purposes, but it is also intended to maintain a politically neutral workplace. This is especially true in the context of a United States Attorney, who is supposed to act as a nonpartisan law enforcement official rather than as a partisan politician. Given the apparent blatant violation in this case, I urge you to conduct an investigation into Ms. Rollins's conduct," Cotton continued.
 [Read More: LA Dodgers Endorse Attack On Catholic Nuns]