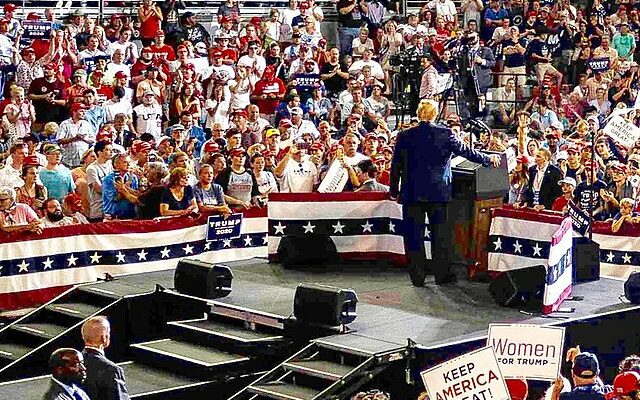 Over the weekend, former President Donald Trump held another campaign kickoff rally. This time in Waco, Texas. At least the third such event since he announced he was running for president in November following the lackluster midterm elections for Republicans, the president fired up crowds and looked to be his same old self. 
Awaiting a potential indictment from hard-left prosecutor Alvin Bragg in New York City this week, NBC News reported, the former president "vowed to destroy the 'deep state' during a campaign rally in this city Saturday, which is in the midst of the 30th anniversary of the federal siege of anti-government cult leader David Koresh's compound. 
'Either the deep state destroys America or we destroy the deep state,' Trump said of the stakes of his bid for a return to the Oval Office.
At the first major rally of his campaign, Trump spoke to thousands of boisterous supporters on the tarmac of a regional airport. Before his remarks, his red, white and blue jet circled the crowd before landing and pulling up behind his stage.
He referred to the administration of his successor, Joe Biden, as the 'Biden regime,' accused Manhattan District Attorney Alvin Bragg of 'prosecutorial misconduct' in investigating him and said 'the Supreme Court didn't have the courage to right the wrong' of his 2020 defeat.
'When this election is over, I will be the president of the United States,' Trump declared. 'You will be vindicated and proud, and the thugs and criminals who are corrupting our justice system will be defeated, discredited and totally disgraced.'"
Trump campaign leaders hope that the rally would ignite a campaign that has been flagging as of late, seeming to take random attacks at Florida Governor Ron DeSantis and underperforming in the all-important fundraising game.
Puck writes, "The $1.5 million that Donald Trump has allegedly raised off his looming indictment appears to be causing some agitation within the former president's orbit, likely because, as insiders will agree, $1.5 million isn't actually a huge sum compared to his past scandal-adjacent fundraising blitzes. After the F.B.I. raid at Mar-a-Lago, for instance, Trump raised $2 million in two days, per The Washington Post. He also raised $40 million in the first quarter of 2021, post-Jan. 6. But his best fundraising days may be behind him, such as when he raised $11.5 million on the day the Access Hollywood tape emerged. Simply put, indictment or no indictment, the grassroots supporters simply aren't opening their checkbook the way they used to.

Obviously, there may be a surge if Trump really is arrested, as he predicted earlier this week. Nevertheless, it just goes to show that Trump is no longer the exception to the small-dollar fundraising drought that has been affecting all Republicans. His defenders say fundraising is down, in part, because of all of the email spam over the last cycle, which suggests that his base is only temporarily tapped out. But if small-dollar fundraising was his super power, he seems to have lost it.

Of course, this is especially problematic for Trump, who can no longer rely on Republican mega-donors to fill the gaps. Indeed, most of the party's prominent moneymen are now swarming around the promise of DeSantis. For months, I've been hearing from top donors that it's not just Trump fatigue or having to bail out his weak candidates last cycle, like J.D. Vance and Blake Masters. Fundraising events at Mar-a-Lago just feel stale, they tell me. Donors are tired of the Trump golf outings, too. It used to feel like an exclusive opportunity when Lindsey Graham and Trump would take 20 to 30 donors out for a round at one of the ex-president's clubs. But these outings have become less special since candidates like Herschel Walker, Dr. Oz, and Vance copied the golf fundraiser playbook at his many golf courses.

Even Trump's New Years events seem to have lost their luster, now that there's a fundraiser every other day at Mar-a-Lago. Perhaps in his money-grabbing fervor, Trump has forgotten that exclusivity still matters to the well-heeled, who would pine to be invited to George W. Bush's Crawford ranch and would be willing to pay whatever it cost to clear brush, or whatever, with him. "Just saying 'we'll have it at Mar-a-Lago'—you're delusional if you think that everyone is dying to go," said a top fundraiser. "It's not like it used to be."
The problem Trump faces comes from the fact that while the former president may dislike DeSantis for not "waiting his turn," most Republicans, even those in attendance at the Waco rally, like him. 
Fox News noted, "During his Saturday campaign event in Waco, Texas, on Saturday, Trump argued that DeSantis had little chance of becoming Florida's governor without the former president's endorsement, with Trump breaking into an impersonation of DeSantis allegedly begging him for his support in the state's 2018 Republican primary.
'So, he came, and he really wanted [my endorsement]. I said, 'You can't win, can you? How do you – can [you] win?' Trump said, recalling the alleged conversation with DeSantis. 'Sir, if you endorse me, I'll win. Please, please, sir, endorse me,' Trump continued as he acted out a crying, begging voice.
While similar jabs against political opponents have been a hit with Trump's crowds during past rallies, those in attendance were noticeably more silent as Trump took aim at DeSantis. Though some in the crowd could be heard laughing or clapping as Trump continued to be critical of DeSantis, the reaction of the crowd was much more silent than when Trump went after other targets, such as the mainstream media.
DeSantis, who has yet to declare a 2024 White House bid, is largely regarded as Trump's biggest rival in the Republican primary field. Having just won reelection in Florida in a landslide, many analysts have noted the governor's growing national profile and popularity in the key swing state as a reason DeSantis could be a legitimate challenger to Trump."
One Trump attack on the Florida governor that has irked many conservatives is the former president's continued praise for Charlie Crist, the former Florida governor whom DeSantis defeated in 2022 by nearly 20 percent. 
Although national polls have shown Trump beating DeSantis, polling of early primary states show a different story. Local polling shows that the Florida governor "is running more competitively with former President Trump in Iowa and New Hampshire than he is faring in national surveys," wrote Axios.
"The surveys, conducted by Public Opinion Strategies from March 21 to 23 for an outside client (not a candidate or super PAC) found DeSantis leading Trump by eight points (45%-37%) in a head-to-head matchup in Iowa and tied with Trump (39%-39%) in New Hampshire."
DeSantis has yet to announce that he is running for president, but is expected to launch a campaign for the White House in May when the Florida legislature goes into recess. 
[Read More: Biden Works To Censor Stories He Doesn't Like]