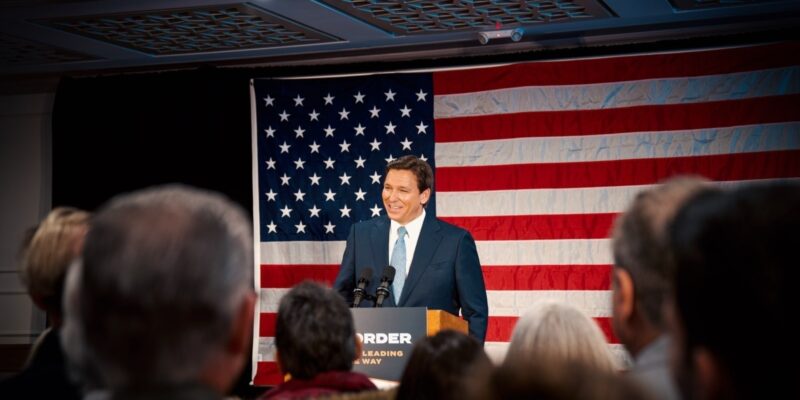 Joe Biden and Donald Trump appear to have something in common. When it comes to the 2024 election for the White House, they both want to run a campaign hiding in their respective basement. 
The former president said earlier in the week that he would not be sharing the stage with Florida Governor Ron DeSantis and the other Republicans running against him for president. 
"Two weeks ago, RNC Chairwoman Ronna McDaniel announced that the first Republican debate of the 2024 cycle would be held in Milwaukee and aired on Fox News in August," according to MSNBC. She also recently added a second debate to be held at the Ronald Reagan Presidential Library in Simi Valley, California, but now Trump appears reluctant to actually do the work of running for president.
USA Today writes, "Donald Trump threw the prospect of Republican presidential debates into doubt Tuesday, saying he might not participate and complaining about moderators and venues.

"I see that everybody is talking about the Republican Debates, but nobody got my approval, or the approval of the Trump Campaign, before announcing them," Trump said on his Truth Social media site.

The Republican National Committee, which has been negotiating with the GOP presidential campaigns, has announced partial plans for two debates: August in Milwaukee and a later one at the Ronald Reagan library in Simi Valley, Calif. No specific dates have been set.

In suggesting he might not attend, Trump said he has a big lead in polls and questioned why he would want to subject himself to "hostile NETWORKS" with "TRUMP & MAGA hating anchors" asking questions.

Trump ended his statement by noting that the publisher of The Washington Post newspaper is an officer with the Reagan library foundation and followed that with a single word: "NO!"
This has to be the first time that any Republican has been afraid to attend an event at the Reagan Library, but it really does point to the fact that Trump does not want to have to campaign until next summer and, like Hillary Clinton and the Democrats in 2016, feels entitled to the nomination so he can go to bed early every night.
More than anything, Trump doesn't want to have to campaign before next summer. https://t.co/8R1dZfmCSq

— 𝐉𝐚𝐲 𝐂𝐨𝐬𝐭 (@Jay__Cost) April 22, 2023
The last thing he wants to do is trudge around Manchester and Cedar Falls next January.

— 𝐉𝐚𝐲 𝐂𝐨𝐬𝐭 (@Jay__Cost) April 22, 2023
This is not the first time Trump has threatened to skip debates. The Hill noted, "t has become commonplace for Trump to threaten to skip debates dating back to his time as a candidate for the Republican nomination during the 2016 primary.
He threatened to skip a primary debate in early 2016 because he felt then-Fox News anchor Megyn Kelly would not treat him fairly. Kelly at an earlier debate had pressed Trump on his previous derogatory comments about women.
In March 2016, Trump threatened to skip a CNN town hall interview, citing his perception that the network had treated him unfairly.
In 2019, Trump suggested he may skip the presidential debates the following year if they were hosted by Fox News as he took issue with the network's coverage.
And in the lead up to the 2020 debates between Trump and Biden, Trump repeatedly raised the prospect of boycotting the debates over issues with the nonpartisan Presidential Debate Commission."
While he's threatened boycotts before, it is notable that it is the first time that he seems scared of debating other Republicans, however, especially Ron DeSantis. 
Last week, Trump bizarrely attacked the state he famously moved to in 2020, launching a series of new bromides against the Sunshine State. 
"The real DeSantis record is one of misery and despair," Trump campaign spokesperson Steven Cheung said in a statement. "He has left a wake of destruction all across Florida and people are hurting because he has spent more time playing public relations games instead of actually doing the hard-work needed to improve the lives of the people he represents."
The former president seems so scared of sharing the stage with the popular Florida Republican that he's allegedly now trying to block DeSantis from even being eligible to run for president. 
Charles Gasparino reported that Trump is lobbying Florida legislators to make it difficult for the governor to maintain his office while running for president.
BREAKING: My GOP sources with ties to Florida's GOP leadership say the rumor is @realDonaldTrump plans to go to Tallahassee and kill this bill to totally derail @GovRonDeSantis running for prez. It's getting nasty! https://t.co/fVt36amPej

— Charles Gasparino (@CGasparino) April 25, 2023
It's not surprising that the Trump Campaign would pull out all the stops to prevent a DeSantis candidacy. Despite having yet to launch a campaign, DeSantis does much better in polling against Joe Biden, whereas the 45th president loses. 
The New York Post wrote, "President Biden would handily defeat former President Donald Trump in the 2024 Electoral College — but lose to Florida Gov. Ron DeSantis, according to a new analysis of national and state polling.
According to WPA intelligence, which examined seven national popular vote polls since mid-February, the 76-year-old Trump would lose to Biden by an average of 3.1%, while DeSantis, 44, would win the popular vote over the incumbent by an average of 1.2%
The survey also showed DeSantis leading Biden in five of six likely 2024 battleground states — Arizona (48%-42%), Michigan (45%-43%), Nevada (44%-41%), North Carolina (44%-41%) and Pennsylvania (45%-42%).
In a sixth battleground state, Wisconsin, DeSantis and Biden are in a dead heat with 45% support each.
In all six states, the survey found, Trump trails Biden by between one and four percentage points."
A different poll showed that "The Make America Great Again, or 'MAGA,' movement, which takes its name from Trump's first campaign slogan, was the least popular individual or group tested in the new survey. Just 24% of Americans have positive views of the movement, while 45% voice negative views." 
No wonder he doesn't want to share the stage with the younger Republicans. 
[Read More: Biden Gives Away Another Embassy]