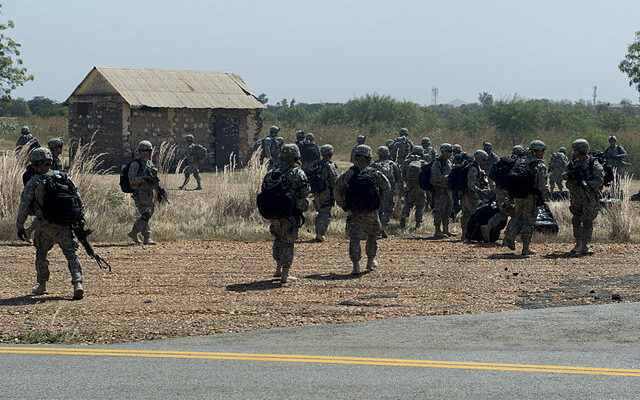 Joe Biden has once again abandoned thousands of Americans in foreign territory, this time in Sudan. Even as the White House prepared to evacuate the embassy, Pentagon leaders announced that they would not help the Americans, many of them aid workers, stranded in the poor African country. 
"The Pentagon has deployed forces and is developing options to assist in the possible evacuation of U.S. Embassy personnel from Sudan, but the White House said Friday there are no plans for now for a broader pullout of the potentially thousands of other Americans from the African country where warring factions are in a violent conflict," wrote The Associated Press.
"The troop moves by the U.S. military are intended 'to ensure that we provide as many options as possible, if we are called on to do something. We haven't been called on to do anything yet,' Defense Secretary Lloyd Austin said at a news conference in Germany. Austin and U.S. Army Gen. Mark Milley, the Joint Chiefs of Staff chairman, held meeting meetings with defense leaders from other countries to discuss additional support for Ukraine.
An estimated 16,000 private U.S. citizens are registered with the U.S. Embassy in Khartoum as being in Sudan. The State Department has cautioned that that figure probably is inaccurate because there is no requirement for Americans to register nor is there a requirement to notify the embassy when they leave."
The administration has not been particularly helpful in getting those doing God's work in Africa out of the violent situation brewing there.
Last week, White House National Security Council spokesman Jack Kirby said, "It's absolutely imperative that U.S. citizens in Sudan make their own arrangements to stay safe in these difficult circumstances."
The White House might want to come to the realization that this isn't as simple as calling an Uber and booking a plane ticket. Now some Americans have died in the process.
The Daily Caller reported, "National Security Council spokesman John Kirby shared the news with reporters on a call Wednesday morning, but did not provide details on the identity of the American of the nature of their death, except that it occurred Tuesday. He said the administration offers its condolences to the family and is stressing to Sudanese leaders that they are responsible for the safety of civilians in the country.

Kirby added that the United States is actively facilitating the evacuation of some Americans from Sudan, using U.S. surveillance and intelligence assets to guide Americans to Port Sudan.

The Biden administration is still claiming that it is unsafe to conduct a government-run evacuation, such as an airlift, despite a number of other countries including the United Kingdom, France, Germany, Italy and Japan having done so in recent days. As of Monday afternoon, there were at least "dozens" of Americans still in the country looking for a way out, Secretary of State Antony Blinken said.

The State Department confirmed the first American killed in Sudan last Friday, without offering details about them or the incident. Government estimates indicate there are around 16,000 Americans in the country, although it is unclear how recent that estimate is and how many of those are dual nationals with roots in the country."
This is the fourth embassy that Biden has lost in less than three years. 
It hasn't gone unnoticed on Capitol Hill. Representative Mary Miller reminded the world that Biden campaigned as "putting the adults back in charge" of foreign policy. Instead what we received was yet another example of handing over American soil to roving bands of foreign thugs. 
Joe Biden has had to evacuate FOUR embassies in less than 3 years. The media said Biden & Blinken were "experts" and "the adults are back in charge." The world has been on FIRE since their disaster in Afghanistan. Pray for our country & the 16,000 Americans Biden left in Sudan.

— Rep. Mary Miller (@RepMaryMiller) April 23, 2023
Newsweek noted, "In addition to Sudan, the United States has also suspended embassy operations in Afghanistan after withdrawing its troops in August 2021 and in Ukraine when Russia invaded the Eastern European country last February. However, the embassy in Ukraine reopened last May. The U.S. has also suspended operations in Belarus—whose President Alexander Lukashenko is a close ally of Russian President Vladimir Putin—due to 'security and safety issues stemming from the unprovoked and unjustified attack.'"
The situation in Sudan looks more dire by the day. 
NBC News wrote, "As civilians sought ways to escape, fearing that the rival camps will escalate their struggle for power once evacuations are complete, the World Health Organization issued a sobering warning.
There was a "high risk of biological hazard" after one side in the fighting seized a laboratory, the agency's representative in Sudan said Tuesday, according to Reuters.
The two armed groups have been locked in a battle for control of Sudan, using artillery, airstrikes and bullets in a conflict that has left millions of people caught in the crossfire."
Along with the two Americans that have so far been killed, over 420 people have from the violence.
[Read More: Hunter Biden Allegedly Hiding Out In White House]