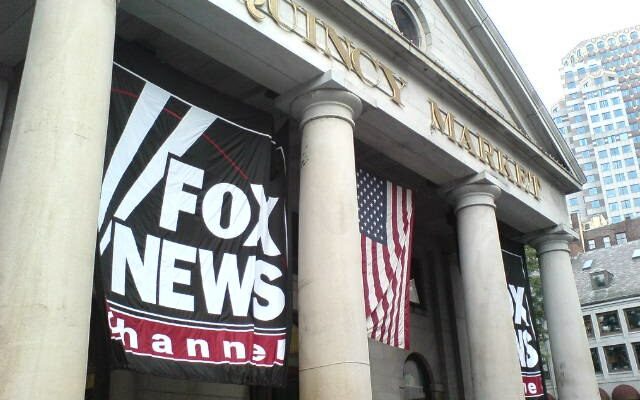 The hits just keep coming for the number one cable news channel in America. Just days after paying out a boatload of cash to settle a libel lawsuit with Dominion Voting, Fox News is losing one of its most popular, up-and-coming conservative hosts.   
Forbes reports that "Fox News has ended its relationship with Dan Bongino, who hosted the Saturday night show Unfiltered with Dan Bongino. 'Folks, regretfully, last week was my last show on Fox News on the Fox News Channel,' Bongino said on his podcast Thursday. 'It's tough. It's tough to say that. You know, I've been there doing hits and working there for ten years…so the show ending was tough. And I want you to know it's not some big conspiracy. I promise you. There's no acrimony. This wasn't some WWE brawl that happened. We just couldn't come to terms on an extension.'

Bongino's Canceled in the USA show, which has streamed on Fox's streaming service, Fox Nation, will end as well. In a statement, Fox News said, 'We thank Dan for his contributions and wish him success in his future endeavors.' The last episode of Bongino's Saturday night program aired on April 15th.

'It's a sad day,' Bongino said on his podcast, noting that he was given the chance to do one final episode of the show, but he decided not to. 'The most important events in my life I learned about on Fox News,' Bongino said, reflecting on his long ties to the network. Fox will air Lawrence Jones Cross Country in place of Bongino's show this Saturday, and the network says a new schedule will be announced 'in the coming weeks.'

Bongino's show, which aired at 9 p.m. ET on Saturdays, was a ratings success for Fox News, with last Saturday's episode of Unfiltered—the final episode—drawing 1.179 million viewers. It ranked as the highest-rated show of the day Saturday. For the first quarter of 2023, Unfiltered was the top show in prime time on Saturdays with 1.3 million viewers and 134,000 viewers in the key demographic of viewers 25-54, the group most valued by advertisers.
Bongino is leaving a network that is currently reeling. New Conservative Post noted earlier in the month that in the aftermath of the 2020 election, Fox News faced a crisis in confidence and allegedly began to blur the lines between facts and conspiracy theories, especially against the Dominion Voting Machines.  
"It was just days after the 2020 presidential election that lawyers supporting then-President Donald Trump began spreading unsubstantiated claims that an American company – Dominion Voting Systems – had rigged the election. They said Dominion was backed by Venezuela, and that its machines and software switched millions of votes from Donald Trump to Joe Biden.
They never showed any evidence, but that didn't stop pro-Trump attorneys from making baseless claims, or conservative news networks from giving them plenty of airtime. Dominion has filed eight lawsuits seeking more than $10 billion in damages against Fox News and other networks, corporations and individuals," one report explained.
Earlier in the week, the two sides announced they had reached a settlement where Fox pays Dominion over $787 million, nearly eight years worth of total revenue for the voting machine company. The other possible defendants from Dominion's lawsuits are shaking in their boots. 
The New York Times writes, "Legal experts say the settlement with Fox News, one of the largest defamation payouts in American history, could embolden Dominion as it continues to defend its reputation, which it says was savaged by conspiracy theories about vote fraud during the 2020 election. The company has several cases pending against public figures including Mike Lindell, the MyPillow executive, and news outlets such as Newsmax.
The targets of Dominion's remaining lawsuits, few of which have deep pockets and legal firepower at Fox's level, are likely to take a cue from Dominion and Fox's face-off, legal experts said.
'Even though it was a settlement, it certainly was a victory for Dominion,' said Margaret M. Russell, a law professor at Santa Clara University. 'For other possible defendants, I don't think this will make them double down; it will make them fearful.'
Fox acknowledged in a statement on Tuesday that some of the claims it had made about Dominion were false, saying the admission 'reflects Fox's continued commitment to the highest journalistic standards.'"
"A Newsmax spokesman said the company stands by its coverage and analysis of the 2020 election and will 'continue to vigorously defend against the claim," wrote The Wall Street Journal. 
'Newsmax believes that the facts at issue in Dominion's case against it are materially different from those that may have driven Fox to settle and no conclusion about Newsmax should be drawn from that settlement,'" he stated.
[Read More: Six More Biden Family Members Allegedly Took Money]