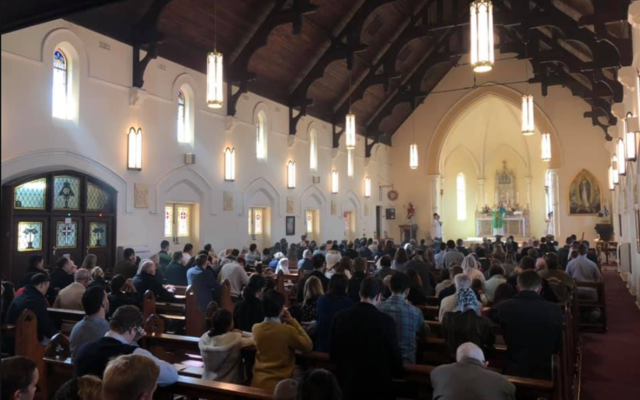 Last February, a whistleblower in Richmond, Virginia, revealed that the FBI was producing documents that showed the FBI was investigating "radical traditionalist" Catholics, claiming that those who prefer to attend Latin Mass could be potential terrorists. The FBI, the document stated, intended to place spies and informants among church-goers to monitor their fellow congregants in secret.
Fox News reported at the time that "former FBI special agent and federal whistleblower Kyle Seraphin reportedly obtained a leaked FBI document that outlines a plan to spy on a segment of one of America's biggest religious denominations.
"The FBI's Richmond Division would like to protect Virginians from the threat of 'white supremacy,' which it believes has found a home within Catholics who prefer the Latin Mass," Seraphin reported for Uncover DC. "An intelligence analyst within the Richmond Field Office of the FBI released in a new finished intelligence product dated January 23, 2023, on Racially or Ethnically Motivated Violent Extremists (RMVE) and their interests in 'Radical-Traditionalist Catholics' or RTCs."
He added that the document "assesses with 'high confidence' the FBI can mitigate the threat of Radical-Traditionalist Catholics by recruiting sources within the Catholic Church."
As one commentator has noted, "The FBI claimed that this memo "did not meet FBI standards" and claimed it was just the work of a single low-level employee. You've heard that old saw before. Oh, these "low-level employees" forever conducting audits, without authorization, against the conservative organizations that their boss, the high-level employee Lois Lerner, just happens to coincidentally want audited."
Now Jim Jordan's committee investigating the liberal weaponization of government has revealed that, much to no one's surprise, the FBI had already begun placing spies inside Catholic churches. 
Now Fox writes, "The internal documents — obtained last month by House Judiciary Committee Chairman Jim Jordan, R-Ohio, and Rep. Mike Johnson, R-La., who are also members of the so-called Weaponization Subcommittee — showed the FBI planned to use churches as 'new avenues for tripwire and source development.' The federal law enforcement agency also aimed to specifically target "mainline Catholic parishes" as part of its efforts.

In addition, according to Jordan, the FBI expressed interest in 'leverag[ing] existing sources and/or initiat[ing] Type 5 Assessments to develop new sources with the placement and access.' And, in another example, the agency cited a desire to to sensitize religious congregations 'to the warning signs of radicalization and enlist their assistance to serve as suspicious activity tripwires.'

'Based on the limited information produced by the FBI to the Committee, we now know that the FBI relied on at least one undercover agent to produce its analysis, and that the FBI proposed that its agents engage in outreach to Catholic parishes to develop sources among the clergy and church leadership to inform on Americans practicing their faith,' Jordan wrote in a letter to FBI Director Christopher Wray on Monday.

"The documents produced to date show how the FBI sought to enlist Catholic houses of worship as potential sources to monitor and report on their parishioners.'

'Americans attend church to worship and congregate for their spiritual and personal betterment,' the letter continued. 'They must be free to exercise their fundamental First Amendment rights without worrying that the FBI may have planted so-called 'tripwire' sources or other informants in their houses of worship.'"
In a statement, the Committee also said, "This information is outrageous and reinforces the Committee's need for all FBI records about the domain perspective document. Accordingly, and because Director Wray has not fully responded to the Committee's earlier voluntary requests, Chairman Jordan is issuing a subpoena to the FBI for all records about the FBI's January 23 domain perspective document."
The new information continues to show a troubling trend of anti-Christian, and especially anti-Catholic, sentiment growing among liberals. For example, the left-leaning magazine The Atlantic wrote an ridiculous story claiming that "the rosary has acquired a militaristic meaning for radical-traditional (or "rad trad") Catholics. On this extremist fringe, rosary beads have been woven into a conspiratorial politics and absolutist gun culture. These armed radical traditionalists have taken up a spiritual notion that the rosary can be a weapon in the fight against evil and turned it into something dangerously literal."
Throughout 2022, Attorney General Merrick Garland's DOJ sent SWAT teams to arrest various Catholic pro-lifers, including Martin Houck, who received armed men at his house and was seized by the FBI after being charged for breaking The FACE Act. A jury rebuked the administration and found him innocent.
When confronted by Republican senators, Garland struggled to explain that the Biden Administration wasn't using the DOJ as a political weapon to attack its enemies. 
.@BasedMikeLee: "DOJ has announced charges against 34 individuals for blocking access to…abortion clinics…there have been over 81 reported attacks on pregnancy centers…and only 2 individuals have been charged!"

GARLAND: "We apply the law equally." pic.twitter.com/DRqeb5Pee1

— Townhall.com (@townhallcom) March 1, 2023
John Hawley destroys Merrick Garland for using the Dept. of Justice as a political weapon 🔥

"We're supposed to hate assault style weapons…you're happy to deploy them against Catholics and innocent children" pic.twitter.com/7p1L3OAj1H

— Hodgetwins (@hodgetwins) March 2, 2023
The FBI has a history of targeting certain religious groups that are not in lockstep with the current ideology. According to Axios, "Three Muslim Americans brought a lawsuit against the FBI in 2011, claiming the agency violated the Constitution and federal laws in spying on their communities based on their religion."
[Read More: NPR, Which Receives Govt Funding, Complains About Tag Saying It Receives Government Funding]