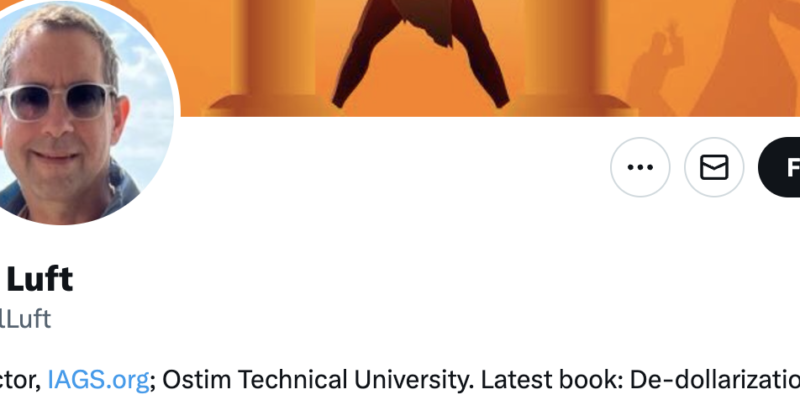 One of Hunter Biden's peers who served as an advisor to a Chinese energy company has neem arrested in Cypress and is claiming that it's on Biden's behest. Gal Luft, a think tank leader from Israel, is claiming that the he went to the FBI with information about the Bidens partnering with a "front" for the Chinese Communist Party and is being punished for dishing the dirt on the foreign business dealings of the president's family.  
He was arraigned on charges of arms trafficking and fraud for crimes allegedly occurring from 2015 on. 
I've been arrested in Cyprus on a politically motivated extradition request by the US.

The US, claiming I'm an arms dealer. It would be funny if it weren't tragic.

I've never been an arms dealer.

DOJ is trying to bury me to protect Joe,Jim&Hunter Biden.

Shall I name names?

— Gal Luft (@GalLuft) February 19, 2023
YNet reported that Luft was "remanded in custody until another hearing on his extradition to the United States.
Luft's attorney Mordechai Tzivin claimed his client's arrest was politically motivated and an attempt to silence him for providing incriminating information in a corruption case allegedly involving Biden's son, Hunter.
'The arrest came four years after Luft cooperated with FBI and Department of Justice investigators to help them with information about the case,' he said after the arrest, referring to a 2019 meeting in which the defense and energy expert allegedly gave incriminating information on the younger Biden.
Speaking to the Ynet studio on Sunday, Tzivin said that Luft's testimony could 'bury Hunter Biden, that's why they're trying to bury him first.'
He also told the newspaper that 'if it were Russia, this would've already been a diplomatic collision" and that "it's not unreasonable to think that the Democrats or some of their peers would like him gone.'"
Luft claims to know where the bodies were buried on behalf of Biden. 
The Washington Free Beacon writes, "Gal Luft, the co-director of the Washington-based Institute for the Analysis of Global Security, says he provided information about Hunter Biden, his father, and his uncle, Jim Biden, to the Justice Department in March 2019. Luft served as an adviser to CEFC China Energy, a conglomerate that 'aligned itself so closely with the Chinese government that it was often hard to distinguish between the two,' according to CNN. The group, which donated at least $350,000 to Luft's think tank, paid Hunter Biden at least $6 million in 2017 to procure energy investment deals in the United States.

While Luft's claims might otherwise be easily dismissed as a bluff, his connection to CEFC China Energy suggests he may know something about the Bidens. And an American lawyer for Luft has signaled he will provide information to Congress about Luft's case.

'Dr. Luft is a whistleblower,' Luft attorney Robert Henoch told the Washington Free Beacon. He asserts that prosecutors decided against pursuing Luft's information 'and are instead targeting him with trumped-up and false charges.'

'This unfortunately appears to be part of an attempt to discredit a witness with critical information about an ongoing congressional and DOJ investigation.'"
Last year, The Washington Post confirmed Hunter's connections with the communist energy conglomerate. "While many aspects of Hunter Biden's financial arrangement with CEFC China Energy have been previously reported and were included in a Republican-led Senate report from 2020, a Washington Post review confirmed many of the key details and found additional documents showing Biden family interactions with Chinese executives.
Over the course of 14 months, the Chinese energy conglomerate and its executives paid $4.8 million to entities controlled by Hunter Biden and his uncle, according to government records, court documents and newly disclosed bank statements, as well as emails contained on a copy of a laptop hard drive that purportedly once belonged to Hunter Biden.
But the new documents — which include a signed copy of a $1 million legal retainer, emails related to the wire transfers, and $3.8 million in consulting fees that are confirmed in new bank records and agreements signed by Hunter Biden — illustrate the ways in which his family profited from relationships built over Joe Biden's decades in public service.
The CEFC deal became one of the most lucrative, if short-lived, foreign ventures Hunter Biden is known to have pursued. The Post review draws in part on an analysis of a copy said to be of the hard drive of a laptop computer that Hunter Biden purportedly dropped off at a Delaware repair shop and never came to collect."
"Luft, an author and an energy security and diplomatic expert, serves as the co-director of the Washington-based Institute for the Analysis of Global Security (IAGS), a think tank focused on energy, security and economic trends, as per its website.
Luft has been publicly critical of American foreign policy, as well as the Biden administration as a whole, in the past. In a 2021 Beijing summit, titled 'International Forum on Democracy: the Shared Human Values,' Luft accused the Biden administration's "commitment to democracy going only as far as its interests allow," according to The Jerusalem Post. 
Republicans in the House of Representatives, including Speaker Kevin McCarthy, have stated their intentions to investigate the many ways in which Joe Biden's family has leveraged the president's power in Washington to "shakedown" foreign business interests. 
Only time will tell if Luft is another piece of the sordid puzzle. 
[Read More: Is Russia On The Brink of Civil War?]