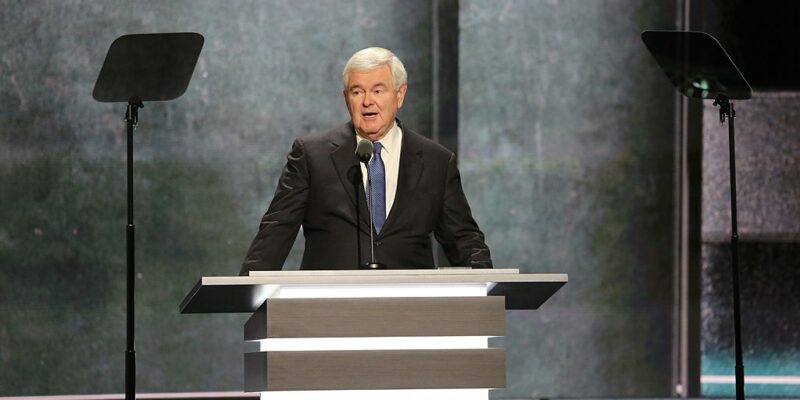 Former Speaker of the House and presidential candidate New Gingrich has some harsh words for Republicans. Stop underestimating Joe Biden. He's eating your lunch, even if you don't like him like most Americans. 
In a recent column, Newt said that conservatives focus too much on the elderly president's foibles and misstatements and not enough on the way that he is installing leftwing government programs that will be hard for Republicans to fix even if they don't work and damage the country in the long run. 
The former Speaker of the House writes, "But remember: Presidents Dwight Eisenhower and Ronald Reagan both preferred to be underestimated. Both wanted people to think of them as pleasant – but not dangerous. They found being underestimated was a major asset. While people laughed at them, they were busy achieving their goals and getting their programs implemented.

The Biden team took an amazingly narrow four-vote majority in the U.S. House and a 50-50 tie in the Senate and turned it into trillions of dollars in spending – and a series of radical bills. The latest bill on sexual rights overriding all other rights was bitterly opposed by virtually every conservative even as it passed with Republican support.

Biden has carefully and cautiously waged war in Ukraine with no American troops. Although poorly timed and slowly delivered, U.S. weapons and financial aid have helped cripple what most thought would be an easy victory for Russian President Vladimir Putin.

Despite terrible problems with the economy, crime, and the border (which led many analysts, me included, to assume the GOP would make big gains in November) Biden and his team executed a strategy of polarizing Americans against Donald Trump supporters. They turned Jan. 6 into a crisis which eclipsed the Left's previous summer of fire, chaos, and destruction. They also grossly exaggerated the threat to abortion rights. And it all worked."
Newt noted that Biden has mostly "bumbled into becoming a major force" in American politics, but a major force he still is.
Axios followed up with Gingrich after he published his column, writing, "Why it matters: Gingrich has a point. If you look at Biden's legislative accomplishments, he has exceeded expectations for a Congress where Democrats hold narrow majorities, and a country that's split in two.
Gingrich, 79, told [the outlet]: "I was thinking about football and the clarity of winning and losing. It hit me that, measured by his goals, Biden has been much more successful than we have been willing to credit."
"The Biden team had one of the best first term off-year elections in history," the former House speaker wrote. "They were not repudiated. They did not have to pay for their terrible mismanagement of the economy," according to the Washington Times. 
The newspaper continued: "Republicans did retake the House, though by a smaller-than-expected margin, and they squandered a chance to retake the Senate. Democrats could expand their Senate majority from 50 seats to 51 if Sen. Raphael Warnock defeats Republican challenger Herschel Walker in a Dec. 6 runoff in Georgia.
Mr. Gingrich urged Republicans to think deeply about what went wrong in 2022 and turn it into a sound strategy for 2024.
'Today there is not nearly enough understanding (or acknowledgment) among leading Republicans that our system and approach failed,' he wrote. 'We need to rethink from the ground up how we are going to Defeat Big Government Socialism — including almost inevitable second-time Democrat Presidential Nominee Biden. This is a much bigger challenge than I would have guessed before the election.'"
Biden also got good news on Friday from the monthly jobs report, even if it is bad for the country in the long run. The AP reported, "At the White House, the president signed an emergency bill to avert a rail strike that he said could have caused 765,000 job losses in two weeks and plunged the country into a painful downturn. But many voters and economists still fear that a recession is nigh and the price of reducing high prices will be layoffs.
Biden pointed to the addition of 263,000 jobs in November — with the unemployment rate holding steady at 3.7% — as proof that his policies have bulked up the economy. He suggested that the major recession risk was the freight rail strike, a problem the country avoided by having Congress impose an agreement that raises pay but fails to provide the additional paid sick leave that workers demanded.
'Things are moving — they're moving in the right direction,' Biden said. 'As we go into the holiday season, here's what this all means: The Americans are working, the economy is growing.'
White House officials do see reason for optimism. Gasoline prices are averaging $3.45 a gallon, down sharply from a June peak, according to AAA. The economy is expanding after shrinking in size during the first half of the year. And since July, workers' average hourly earnings have been rising faster than consumer prices."
While Biden was touting more jobs as he holds the economy through short-term pumping of government spending, former president Donald Trump, the only Republican to announce for 2024, was still fighting the 2020 election following Elon Musk's releasing files showing that Twitter worked to censor stories about Hunter Biden in October 2020. 
On his social media platform Truth Social, Trump said, "Wow! That's a really big story about Twitter and various forms of government Fraud including, specifically, Election Fraud. The same level of Fraud took place with the other Big Tech companies, if not even worse (if that's possible?). We are living in a VERY CORRUPT COUNTRY &, AS THEY ARE SAYING ALL OVER THE INTERNET, "NOTHING WILL BE DONE ABOUT IT BECAUSE THE JUSTICE DEPARTMENT & FBI ARE TOTALLY CORRUPT." But they'll keep investigating "boxes" that were legally & openly taken from the W.H." 
Three days before Georgia votes for Senate, deciding whether Democrats will have carte blanche on deciding investigations on committees due to having a 51-49 majority versus a 50-50 split, Trump took to social media to say that the United States Constitution should be suspended.
The former president wrote, "So, with the revelation of MASSIVE & WIDESPREAD FRAUD & DECEPTION in working closely with Big Tech Companies, the DNC, & the Democrat Party, do you throw the Presidential Election Results of 2020 OUT and declare the RIGHTFUL WINNER, or do you have a NEW ELECTION? A Massive Fraud of this type and magnitude allows for the termination of all rules, regulations, and articles, even those found in the Constitution. Our great "Founders" did not want, and would not condone, False & Fraudulent Elections!"
[Read More: Liberal Media Gets HUGE Wake Up Call, and It's Going to get Worse]