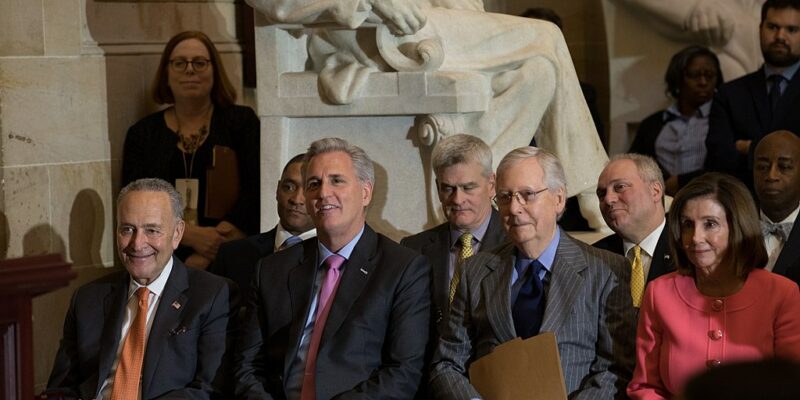 Despite Trump-picked candidates costing them the Senate in the midterms, the Reublicans still took the popular vote 52.5 percent to 47.5 percernt during last month's elections and in the House the Republicans will control the majority with 222 seats, regardless of who they pick to lead them. 
But, don't tell that to Mitch McConnell. He's ready to get the national checkbook out and hand it to Nancy Pelosi one last time. The Kentucky senator recently announced that he's in support of the 45,000-page spending bill that no one has read. The proposal will fund the government until September 30, 2023, and create a baseline for the next round of spending significantly higher than today. 
Many Republicans aren't happy with McConnell's tactics. Earlier in the week, Tennessee Senator Marsha Blackburn took to Fox Business and laid into the minority leader. 
House Republicans are even more upset with what they see as a betrayal from their colleagues in the Senate. "McCarthy told Fox News host Sean Hannity on Tuesday evening that he hopes Senate Republicans won't vote for the omnibus spending bill, arguing that they could save almost $100 billion in taxpayer money by voting instead for a stopgap measure that would freeze federal funding levels until next year when Republicans will take control of the House, according to The Hill.
'They're trying to jam us right before Christmas. Why would you ever move forward when there's a change in power in 21 days where Republicans would have a stronger hand?' McCarthy said. 'We wouldn't be talking about adding more money. We'd talk about decreasing.'
McCarthy doubled down on his tough talk during a press conference Wednesday."
Often butting heads, Georgia Representative Majorie Taylor Greene and Kevin McCarthy are seeing eye to eye for once. 
Mitch McConnell is the reason Democrats are on the verge of passing a huge TRILLION dollar Democrat controlled Omnibus spending bill in the late hours of this lame duck session.

McConnell should only agree to a short term CR into '23 to allow the Republican controlled House to..

— Rep. Marjorie Taylor Greene🇺🇸 (@RepMTG) December 14, 2022
Texas conservative Chip Roy took to the House floor and called for McConnell to do his job. 
"I'm looking at Mitch McConnell when I say this:

"DO YOUR JOB, @LeaderMcConnell! Do your job and follow the wishes of the American people who gave a majority to Republicans in the House of Representatives"

"And let's STOP this bill"

More on Dems' last-minute spending spree: pic.twitter.com/Zv0Igmk7G3

— Rep. Chip Roy Press Office (@RepChipRoy) December 14, 2022
At Tipp Insights, The Editorial Board explained why this is such a faulty strategy by Cocaine Mitch. "First, it will tie the hands of the new House to set spending priorities till fiscal 2024. The bill ignores the people's will by letting the exiting Congress set the spending agenda for the coming year.

Second, passing an omnibus bill will set a bad precedent. Since 1954, control of the House has changed five times, and no Congress passed an omnibus spending bill before a new House majority takes power.

Third, profligate Democratic spending is the root cause of inflation. A liberal fiscal policy is counterproductive when the Fed is raising interest rates to tame inflation. That makes it critical for the GOP House to correct course.

Fourth, it is wrong to rush through a bill that lets trillions of dollars in spending with no one knowing what is in it. Senator Kennedy, a member of the appropriations committee, recently confessed that he did not know what was in the omnibus bill. He said the omnibus almost always contains what he called 'spending porn.'"
McConnell has said that he's played the White House for the fools they are. He told the Senate, 'The administration wanted to cut funding for our armed forces after inflation while massively increasing spending on nondefense. Republicans have taken the president's bizarre position and flipped it on its head.' 
McConnell also said the bill, which will be released to the public on Monday afternoon, 'provides a substantial real-dollar increase to the defense baseline and a substantial real-dollar cut to the nondefense, non-veterans baseline.' 
Republican sources say the boost in defense-related spending compared to what they're calling the 'real-dollar cut' to nondefense spending is more dramatic when the generous increase in spending on military veterans, which is classified on the nondefense side of the spending ledger, is factored in.  
McConnell also highlighted the fact that the omnibus is expected to exclude what he called 'left-wing goodies,' such as the Safe Banking Act, which would prohibit federal regulators from penalizing financial institutions that do business with legitimate cannabis-related businesses."
Roll Call noted, "Other 'wins' GOP lawmakers touted include retaining the so-called Hyde amendment language, which blocks federal funding for abortion in most cases; rejecting 'radical environmental and climate policies' and flat-funding the IRS. Republicans have repeatedly lambasted the $80 billion, 10-year increase Democrats granted the tax collection agency in this year's partisan budget reconciliation law." 
Both Senate leaders are hoping to speed up the voting on the bill so that they can have a happy Christmas Break, but Utah Senator Mike Lee was skeptical. 
This monstrous spending bill comes to 4,155 pages. We deserve proper consideration and the chance to read, debate and amend – not a backroom deal. Opposing this isn't radical: running our government like this is what's radical.

— Mike Lee (@SenMikeLee) December 20, 2022
Roll Call also listed some of the goodies packed into the bill:
Legislation to overhaul the Electoral Count Act to clarify that the vice president's role in counting electoral votes is clerical, and to raise the threshold for the number of senators and representatives needed to object to state-certified electoral ballots.
A recent Senate-passed bill to ban the use of the social media app TikTok on government devices.
Bipartisan retirement savings legislation negotiated by the House Ways and Means and Senate Finance committees.
Various oceans-related provisions, including a measure to phase out large-scale driftnet fishing that can endanger protected marine species and legislation to improve disaster relief for fisheries.
The national debt is approaching $32 trillion and the country will likely soon approach a crisis. Fox News explained how our interest payments will soon be one of the biggest budget items: "According to Treasury data through August, which counts all but the final month of FY22, net interest payments on the debt totaled $471 billion. That is already much higher than the initial White House projection of $357 billion and above Treasury's mid-year assessment of $441 billion; adding in September's data could send the total over $500 billion.
At that level, interest on the debt is larger than the discretionary budgets of most federal departments and rivals the amount of money Congress gives to the Department of Defense each year."
[Read More: Hope Hicks Turns The Knife On Trump]