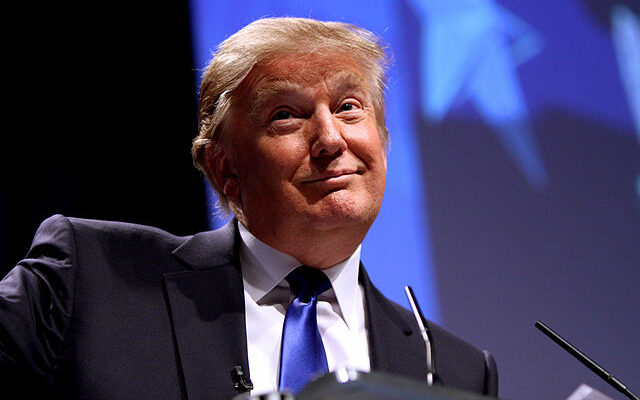 In what will no doubt be another chapter in the continuing drama of Donald Trump, the former president has flown to New York City to face an indictment from the DA's office, presumably about the hush money he paid to former pornographic actress Stormy Daniels in 2015. 
Fox News noted that "former President Trump's plane 'Trump Force One' hit the skies Monday afternoon as the former commander-in-chief travels to New York City for his arraignment.
Trump's plane left the tarmac at Palm Beach International Airport to fly to the Big Apple where the president will be arraigned after his Manhattan grand jury indictment for alleged hush money payments to porn star Stormy Daniels and former Playboy model Karen McDougal through his former attorney Michael Cohen.
Trump's lawyers said on Sunday said he expects to make a motion to dismiss any charges stemming from Manhattan district attorney Alvin Bragg's investigation."
The former president is expected to offer "public remarks in Florida on Tuesday after being arraigned in New York City on an indictment by a grand jury that heard evidence on hush money paid to a porn star before the 2016 election," but the judge in the case may take drastic measures to silence him.
The Daily Mail writes that "Donald Trump's legal team is preparing for a New York judge to slap a gag order on the former president on Monday, DailyMail.com can reveal, a day before he is due to be arrested in Manhattan.

The extraordinary move to potentially silence a candidate for president will likely enflame Trump's supporters as he prepares to fly out of his Florida home.

'The Trump legal team now thinks that the Manhattan judge will take the unprecedented step of silencing the presidential frontrunner with an unconstitutional gag order tomorrow,' said a source.

'The Trump legal team is considering adding a First Amendment lawyer to the effort to combat this and will fight it all the way.'
"I think it's not only a possibility, but it's extremely likely that there will be a gag order in the case," Duncan Levin, a former federal prosecutor with the Department of Justice, explained to Business Insider.
A campaign spokesman called the potential gag order a corrupt attempt by liberals to undermine his presidential campaign. "President Trump stands for transparency and our American Constitution, and any attempt to prevent him, the leading candidate for President, from exercising his First Amendment right is a tyrannical, third-world country move which further proves that this is nothing more than a political witch-hunt utilizing a weaponized justice system," Cheung said. "All Americans should be concerned about their rights being violated and any attempt to obstruct President Trump's right to use his voice in order to speak truth to power should never be tolerated. The whole targeted crusade is a complete political farce by the Manhattan DA meant to manipulate and interfere with an election against President Trump and his supporters."
Trump, a billionaire, could trigger a fine of $1000 and a prison sentence of 30 days if he breaks a gag order. 
Like most things, the former president intends to fight aggressively. CNN reported, "In the run-up to Tuesday's appearance, Trump's legal team gave a preview of a robust defense that will unfold against a backdrop of a furious political campaign. Already, his leading loyalists are seeking to use the power of the new GOP House majority to try to interfere in Bragg's prosecution. In an interview on CNN's "State of the Union," Trump lawyer Joe Tacopina said the ex-president's team would loudly and proudly declare he is not guilty and signaled an attempt to try to prevent the case ever from reaching trial.
'I very much anticipate a motion to dismiss coming, because there's no law that fits this,' Tacopina said, accusing Bragg, a local prosecutor, of overstepping his powers by seeking to charge a federal election crime. Trump may have been indicted for infringing laws in New York, but since the charges haven't been made public, it is impossible to assess his claims. CNN's John Miller reported last week that Trump will face more than 30 counts related to business fraud.
Tacopina also telegraphed an effort to target the credibility of Trump's former lawyer, Michael Cohen, who made a $130,000 payment to Daniels and went to prison on charges including lying to Congress, but who may be a central witness in any trial of Trump.
'Michael Cohen is a pathological, convicted liar, perjurer. He's lied to banks, the IRS, Congress,' Tacopina said. But Cohen's lawyer, Lanny Davis, hit back, warning on "State of the Union" that a Trump defense shredding his client's reputation would not work. 'My old friend Joe Tacopina … (has) a wrong strategy if he thinks he's building his whole strategy on personal attacks on Michael Cohen,' Davis said."
It's not surprising that Trump's adversaries would try to shut him up. The indictment has been a boon financially for the struggling 2024 Trump campaign for the White House. Axios reported that "Trump has raised more than $5 million since news of his indictment broke late Thursday — over $4 million in the first 24 hours and over $1 million in the second 24 hours, a Trump official told Axios on Saturday night." 
New Yorkers have been wary of the ramifications of the case. The New York Daily News wrote, "New York City has been on edge since the ex-president announced last month that he expected to be indicted, with local authorities receiving unfounded bomb threats and a pro-Trump woman arrested for flashing a knife at passersby outside Manhattan courts.
Meanwhile, Manhattan District Attorney Alvin Bragg has been bombarded with racist emails and death threats."
Much of the fear has been media-driven, however. The newspaper continued, "To date, members of the media have far outnumbered pro- and anti-Trump demonstrators outside the Manhattan criminal courts, where Trump will turn himself in, though the authorities have been tightening security ahead of the big day."
While much of the country's political commentary has revolved around the public reaction to the indictment, few have seemed to ask the following question: What if nothing happens? What if the voting public shrugs and simply treats the indictment for what it is, an obvious politically-driven charge by liberals obsessed with Donald Trump and a media controversy pumped up for ratings? 
What if instead of a roar, there's instead a collective yawn? 
[Read More: Biden Lied About How The Chinese Spy Balloon Undermined National Security]