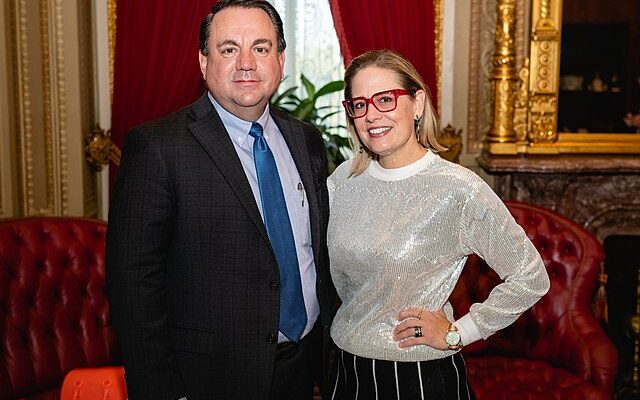 Last year, nutty leftwing activists harassed Arizona Senator Krysten Sinema as she visited Arizona State University. They demanded immigration reform and pushed her to support Joe Biden's massive Build Back Better bill, which eventually passed and sparked inflation. They went so crazy that they followed her into the bathroom to scream at her.
Progressive activists harass Senator Sinema in the bathroom at Arizona State University. | pic.twitter.com/1clH07Yp3Y

— Mike (@Doranimated) October 3, 2021
"Activists followed Sinema into a bathroom at Arizona State University, where Sinema is a lecturer, as they urged her to pass the reconciliation bill that she has held locked in negotiations," according to The Washington Post.
"As she was exiting a classroom at ASU's campus in downtown Phoenix, activists from the organization Living United for Change in Arizona, or Lucha, the Spanish word for fight, confronted Sinema. They told her that "we need a 'build back better' plan right now," invoking the name of the $3.5 trillion domestic policy bill that would expand the social safety net.
'Actually, I am heading out,' Sinema told the activists as she walked into a bathroom. One person followed her into the bathroom, standing outside the stall that the senator entered, while another person stood at the entrance, recording the interaction."
Now Sinema is heading out again, this time from the Democratic Party. In the Arizona Republic, the senator announced that she's registering as an independent, abandoning the president's party and potentially putting the Senate back into a 50-50 split despite Democrat Raphael Warnock defeating Republican Herschel Walker in Georgia's Senate runoff election last week.  
Actions have consequences. Sinema writes, "In catering to the fringes, neither party has demonstrated much tolerance for diversity of thought. Bipartisan compromise is seen as a rarely acceptable last resort, rather than the best way to achieve lasting progress. Payback against the opposition party has replaced thoughtful legislating.

Americans are told that we have only two choices – Democrat or Republican – and that we must subscribe wholesale to policy views the parties hold, views that have been pulled further and further toward the extremes.

Most Arizonans believe this is a false choice, and when I ran for the U.S. House and the Senate, I promised Arizonans something different. I pledged to be independent and work with anyone to achieve lasting results. I committed I would not demonize people I disagreed with, engage in name-calling, or get distracted by political drama.

When politicians are more focused on denying the opposition party a victory than they are on improving Americans' lives, the people who lose are everyday Americans.

That's why I have joined the growing numbers of Arizonans who reject party politics by declaring my independence from the broken partisan system in Washington."
Politico reported, "In a 45-minute interview, the first-term senator told POLITICO that she will not caucus with Republicans and suggested that she intends to vote the same way she has for four years in the Senate. 'Nothing will change about my values or my behavior,' she said.
Provided that Sinema sticks to that vow, Democrats will still have a workable Senate majority in the next Congress, though it will not exactly be the neat and tidy 51 seats they assumed. They're expected to also have the votes to control Senate committees. And Sinema's move means Sen. Joe Manchin (D-W.Va.) — a pivotal swing vote in the 50-50 chamber the past two years — will hold onto some but not all of his outsized influence in the Democratic caucus.
Sinema asserted she has a different goal in mind: fully separating herself from a party that's never really been a fit, despite the Democratic Party's support in her hard-fought 2018 race. That year she became the first Democrat in three decades to win a Senate race in Arizona, defeating former Sen. Martha McSally (R-Ariz.)."
Sinema has angered leftwingers because she refuses to raise taxes and won't vote to change longstanding rules in the Senate to get rid of the filibuster. 
The left is already lining up to take Sinema out in the next election. "Sinema's decision drew swift condemnation from Representative Ruben Gallego, a frequent critic of the senator who has rather transparently teased the idea of running against her for the Senate seat," The New Republic noted. "But while Gallego very strongly hinted that he would be a good statewide candidate, in a statement released on Friday, he stopped short of announcing his own bid for Senate. "Whether in the Marine Corps or in Congress, I have never backed down from fighting for Arizonans. And at a time when our nation needs leadership most, Arizona deserves a voice that won't back down in the face of struggle,' Gallego said. 'Unfortunately, Senator Sinema is once again putting her own interests ahead of getting things done for Arizonans.'
Gallego has allowed the prospect of a primary challenge to float around the political sphere for months. In recent days, he has been interviewing political vendors, according to a Democratic strategist with knowledge of those talks. Those discussions are a likely sign that he is charging ahead with a Senate campaign.
'This is another cynical move to prolong her career. It's not going to work,' said Leah Greenberg, the co-executive director of the progressive group Indivisible, in a scathing statement. Greenberg highlighted how Indivisible had campaigned for Sinema in 2018, arguing that support from their volunteers helped to turn red counties blue. 'It turned out Sinema's constituents were never really Arizona voters. Sinema's constituents are Big Pharma and private equity. That's why our goal is not to beat her. She was already going to lose. Our goal will be to make sure she becomes a political cautionary tale.'"
MSNBC, of course, also had a meltdown over the Arizona senator's decision to represent the people of her state rather than the Democratic Party. The New York Post collected the breathless whining: Analyst Brittany Packnett Cunningham said that Sinema "had decided to switch her political afflation because she could not survive a Democratic primary in 2024 — noting she had announced the move three days after Sen. Raphael Warnock won his runoff race in Georgia, delivering Democrats a 51st Senate seat.
"None of this is surprising but it is confirmation that she is the worst," Packnett Cunningham added.
MSNBC host Mehdi Hasan echoed those words, writing: "Sinema owes her entire career to the Democratic Party, she's been endlessly indulged by party leadership, but she waits till a moment of celebration for the Democrats to make this announcement. Like I've said before, it goes way beyond politics or ideology — she's just awful."
Hasan also wondered "what Joe Manchin is thinking this morning," referring to the centrist Democrat senator from West Virginia who, along with Sinema, has used his leverage to block or water down some of President Biden's big-ticket initiatives, including a minimum wage increase and extended child tax credits. "I have always believed that Sinema was worse than Manchin and so her pulling this move before Manchin did is a vindication of that view," Hasan said."
Both Chuck Schumer and the White House were more diplomatic, recognizing that they need Sinema to get anything done during the next two years. Schumer said Sinema will keep her committee assignments and praised her sense of independence. He also added, "We will maintain our new majority on committees, exercise our subpoena power, and be able to clear nominees without discharge votes." 
The White House Press Secretary said, "Senator Sinema has been a key partner on some of the historic legislation President Biden has championed over the last 20 months," White House press secretary Karine Jean-Pierre said in a statement.
"We understand that her decision to register as an independent in Arizona does not change the new Democratic majority control of the Senate, and we have every reason to expect that we will continue to work successfully with her."
[Read More: Biden Releases Dangerous Arms Dealer, Then Lectures About Guns]