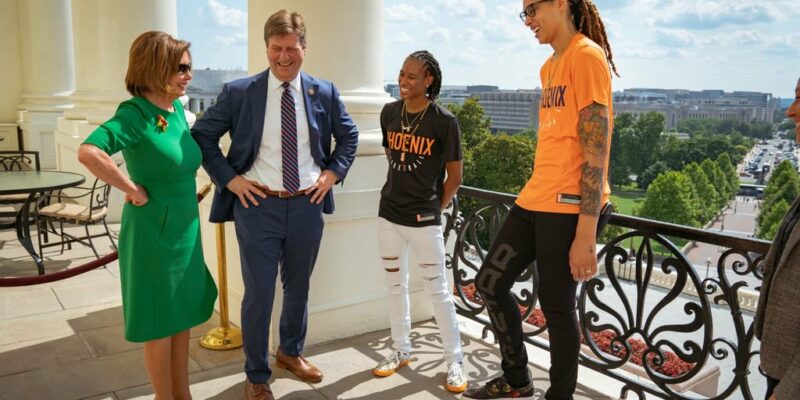 America has seen a number of bad trades throughout its history. In baseball, for example, on January 5, 1920, the Boston Red Sox traded Babe Ruth to the New York Yankees for $100,000 (and a $300,000 loan to finance the musical My Lady Friends) despite Ruth leading them to three World Series victories. 
In the NFL, the Minnesota Vikings traded away the farm to acquire running back Herschel Walker, yes that Herschel Walker, from the Dallas Cowboys. In exchange for the star running back, Minnesota took the plethora of draft picks to build a dynasty and become "America's Team." 
The worst trade in history, however, might go to Joe Biden. On Thursday, he traded a WNBA player for one of the most dangerous arms dealers in the world. Mediated by Saudi Arabia's Crown Prince Crown Prince Mohammed bin Salman, Brittney Griner, a WNBA star who was held for several months in Russian prisons on drug charges she pled guilty, was released in a one-for-one swap for international arms dealer Viktor Bout who was convicted of trying to kill several Americans, including DEA agents, in 2011.
After releasing the most dangerous arms dealer in the world for a WNBA player, Biden attended a a memorial for "the victims of gun violence in America." No really:
In remembrance of all the victims of gun violence in America, President Biden joined survivors and families at the 10th Annual National Vigil for All Victims of Gun Violence. pic.twitter.com/V3YN0k8fi8

— The White House (@WhiteHouse) December 8, 2022
CBS News was first to report the prisoner exchange, "which took place in the United Arab Emirates, after it was confirmed by a U.S. official. The one-for-one exchange agreement negotiated with Moscow in recent weeks was given final approval by President Biden within just the last week, according to sources familiar with the deal." 
The trade was mediated by the Saudi Prince "just 48 hours after the U.S. dropped a lawsuit holding him responsible for the murder of Saudi dissident journalist Jamal Khashoggi."
WNBA star of the Phoenix Mercury Brittney Griner was convicted in Russia of drug possession and drug smuggling on Thursday. A Russian judge sentenced her to nine years in prison and fined her over $16,000, or a million rubles. 
In July, she admitted guilt to the court, but said that "there was no intent. I didn't want to break the law." 
In 2020, Griner took part in protests and refused to stand for the national anthem. The Phoenix Mercury star said in an interview, "I honestly feel we should not play the national anthem during our season. I think we should take that much of a stand."
"I don't mean that in any disrespect to our country. My dad was in Vietnam and a law officer for 30 years. I wanted to be a cop before basketball. I do have pride for my country."
"I'm going to protest regardless," she told the Arizona Republic. "I'm not going to be out there for the National Anthem. If the league continues to want to play it, that's fine. It will be all season long, I'll not be out there. I feel like more are going to probably do the same thing. I can only speak for myself." 
Hopefully, they don't play the national anthem when she lands back on American soil. We wouldn't want to trigger her. 
Griner was exchanged for Viktor Bout who has been called the "Merchant of Death" due to his rise to the top of international arms trafficking. "Born in Tajikistan, he is a former Soviet military officer who spent time in Mozambique during its civil war, going on to work for the KGB in Angola," according to The Daily Mail.
"He turned to the arms trade after the collapse of the Soviet Union. Attorney General Eric Holder called Bout 'one of the world's most prolific arms dealers'. Bout has armed human rights abusers in Angola, Liberia, Sierra Leone and the Democratic Republic of Congo, according to Amnesty International.
Conflicts linked to Bout include the First Liberian Civil War, the Angolan Civil War, the Yugoslav Wars, the 2006 Lebanon War, the Second Libyan Civil War and the Second Congo War."
In a 2003 interview with The New York Times, Bout said, "'I woke up after September 11 and found I was second only to Osama." In the mid-1990s, Bout reportedly helped steal $32 billion worth of Ukrainian weaponry after it broke with the Soviet Union, selling it across the world.
The 2011 release discussing The Merchant of Death's conviction said, "Bout was convicted of conspiring to kill U.S. nationals; conspiring to kill U.S. officers & employees; conspiring to acquire & use anti-aircraft missiles; conspiring to provide material support to a foreign terrorist org."
Bout was also called one of the "most dangerous men on the face of the Earth."
Still can't believe we traded the Merchant of Death straight up for Britney Griner. pic.twitter.com/knzZXonOdW

— Dave Portnoy (@stoolpresidente) December 8, 2022
Griner played in 30 WNBA games in 2021, getting about 20 points a game while grabbing almost 10 boards. 
While it is probably the first WNBA trade to ever make national headlines, the exchange also means that Biden has once again abandoned US Marine Paul Whelan, who's been held in Russian prison on trumped up espionage charge for nearly five times longer than Griner was held. 
I will be the skunk in the room. This is not a diplomatic triumph by the administration. This was a very difficult decision, and we paid a very high price. It is a sobering day. Another American is still left behind. There should be questions on the one for one swap. https://t.co/385QilQEJU

— Marc Polymeropoulos (@Mpolymer) December 8, 2022
David Whelan, brother of imprisoned Paul Whelan: "How do you continue to survive,day after day,when you know that your government has failed twice to free you from a foreign prison? I can't imagine he retains any hope that a government will negotiate his freedom at this point…" https://t.co/Skq4hwHmnQ

— Margaret Brennan (@margbrennan) December 8, 2022
Reuters wrote, "Talks on freeing former U.S. Marine Paul Whelan from prison in Russia are continuing, the Russian Interfax news agency cited his lawyer as saying on Thursday, after U.S. basketball star Brittney Griner was released by Moscow in exchange for Russian arms dealer Viktor Bout.
"Whelan is currently in the penal colony," Vladimir Zherebenkov was quoted as saying. "Discussions about his exchange are continuing at the level of the intelligence services, so everything is quite closed – but they are going on."
Whelan was convicted in 2020 of spying, after a trial held entirely behind closed doors that U.S. diplomats said was unfair and opaque, and sentenced to 16 years in a maximum security penal colony. He denies all the charges."
Biden's trade was lambasted for how openly cynical it was, showing that the thing Democrats only care about are social media and celebrity rather than governing for the best interests of the country as a whole. 
MORE: To secure Griner's return, Biden has freed arms dealer Viktor Bout. Bout gained infamy as the "Merchant of Death" & was found guilty for conspiring to sell AK-47's that would've been used to kill DEA agents.

— Steven Portnoy (@stevenportnoy) December 8, 2022
Marc Fogel – American Teacher
Paul Whelan – American Marine

Both are still in prison in Russia
Marc Fogel held 16 months now for bringing prescription marijuana into Russia
Paula Whelan held 4 years now for espionage

It's clear why they've chosen to release her.

— BMoe (@BMoeBlessed) December 8, 2022
[Read More: Biden Ready To Use Your Retirement To Fund Woke Causes]