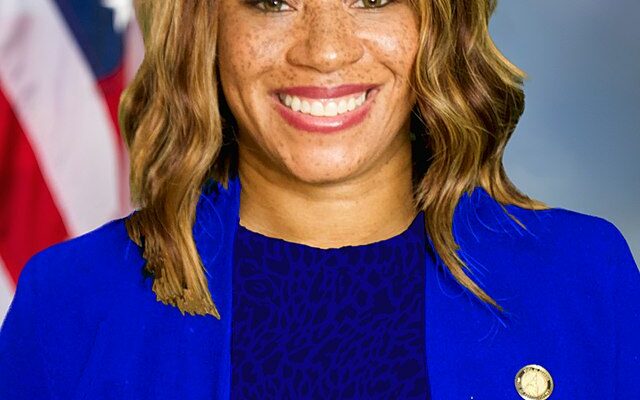 A Georgia lawmaker who represents a deeply blue district in Atlanta has shocked the Democratic Party and announced a party switch. Mesha Mainor has represented District 56 in the Georgia House since January 2021 and claims that her angry Democratic made it impossible for her to serve her constituents after she backed a school choice bill.
Now she's speaking out and telling Democrats that enough is enough.
Mainor, according to The Daily Caller, said she decided to flee the Democrats for "MORAL" reasons, and said she will "NEVER apologize for being a black woman with a mind of my own," Mainor wrote in a tweet. The lawmaker told Fox News she felt "abandoned" when splitting with her Democratic colleagues in the state House for supporting a recent school choice bill and opposing the "defund the police" movement.

"When I decided to stand up on behalf of disadvantaged children in support of school choice, my Democrat colleagues didn't stand by me," Mainor told Fox News. "They crucified me. When I decided to stand up in support of safe communities and refused to support efforts to defund the police, they didn't back me. They abandoned me."

Mainor was first elected to the state House in 2020, and successfully won a second term in 2022, according to Ballotpedia. The lawmaker overwhelmingly won the Democratic primary in both cycles, and didn't face Republican opposition in either general election.

"For far too long, the Democrat Party has gotten away with using and abusing the black community," Mainor said. "For decades, the Democrat Party has received the support of more than 90% of the black community. And what do we have to show for it? I represent a solidly blue district in the city of Atlanta. This isn't a political decision for me. It's a moral one."
Her district on the westside of Atlanta saw over 89 percent of voters back Democrat Joe Biden in the 2020 presidential election, but Mainor explained that she changed parties because Democrats don't reflect her core values.
The Atlanta Journal-Constitution wrote that "she is believed to be the first Black woman to serve as a Republican in the Georgia General Assembly, according to state House officials. Her move gives Republicans a 102-78 majority in the House.
'Members of the Democrat Party have publicly slandered me in every way imaginable,' Mainor said during a press conference at the Georgia Capitol. 'If it's not your values to support kids in schools where only 3% can read, I don't have the same values.'"
She took to social media to further explain her position: 
I didn't leave the Democrat Party.

The Democrat Party left ME when it embraced left-wing radicalism, lawlessness, and put the interests of illegal aliens over the interest of Americans.

I have nothing to apologize for.

— Rep. Mesha Mainor (@MeshaMainor) July 11, 2023
I didn't leave the Democrat Party.

The Democrat Party left ME when it embraced left-wing radicalism, lawlessness, and put the interests of illegal aliens over the interest of Americans.

I have nothing to apologize for.

— Rep. Mesha Mainor (@MeshaMainor) July 11, 2023
The issue of education and what happens in public schools has become a wedge issue for many Democrats who have found themselves having to answer to both their constituents and the teacher unions.  
Like 2028 presidential candidate, Pennsylvania Governor Josh Shapiro, for example, recently received heavy criticism for initially backing a school choice system before, in the words of The Wall Street Journal, selling out his constituents. 
WSJ reported, "After backing a Senate proposal for school vouchers for K-12 students—one of his 2022 campaign promises—the Democratic Governor caved this week to his party and the unions and will nix the scholarships from the state budget.
"We stand at an impasse largely over one provision of this budget," Gov. Shapiro said in a Wednesday statement, adding that Democratic House Majority Leader Matthew Bradford 'has made clear' the vouchers do not have 'the support of the House.' Mr. Bradford has only a one-seat majority but nearly all Republicans back vouchers. Rather than keep the pressure on, Gov. Shapiro gave Democrats cover by promising to kill the scholarships with his line-item veto.
What an embarrassing surrender. The $100 million scholarship plan would have helped lower-income students in the state's worst-performing district schools find other education options. Students in K-8 would have received $5,000, high-schoolers $10,000, and special-needs students $15,000 vouchers for private school tuition and related expenses. EdChoice polling finds that 63% of Pennsylvania residents support school vouchers.
'Governor Shapiro has decided to betray the good faith agreement we reached,' said a statement from Senate President Pro Tempore Kim Ward, Senate Majority Leader Joe Pittman and Senate Appropriations Committee Chairman Scott Martin. 'It is a shame the governor does not have enough respect and standing within his own party to follow through with his promise.' Shame is the right word."
Other Democratic strongholds and minority-majority districts have seen protests from parents after schools put "woke" curricula, especially around gender ideology, into education systems. 
The Detroit Free Press noted back in October that "Hundreds of protesters packed a Dearborn Public Schools board meeting this week and shut it down with cries of anger over certain LGBTQ books they said are too sexually explicit for children. And now, some community leaders anxiously await a rescheduled meeting set for Thursday night as others call for calm." Dearborn has been represented by the Democratic Dingell Family for nearly a century. 
Despite protests from traditionally-liberal groups, the nation's largest teacher's union has continued to push an agenda that embraces some of the more radical aspects of the LGBTQ movement. Earlier in the week it "recommended that teachers include the controversial book "Gender Queer" on their summer reading lists.
The book was featured in the NEA's "Great Summer Reads for Educators!" list that showcased 11 books.
"Gender Queer" has as courted major controversy among America parents for being in public school libraries throughout the US and has been challenged for its depictions and descriptions of oral sex as well as discussions on masturbation," according to The New York Post.
Another majority-minority, Democratic stronghold in Michigan, the City of Hamtramck, recently saw its majority Muslim city council ban the Pride Flag on public grounds. 
The Guardian, reporting on the vote, said that "Muslim residents packing city hall erupted in cheers after the council's unanimous vote, and on Hamtramck's social media pages, the taunting has been relentless: 'F*gless City,' read one post, emphasized with emojis of a bicep flexing."
Several LGBTQ activists have stated they feel betrayed by their allies in the Democratic Party. 
[Read More: Dems Block Making Child Trafficking A 'Serious' Crime]