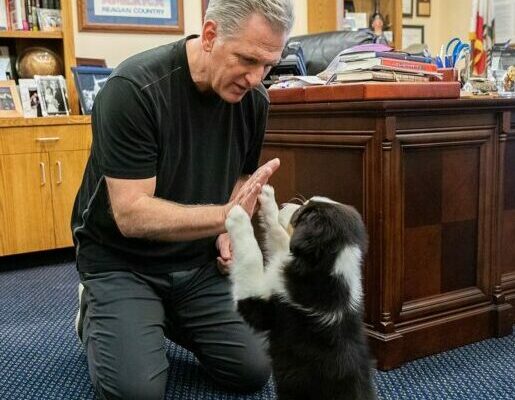 Current House Minority Leader Kevin McCarthy's chances at becoming the next Speaker of the House might be in trouble. Five House Republicans have publicly come out against his bid, and the Daily Caller has reported that there are several others who have doubts in private that the California representative is up to the job. Some have begun saying that he should step aside to avoid turmoil at the beginning of Republican control over the House of Representatives. 
In order to placate the doubters, McCarthy and his allies have commenced a substantial whipping operation, several sources with knowledge of his efforts told The Daily Caller. The Republican leader is prepared to offer the holdouts prized committee seats through the Steering Committee. However, McCarthy has labeled their most substantial demand, a strengthened motion to vacate the chair, a non-starter. Former House Freedom Caucus chairman Andy Biggs of Arizona announced Tuesday that he would also run for the position, underscoring McCarthy's failure to secure his right flank.
"Kevin McCarthy needs to step aside and allow our conference to move forward without him at the helm. He does not have the votes to become the next House Speaker. Not accepting this fact will stymie Republican efforts to advance legislation and hold the Biden Administration accountable. His reluctance to step down will add unnecessary chaos on Jan. 3," Biggs said.
Two other GOP House members, Michael Cloud from Texas and Ken Buck from Colorado, told The Daily Caller they still needed to consider if McCarthy deserved their vote.
"Congress is broken. We need fundamental change in order to become a body that can represent the people over entrenched interest — and put our nation back on a path toward security and strength. I'm willing to vote for anyone who will present a clear vision and plan to accomplish this," Cloud said.
"I'm waiting to see how Kevin outlines his agenda," Buck added. "I think that it's really important that we get spending under control. We have $31 trillion in debt. Republicans should lead on that issue and we need a leader who is willing to stand up to the Biden administration and the excessive spending that we've had for the last three or four years."
Out in Montana, Congressman Matt Rosendale launched a broadside against the current Republican House leader. 
In the Billings Gazette, he stated, "I've worked with a few of my colleagues to outline reforms to the House rules that will restore regular order and allow every member the ability to participate in the legislative process. We have proposed rules requiring legislation to be available for five full days before a vote, banning earmarks so votes can't be bought, the ability to propose an amendment to legislation on the floor, and streamlined single-issue legislation to eliminate thousand-page bills. 
These ideas aren't new — many of these rules were in effect before Nancy Pelosi was elected speaker. The proposed rule changes would restore basic elements to create a properly functioning legislature and guarantee that all Americans are represented.
Several months before the House Conference Leadership Elections, I joined a group of members to propose these rule changes to Republican Leader Kevin McCarthy. He made it clear that he is unwilling to meaningfully change the rules and challenge the status quo in Washington. Current Republican leadership falls in with the majority of politicians who campaign on change but support the current system that provides them with undeserved power and privilege.
We need a leader who has the courage to fight and utilize every option to counter the destructive policies of the radical left. While Kevin McCarthy served as minority leader, I urged him to leverage our "must-pass" bills, like the federal and defense budgets, to prevent and change bad policies.
If Kevin McCarthy couldn't lead in the minority, he doesn't have the ability to serve as speaker of the House. We need a speaker who is strong enough to get things done with a Democrat-controlled White House and can unite the Republican party. You didn't elect me to be a rubber stamp. We cannot continue to do the same thing with the same people and expect a different outcome."
The Hill reported, "Rosendale is part of a group of five vocal House Republicans who have explicitly said or strongly indicated they will not support McCarthy for Speaker on Jan. 3. That other lawmakers are GOP Reps. Andy Biggs (Ariz.), Matt Gaetz (Fla.), Ralph Norman (S.C.) and Bob Good (Va.). With Republicans heading into the 118th Congressional session with a slim majority, that opposition has the potential to derail McCarthy's bid for Speaker.
Unlike the other four, though, Rosendale has not explicitly committed to voting for an alternative candidate. He has previously said he could only vote for McCarthy under "extreme circumstances," but has also said he will not vote "present" during the Speakership vote, a move that would have potentially given McCarthy more breathing room in the Speaker vote. McCarthy needs support from a majority of those voting for a specific candidate to win the gavel.
Rosendale also expressed resistance to McCarthy in a tweet last month after McCarthy was nominated by House Republicans to be Speaker, which the GOP leader won in a 188 to 31 vote over a protest challenge from Biggs.
"He wants to maintain the status quo, which consolidates power into his hands and a small group of individuals he personally selects. We need a leader who can stand up to a Democrat-controlled Senate and President Biden, and unfortunately, that isn't Kevin McCarthy," Rosendale said."
Republicans only hold a 10-seat majority over the Democrats, 222-212, which means that a switch in five votes can have major consequences. 
In 2015, McCarthy was the frontrunner to replace John Boehner as Speaker of the House, but his effort was derailed after allegations that he had an affair with congressional colleague Renee Ellmers of North Carolina. 
The New York Magazine described the 2015 rumors: "Most of the mainstream press was similarly vague, as few wanted to print a headline like "Unsubstantiated Gossip Takes Down McCarthy." Rumors of the affair percolated through the conservative blogosphere, and drew more attention when Ellmers made an odd remark about McCarthy failing to ask for her support, saying, "I'm apparently not high on his priority list."
GOP Representative Walter Jones added more fuel to the fire when he issued a letter calling on candidates to withdraw from the race for speaker if "there are any misdeeds he has committed since joining Congress that will embarrass himself, the Republican Conference and the House of Representatives if they become public." Jones later confirmed that his letter was partly inspired by a blog post he read about McCarthy and Ellmers.
McCarthy changed his mind on pursuing the speakership within a matter of hours, making the case for his candidacy at an early morning meeting, then saying he was dropping out by noon. Steven Baer, a conservative activist known for flooding lawmakers' inboxes, had been emailing many top Republicans about the affair rumor, and according to the HuffPost, he sent an email that morning with the subject line, "Kevin, why not resign like Bob Livingston?" Representative Bob Livingston quickly withdrew his bid to be Speaker and resigned in 1998 after acknowledging an affair." 
Both Ellmers and McCarthy denied the affair. She soon after the scandalous headlines left Congress in 2017. Paul Ryan had to swoop in to become Speaker of the House after McCarthy's failure.  
Does McCarthy have what it takes to get over the finish line this time? We'll have to wait and see, but there's at least one prominent politician in DC who's gone on the record to say he doesn't have what it takes. Louisana Representative Steve Scalise, the current GOP Whip, is rumored to be next in line if the need for a McCarthy alternative arises.
Either way, the next Republican leader better be ready to fight the Bidens. They're gearing up for battle.
[Read More: Hunter Plans To Launch Defamation Suits Against The GOP]