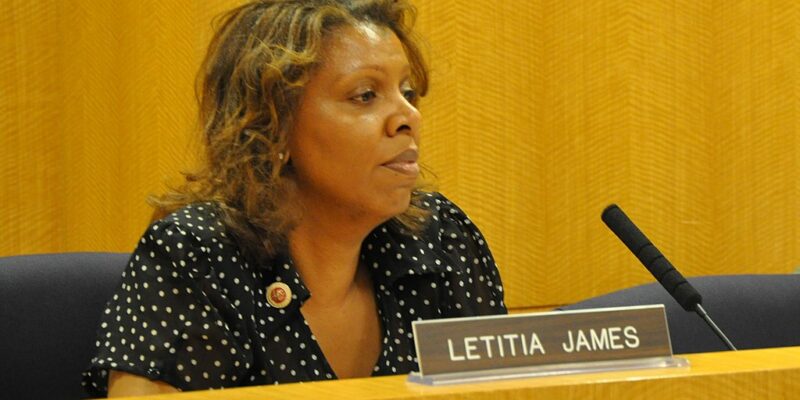 Democrats are again using the power of government to attack their enemies. Yesterday we wrote about how the FBI targeted conservatives and recently went after a whistleblower for refusing to comply in political witch hunts. Now elected Democrats are going after the Trump family and trying to prosecute Florida Governor Ron DeSantis, the two leading contenders for the GOP nomination in 2024. 
Politico writes, "Early in the week, New York Attorney General Letitia James filed a lawsuit against Donald Trump, three of his children, and his business. She accuses the Trumps of a massive financial defrauding scheme and is trying to prevent the family from performing real estate transactions for the next five years.

The attorney general's civil suit alleges more than a decade of deception, including billions of dollars in falsified net worth, as part of an effort by Trump to minimize his companies' tax bills while winning favorable terms from banks and insurance companies.

Trump has repeatedly asserted that James, a Democrat running for a second term in November, is on a political vendetta, noting that during her 2018 campaign for AG she repeatedly vowed to pursue legal action against Trump and said he should be "scared" if she was elected. During her campaign, James promised to target Trump for investigation and told voters her election would bring pressure on him similar to that posed by Special Counsel Robert Mueller.

'When your family, your company, and all the people in your orbit have become the targets of an unfounded, politically motivated Witch Hunt supported by lawyers, prosecutors, and the Fake News Media, you have no choice,' Trump said in a statement explaining why he took the Fifth despite numerous past comments he'd made about such a move signaling guilt."

The New York attorney general is hardly an unbiased lawyer seeking justice. Politico also noted, "James vowed in her 2018 campaign for attorney general to pursue a man she said was an "illegitimate president" and an "embarrassment." To Donald Trump, James, the first Black woman to hold statewide office in New York, is a "racist" prosecutor engaged in a "witch hunt" against him."
In an official campaign video, she promised to prosecute Trump because she thought he was a bad president, not because of any identifiable crimes. 
Letitia James has won the Democratic primary for NY attorney general. If elected in November, she'll be the first Black attorney general in NY history. She has promised to reform NY's criminal justice system and to investigate and prosecute Trump's family businesses. pic.twitter.com/M8UMHJQuIN

— NowThis (@nowthisnews) September 14, 2018
During a campaign stop with supporters, she was caught on video promising to "be a pain in the ass" to Trump and that the former president would "know my name personally." 
Tish James should be disbarred pic.twitter.com/RQdQwc6SDp

— Citizen Free Press (@CitizenFreePres) September 21, 2022
Ace of Spades asked, "Is that allowed? Making a political campaign promise to abuse your office to persecute a political foe?
Why no, it's not. At NeoNeo, Alan Derschowitz says it's a cause for recusal. She can't be involved in the case, give that she's announced a conflict of evidence — she promised to sue Trump whether there was evidence against him or not, as a political plank of her candidacy."
Other reports wrote that "Trump himself leveled a version of the "no harm, no foul" defense on his Truth Social media site Wednesday, saying that the banks and insurance companies involved "were fully paid, made a lot of money, and never had a complaint about me."
However, James' office appears to be taking the stand that whether the banks were or were not actually tricked isn't relevant to the legal case — that the alleged intent to deceive on the part of Trump, his children and top aides in order to get a financial benefit is sufficient to constitute a violation of the law."
The New York AG has also "said that whether the other parties in Trump's deals sustained a loss also isn't relevant, so she can pursue these violations even if the banks profited from the deals."
David Freiheit a former litigator, noted the political nature of James's prosecution of Trump, tweeting: "It doesn't matter if the banks knew. It doesn't matter if the banks were paid back. It doesn't matter if the banks made money. show me the man, James will show you the crime."
In Texas, a liberal Democrat is using the power of his office to attack Ron DeSantis for flying migrants to Martha's Vineyard. The Miami Herald stated, "Bexar County Sheriff Javier Salazar announced at a news conference Monday that his office is investigating whether the migrants were the victims of a crime, saying they were "lured under false pretenses." Many migrants said they agreed to fly from San Antonio to the Massachusetts island after being promised jobs. But there was no work waiting. 
Salazar told reporters that he would welcome help from the White House to go after one of the leading opponents of the president but maintained that his actions weren't politically motivated. 
"I believe people need to be held accountable for it to the extent possible," Salazar said. "At this point, I'm not able to definitively say here's the statute that they broke, either federal, state or local, but what I can tell you is it's wrong. Just from a human rights perspective, what was done to these folks is wrong."
Yes, you read that right. This sheriff, who claims that his investigation isn't political, admitted that he has no idea what laws were broken but is pursuing a case because he didn't like it. 
Earlier in the month, the wealthy, liberal enclave of Martha's Vineyard, where Barack Obama lives, called out the National Guard after DeSantis let 50 migrants fly there under his state program of sending undocumented immigrants to "sanctuary cities." 
During an interview with CNN, Sheriff Salazar said that restaurants should hire illegal immigrants because he was tired of waiting so long at restaurants.
Bexar Co Sheriff is tired of long waits for tables, so he urges restaurants in San Antonio to hire the 2 million+ illegal aliens who have crossed during the Biden Border Crisis.

If restaurants took the Sheriff's advice, they'd be violating federal law.
pic.twitter.com/jasResY1Ji

— DeSantis War Room 🐳 (@DeSantisWarRoom) September 20, 2022
[Read More: FBI Goes After SWAT Whistleblower]