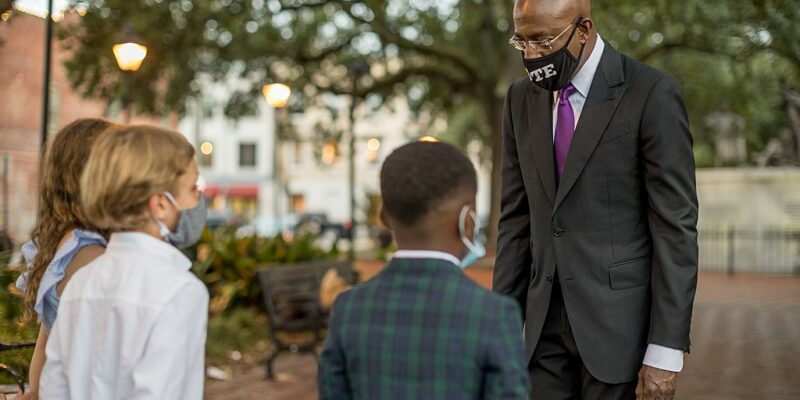 As the mainstream media focuses on every little thing Hershel Walker says as he campaigns in Georgia, bending backward to turn minor statements into major scandals, they continue to shield Senator Raphael Warnock by ignoring his alleged corruption. 
On Valentine's Day in 2016, Warnock, 53, the pastor at the historic Ebenezer Baptist Church, considered the spiritual home of the Reverend Dr. Martin Luther King, married Oulèye Ndoye, 38. Talking about his new marriage, the now senator said, "I've waited a long time for this moment and I've worked hard for a long time. It's exciting to finally give more attention to my personal life." 
Ndoye is an activist who the Atlanta mayor appointed as the "inaugural senior human trafficking fellow for the City of Atlanta." 
Unfortunately, after nearly four years and two kids, the couple split in 2020 as Warnock prepared for his run for U.S. Senate. The nasty divorce became a campaign liability for the Democrat. 
The New York Post reported at the time, "​The ex-wife of Georgia Senate candidate Rev. Raphael Warnock told police he deliberately ran over her foot during a March 2020 domestic dispute, and that her ex-husband is a 'great actor,' according to a report.
Ndoye told Atlanta police that Warnock ran over her foot during a dispute, 'and all he cares about right now is his reputation because of his Senate run, according to bodycam footage aired on Fox News' 'Tucker Carlson Tonight' Tuesday.
'I've tried to keep the way that he acts under wraps for a long time, and today he crossed the line. So that is what is going on here. And he's a great actor. He is phenomenal at putting on a really good show," a tearful Ndoye told police.'"
Warnock was not charged with a crime over the incident, and "medical officials didn't find visible signs of injury to the foot" of his former wife. The pastor told a local newspaper that Ndoye's accusation "didn't happen."
After winning his Senate seat that November, Warnock was also charged by his former wife with abandoning his children, and she took him to court. Luckily for him, his fellow Democrats had his back. The Washington Free Beacon noted this past April that "A Georgia judge last month barred the public from attending a hearing in Sen. Raphael Warnock's (D., Ga.) custody dispute, a sign that the court will take steps to shield Warnock from media scrutiny in his increasingly messy domestic battle with his ex-wife.
Fulton Superior Court judge Shermela Williams, who was a registered Democrat before winning her seat in a nonpartisan 2020 judicial election, held the closed-door hearing on May 16 for Warnock and his ex-wife Oulèye Ndoye, a representative for the court told the Washington Free Beacon. Williams late last month also sealed an order in the case that detailed the former couple's temporary custody agreement.  
The judge's decisions are a political victory for Warnock, who in an April joint filing with his ex-wife asked the court to seal the case, arguing the publicity could hurt his campaign for reelection. The custody case has been contentious, with Ndoye accusing Warnock of "harassing" her and neglecting their children and Warnock seeking to subpoena her college records." 
You have to say one thing about the Democrats; they know how to stick together when needed to maintain their power. 
The Free Beacon had also documented that Warnock's ex had previously filed a court complaint that "accused Warnock of leaving her 'financially strapped' by refusing to reimburse her for childcare expenses. She said Warnock also 'routinely neglects' to give her notice when he is traveling out of town during his visitation days, and instead has the children 'picked up from school by friends and [leaves] them with various babysitters overnight' while he is away."
It's now been revealed who was paying for the senator's babysitters, and it's no surprise that it wasn't the senator. Breitbart has discovered that Warnock used campaign funds to pay for nannies so that he could campaign to become the 50th Democratic senator. 
Breitbart wrote, "The payments have not been without issue, however, as Warnock's ex-wife Oulèye Ndoye has sued the Democrat to modify the custody arrangement with their children, as well as alleging Warnock had "failed and refused to reimburse" her for childcare expenses.

Ndoye alleges Warnock is in "willful contempt" of the childcare agreement and asks a judge to give her additional custody over the children as she moves to Massachusetts to complete a program at Harvard University.

The Georgia Democrat has allegedly been using his campaign to fund his childcare expenses since 2020, but appears to have stopped for a year soon after taking office in 2021. After Ndoye filed the complaint, which also cited his increased income due to becoming a Senator, Warnock resumed to pay for childcare out of the campaign's pocket.

FEC rules surrounding Warnock's actions are unclear. Childcare payments are allowed by the FEC, but are typically used to pay for the care for a day trip or an overnight trip. It appears that Warnock is funding his childcare payments entirely through campaign funds."
Breitbart also noted that "FEC rules surrounding Warnock's actions are unclear." The FEC states, "Federal candidates cannot use campaign funds to pay for personal expenses—i.e., any expense that would exist irrespective of their candidacy or duties as a federal officeholder. Recently, a number of candidates have asked whether childcare and family travel expenses stemming from their candidacy would be subject to the personal use ban. Applying the irrespective test, the Commission has generally concluded that campaign funds may be used to pay for those expenses if they are incurred as a direct result of campaign or officeholder activity." 
The rule appears to allow childcare for day trips or overnight travel, but, as the conservative outlet mentioned, "it appears that Warnock is funding his childcare payments entirely through campaign funds."
"Warnock spokeswoman Meredith Brasher called him 'a devoted father who is proud to continue to co-parent his two children as he works for the people of Georgia.' She didn't comment further, and Warnock hasn't yet responded to the claims in court," according to the Atlanta Journal-Constitution.
This isn't the first time Reverend Warnock has been accused of using campaign funds to pay for his personal expenses. In July, Politico broke the news that the senator "used campaign money to cover legal expenses for a lawsuit relating to his time as a church minister — transactions that raise questions about whether the spending runs afoul of federal rules governing personal use of campaign funds."
The lawsuit was first launched in 2019 by Melvin Robertson from Atlanta and "involved baffling and seemingly baseless allegations against Warnock that date back to 2005 when he was a pastor." A federal district court judge dismissed the case.
'But Robertson refiled a similar lawsuit in April 2021," Politico continued, "outlining the same allegations against Warnock while also suing Ebenezer Baptist Church, where he has long served as senior pastor, and other public figures.
This time, Warnock was serving in the Senate. And he enlisted his campaign attorneys from Elias Law Group to represent him in the case, along with an Atlanta firm, Krevolin & Horst, which assisted ELG."
Warnock's campaign contends that because he's a senator, he can use the funds even if it doesn't have anything to do with him being a senator. Politico quoted a lawyer who said, "If Warnock is using campaign money to pay for a lawsuit that predates his running for office, then by definition it existed irrespective of his candidacy and would be impermissible to use campaign funds on."
In July, the National Republican Senate Committee filed a complaint with the Federal Election Commission over the matter. 
Warnock's colleague, Senator Rick Scott, the chairman of the NRSC, said, "Like a true Washington politician, Raphael Warnock is using the trappings of his office to fund his personal lifestyle. Senator Warnock clearly violated FEC rules and used his campaign account on personal expenses. The NRSC will continue to hold Senator Warnock accountable, not only for his flagrant abuse of his office, but also for his continued support of Joe Biden's agenda that is crushing Georgia families with record-high gas and grocery prices."
The case is pending.
Polls in Georgia show a tight race between Warnock and Walker. The incumbent leads the ex-football star at the University of Georgia by less than 2 points in the 538 aggregate poll. 
The two senate candidates have spent the month of August fighting over whether or not they should hold their only debate during NFL Sunday Night Football or the day after. 
[Read More: Trump Rep: Trump Had Hundreds Of Highly Classified Docs]