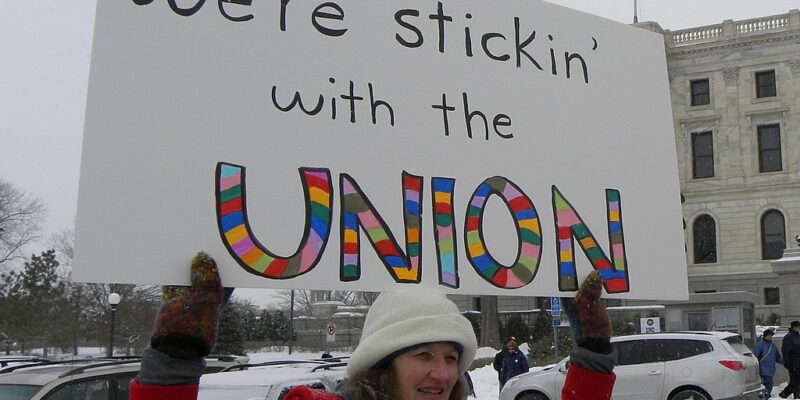 The woke may have finally eroded one of the staples of labor negotiations, undercutting a key component of union power: the concept of seniority. Law professors Roger I. Abrams and Dennis R. Nolan have explained why the concept of seniority is vital to workers and the union. They wrote, "Where seniority is widespread and decisive, the union gains significant job control. Where seniority is of limited importance, management retains control."
The United Electrical, Radio & Machine Workers of America, for example, presents the importance of seniority on its website, "Seniority systems started with an attempt by workers to solve the problem of management favoritism and discrimination. This is a central belief of unions, that all workers should be treated equally and fairly."
What was once the foundation of union power is no more for Minneapolis teachers. The teachers union there negotiated a system that replaces seniority with race–white teachers in that school district will be fired first if the city's enrollment continues to decline. 
The Star Tribune has the details of the new collective bargaining agreement. Minneapolis Public Schools, one of the most diverse districts in the state, has long recognized its need for more teachers of color. But 50 of them are losing their current positions this fall, a result of cuts largely tied to enrollment losses.

By next spring, however, teachers of color in the district will have new safeguards. The agreement that ended the three-week teachers strike this spring includes contract language that upends the traditional last-in, first-out hiring policies as a way to retain "members of populations underrepresented among licensed teachers."

The new contract makes Minneapolis one of the only school districts in the country with such seniority-disrupting language, district and union leaders say. They hope it helps foster a teaching staff that better mirrors the demographics of the pupils they work with, more than 60% of them students of color. Currently, about 16% of the district's tenured teachers and 27% of its probationary teachers are people of color.

The protections are a part of a larger portion of the union contract that includes other anti-racism and anti-bias provisions, including the establishment of a mentorship program for educators of color in the district. According to the contract, the protections are an effort "to remedy the continuing effects of past discrimination by the district"… resulting "in a lack of diversity of teachers."
Candra Bennett, the interim senior human resources officer for the district, seemed to shrug at the change. She told the newspaper, "Let's be clear — in order to get to that place, someone has to give something up. The seniority-based system is the bedrock of union labor."
Alpha News reported, "The stated justification for these measures is 'to remedy the continuing effects of past discrimination by the District.'"
The new collective bargaining agreement states: "Past discrimination by the District disproportionately impacted the hiring of underrepresented teachers in the District, as compared to the relevant labor market and the community, and resulted in a lack of diversity of teachers." 
Last spring, the teachers launched a strike that lasted 14 days. Fox News noted that 50 "teachers of color will be losing their positions this fall due to cuts tied to enrollment losses."
At Unyielding Liberty, Hans Bader wrote that the agreement clearly "violates a well-known Supreme Court decision overturning the race-based layoff of a white teacher, and contradicts a well-known federal appeals court decision, which ruled that race-based layoffs of white teachers violate Title VII of the Civil Rights Act."
"It is illegal under Title VII of the Civil Rights Act." He continued: "When it comes to termination (as opposed to hiring or promotion under an affirmative-action plan), an employer can't racially discriminate even against whites. The Third Circuit Court of Appeals ruled in 1996 that an school district can't consider race even as a tie-breaker, in deciding who to lay off, even to promote diversity, because that (a) unduly trammels the white teacher's rights — even affirmative action plans are supposed to be mild and not unduly trammel someone's rights, and getting fired as opposed to being denied a promotion unduly trammels someone's rights — and (b) putting that aside, the school district couldn't consider race to promote diversity when black people weren't seriously underrepresented in its workforce as a whole. That ruling was Taxman v. Board of Education of Piscataway, 91 F.3d 1547 (3d Cir. 1996).
It is also unconstitutional, for more complicated reasons," the lawyer said, "under the Supreme Court's decision in Wygant v. Jackson Board of Education (1986). In that case, the Supreme Court overturned race-based layoffs by a 5-to-4 vote. Five justices said a school district can't lay off white teachers to remedy societal discrimination against blacks. Four of those five also said that the Constitution forbids laying off people based on race (as opposed to considering race in hiring and promotions) even to remedy a school district's own discrimination. 
The commentator finally warned that "since the teachers union supported the adoption of this discriminatory provision, it may also be liable for discrimination along with the school district." He continued: "The provision also appears to be unconstitutional for yet another reason, because there does not appear to be a 'strong basis in evidence" for the collective bargaining agreement's claim that there are "continuing effects of past discrimination by the District.' The Supreme Court requires proponents of racial preferences to have a 'strong basis in evidence' for the claim that blacks were subjected to discrimination by the institution giving them a preference, and that there are lingering effects of that discrimination." 
James Dickey agreed with Bader's reasoning. A senior trial counsel at the Upper Midwest Law Center and a member of its legal team, he told The Washington Examiner that "the racial component of the agreement violates the constitutions of both Minnesota and the United States." Dickey enunciated that he encourages "any Minneapolis taxpayer or teacher who opposes this racial preference system" to send the law center an email.
Joseph Daly, a Mitchell Hamline University law professor and arbitrator with the state's Bureau of Mediation Services, said that he disagrees. The law professor asserted, "This is landmark language in a collective bargaining agreement. I've never seen language like this."
According to the Minnesota Reformer, "The policy seems carefully written to withstand potential lawsuits, which could arise from laid-off white teachers suing the district and claiming they were discriminated against on the basis of race, lawyers said. Still, careful contract language can't guarantee the school district or union would be immune from litigation."
"We worked closely with the district to be sure we were turning our shared values of retaining underrepresented educators into enforceable contract language," Minneapolis Federation of Teachers President Greta Callahan a statement to the Reformer explained. "At the same time, we are still preserving seniority rights to protect all members from arbitrary layoffs."
Conservative education activist Christopher Rufo took to Twitter to lambast the union's move, saying, "The Minneapolis teachers union has negotiated a contract in which the district will fire white teachers first. This is the inevitable endpoint of 'equity.'"
In June, Axios analyzed public school enrollment in Minnesota and found that "Minneapolis Public Schools saw the steepest decline, losing 4,300 students, or 15% of its pre-pandemic enrollment." The newspaper concluded that its study showed "that families who are frustrated with remote learning and other pandemic-related difficulties are likely to toggle their children to other options like charter schools, private schools, or homeschooling."
There has not been word on whether any teacher in the district plans to sue over the new agreement, but either way, it shows that the New Left has little interest in deploying the traditional tools of union collective bargaining. 
They instead hope to create a new world. 
[Read More: Liz Cheney's Connection To Hunter Biden Revealed]