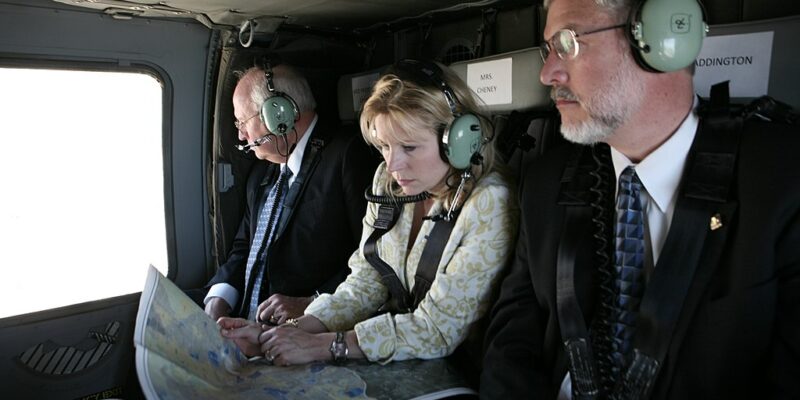 Every day, it seems, we are reminded how small "The Swamp" of DC really is. No one has epitomized this more than the Cheney Family. In 2000, for example, Dick Cheney was tabbed by George W. Bush to vet potential candidates for his vice presidential pick. 
After putting potential candidates through the wringer, lo and behold, only one candidate was left standing: the vetter himself, Dick Cheney, who did not even fill out the vice presidential questionnaires. 
Over the last couple of years, we have learned that the apple doesn't fall too far from the tree. When they feel themselves losing grip on power, the Cheneys will find a way to hold on. As Liz Cheney looks to be staring defeat in the face on Tuesday, it appears the family has made closer connections with the Bidens. 
The New York Post reports that Liz Cheney's husband, Phillip Perry, who did not take his wife's famous name, works at a law firm defending Hunter Biden. 
The Post writes, "Wyoming GOP Rep. Liz Cheney's husband is a partner at the law firm now representing Hunter Biden. Philip Perry has worked at Latham & Watkins since 2007, and focuses on white collar cases, commercial and Supreme Court litigation, according to his company biography.

Another Latham partner, Chris Clark, has been representing Hunter Biden since December 2020 — but Cheney's husband's involvement at the firm had not been previously known.

Latham is a Democratic powerhouse, with company attorneys and other employees donating more than half a million dollars to President Biden's 2020 campaign, Federal Election Commission records show. Clark himself ponied up $3,800.

Clark's work for the first son is prominently displayed on his company profile, which notes his representation of Hunter in a "grand jury investigation regarding tax issues."
Perry's law firm is one of the swampiest in the business. One of the first moves by President Biden upon assuming power was to appoint Nicholas McQuaid, a Latham partner, to head the Justice Department's criminal division, which is investigating his son. 
Biden's potentially-corrupt move saw Senators Chuck Grassley and Ron Johnson issue a letter demanding answers. The senators wrote, "According to recent news reports, the Biden administration hired Nicholas McQuaid as Acting Assistant Attorney General for the Criminal Division on January 20, 2021.[1] Mr. McQuaid was employed at Latham & Watkins until January 20, 2021, and worked with Christopher Clark, who Hunter Biden reportedly hired to work on his federal criminal case a month before President Biden's inauguration."
It is unclear what role, if any, Mr. McQuaid has in the Hunter Biden case or whether he has any access to the case. As a general matter, all government employees must avoid situations that create even the appearance of impropriety and impartiality so as to not affect the public perception of the integrity of an investigation."
The White House has ignored the request for now. The two senators have since sent four letters demanding to know if the Latham partner was working from the inside to help Hunter Biden. It's safe to assume this will be one of the first topics of conversation if the Republicans in the Senate regain subpoena power again.
Liz Cheney, for her part, has spent most of her time not focusing on the current president's misdeeds but rather on the previous one's. She has been a loud voice against Donald Trump as a leader of the January 6 Committee in the House of Representatives. As we wrote in June, after falling out of favor with Republicans in her state, she now can only pray that Democrats in Wyoming will save her.  
The Wyoming Republican's latest endorsement probably isn't going to help, either. Earlier in the week, Breitbart reported that "Disgraced former Sen. Al Franken (D-MN) has endorsed January 6 committee puppet Rep. Liz Cheney (R-WY) in her upcoming primary on Tuesday." 
To appeal to Democrats, even Dick Cheney, who Hillary Clinton once compared to Darth Vader, cut an ad attacking Trump and using over-the-top hyperbole.
Looking straight into the camera, the former vice president states, "In our nation's 246-year history, there has never been an individual who is a greater threat to our republic than Donald Trump. He tried to steal the last election using lies and violence to keep himself in power after the voters had rejected him. He is a coward. A real man wouldn't lie to his supporters. He lost his election and he lost big. I know he knows it and deep down I think most Republicans know it."
As the Wyoming campaign comes to a close, Cheney appears ready to use all her connections and the power of her family to run for president in 2024. 
The Washington Post noted that her campaign released a final video that did not talk too much about Wyoming, "The two-minute video, meant ostensibly as the closing appeal to voters here, likely served much more as the launching point of a campaign that will last for years to come.
'No matter how long we must fight, this is a battle we will win,' Rep. Liz Cheney (R-Wyo.) says to the camera, promising to lead 'millions of Americans' of all ideological stripes' united in the cause of freedom.'
'This is our great task and we will prevail. I hope you will join me in this fight,' Cheney concludes.
Cheney is looking far beyond Tuesday's Republican primary for this state's at-large seat in the U.S. House, a race that she is likely to lose, barring an unprecedented surge of non-Republican voters into the GOP contest."
David Faris at The Week explained that Cheney understands she's not going to be president but instead probably has something else up her sleeve. 
He said, "Cheney is on record as wanting to rescue the GOP from the forces of Trumpism. If she is crushed as expected on Tuesday in Wyoming, she will likely conclude that this must be done outside the institutional apparatus controlled by Trump and his acolytes. And almost no one will spend the time, energy, and resources mounting a serious bid for the presidency if they really don't think they could win. Cheney, therefore, must hope to draw votes not just from Trump or the GOP nominee in 2024, but also from conservative Democrats enthralled by her performance on the Jan. 6 committee hearings. Her star turn as insurrection inquisitor could give her some cache with congressional Democrats like Rep. Mikie Sherrill (N.J.) and Rep. Elissa Slotkin (Mich.), who Cheney recently said she would "rather work with" than many of the MAGA supporters on her own team. Perhaps a few could be convinced to support her rather than the Democratic nominee.
But Cheney is no dreamer, and she probably knows she can't win that way. If that's the case, she may see her role as a spoiler who could drain just enough votes from Trump or the GOP nominee to be the difference-maker for Democrats. Even then, though, the calculus is not simple. While Republicans typically blame Ross Perot for siphoning votes from incumbent President George H.W. Bush in 1992, allowing Democrat Bill Clinton to win with a plurality, some scholars maintain that Perot's candidacy hurt Clinton. And third party candidates often attract voters who would otherwise abstain from voting altogether, complicating straightforward cause-and-effect narratives."
A recent poll in Wyoming had Liz Cheney losing to her challenger, Trump-endorsed Harriet Hageman, by over 20 points in the contest. 
[Read More: Former Dem Golden Boy Connected Himself With The Wrong People]