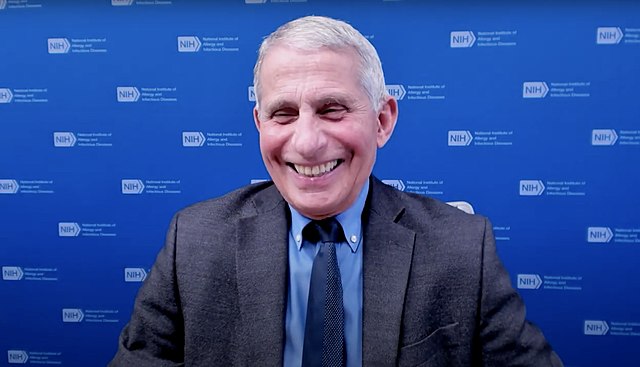 Earlier this month, it became apparent why Anthony Fauci had a near-obsessive determination to silence anyone who suggested that the COVID-19 pandemic was caused by a lab leak in China. He appears to have broken the rules put in place by President Obama to fund research done by the pandemic's "patient zero." 
The blogger Ace of Spades explained why Fauci had reasons to lie about the lab leak. He may very well have funded its creation. The Defense Advanced Research Projects Agency "rejected the grant to his buddy Peter Daszak to study the "furin cleavage sites" on the SARS virus at Wuhan, [an aspect of the coronavirus that made it so transmissible]. And after Obama ordered an end to funding gain-of-function, Fauci rewrote the rules and gave another grant, from the NIH, to Daszak to re-start gain-of-function research."
The grant money that Fauci changed the rules to grant also went to Ben Hu, patient zero in Wuhan."
Like many prominent politicians and bureaucrats who failed at their jobs to serve the people, but still receive nice government pensions in their "retirement," Anthony Fauci has received a new, prominent position at one of America's top universities. 
Georgetown University students better get ready for Professor Fauci. 
Fauci will take the title of distinguished university professor at Georgetown's School of Medicine in the infectious diseases division, and will also join the university's McCourt School of Public Policy, the university said Monday. He will begin at the university July 1, according to The Wall Street Journal.

At Georgetown, Fauci "will participate in medical and graduate education and engage with students," the university said.

Fauci stepped down as director of the National Institute of Allergy and Infectious Diseases, or NIAID, at the National Institutes of Health in December after serving more than five decades within the federal government.

"I ask myself, now, at this stage in my life, what do I have to offer to society?" Fauci said in a statement Georgetown published Monday. "I could do more experiments in the lab and have my lab going, but given what I've been through, I think what I have to offer is experience and inspiration to the younger generation of students."

Fauci served as the chief medical adviser to President Biden. He led the NIAID for nearly four decades under seven presidents, researching viruses including HIV, Ebola and Zika.
The position at Georgetown will serve as a soft landing for the doctor who went from national hero to being accused of lying to Congress and promoting massive censorship over the span of the last few years. 
Fauci's reputation has plummeted as more and more Americans have come to believe that Fauci has not been truthful about the origins of COVID-19. 
Rasmussen reported, "Most voters suspect U.S. officials covered up China's role in the COVID-19 pandemic, and less than half think Dr. Anthony Fauci has told the truth about the research that may have caused the outbreak.
The latest Rasmussen Reports national telephone and online survey finds that 39% of Likely U.S. Voters believe Fauci has told the truth about U.S. government funding for gain-of-function virus research, while 47% don't think Fauci has told the truth. Another 15% are not sure. These findings haven't changed much since December."
The massive drop of confidence shouldn't be surprising. Cheryl Chumley at The Washington Times recently lambasted the doctor, listing "lies" that he has been accused of over the last year. 
"Fauci lied about face masks. He lied about lockdowns. He lied about COVID shots — both efficacy and safety. He lied about science, even as he declared himself the king of science. He lied about his knowledge of former National Institutes of Health Director Francis Collins' takedown of the Great Barrington Declaration — the document from hundreds of thousands of epidemiologists and public health scientists expressing 'grave concern' about Fauci-backed, government-backed, government-mandated COVID-19 policies-slash-dictates."
Chumley then explained how Fauci pushed "propaganda" abotu the Great Barrington Declaration. 
"'In early October of 2020, Dr. Francis Collins … ordered Fauci and his trusted lieutenant Clifford Lane to wage 'a quick and devastating published take down (sic)' of the Great Barrington Declaration's premises,' AIER wrote, of uncovered emails that revealed Fauci, despite public statements to the contrary, did in fact understand Collins' message as a call for attack.
'Fauci pleaded innocence, suggesting that Collins was 'likely talking about writing a scholarly article to contest some of the premises' of the GBD,' AIER wrote.
His fibs over the research he funded also received a tongue-lashing: 
"'In Major Shift, NIH Admits Funding Risky Virus Research in Wuhan,' Vanity Fair wrote in an October 2021, headline. Beneath — was this: 'A spokesman for Dr. Fauci says he has been 'entirely truthful,' but a new letter belatedly acknowledging the National Institutes of Health's support for virus-enhancing research adds more heat to the ongoing debate over whether a lab leak could have sparked the pandemic.'
What a nice way of saying what could be summed much more concisely as: Fauci lied," Chumley concluded. 
Fauci is not the only prominent DC figure to receive a cushy appointment from Georgetown. Douglas Emhoff, husband of Vice President Kamala Harris, accepted a position at Georgetown law before she was even sworn in, despite never having taught. The Second Husband received a cool $164,740 for his work as a lecturer. 
[Read More: New York Pizza Under Attack From Environmentalists]