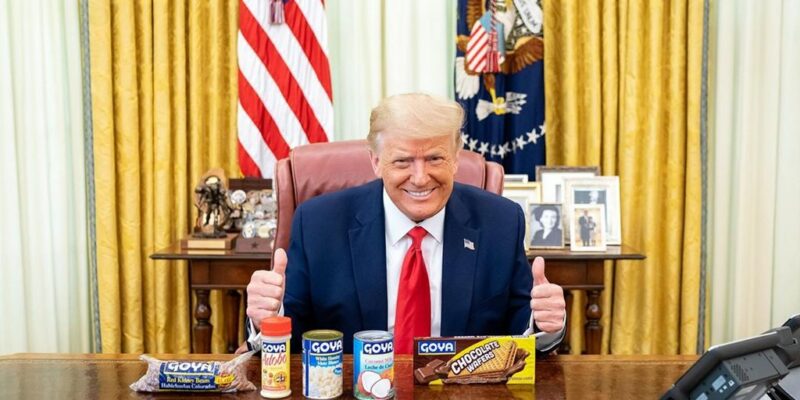 Things may be getting a little more legally dicey for former President Donald Trump. The Washington Post recently reported that the Justice Department has begun to investigate his "actions as part of its criminal probe of efforts to overturn the 2020 election results, according to four people familiar with the matter."
A grand jury has allegedly begun listening to testimony from two close aids to Vice President Mike Pence and prosecutors have "asked in recent days about conversations with Trump, his lawyers, and others in his inner circle who sought to substitute Trump allies for certified electors from some states Joe Biden won, according to two people familiar with the matter. Both spoke on the condition of anonymity to discuss an ongoing investigation." 
The sources told WaPo that the prosecutors asked very detailed questions "about meetings Trump led in December 2020 and January 2021; his pressure campaign on Pence to overturn the election; and what instructions Trump gave his lawyers and advisers about fake electors and sending electors back to the states, the people said." 
The same people also claim that many of the questions targeted Trump directly, focusing on his involvement in the "fake-elector effort" that John Eastman and Rudy Giuliani led before the Senate counted Electoral Votes in January 2022.
The convoluted plan involved creating a false set of electors to the Electoral College from seven states that Biden won and passing them off as legitimate. The New York Times previously explained the scheme, which "had a vague historical precedent and was rooted, at least in theory, in a post-Reconstruction Era law designed to address how to handle disputed elections. But it was deemed illegal by Mr. Trump's own White House Counsel's Office. Even some of the lawyers who helped come up with the idea referred to it as fake and acknowledged that it was of dubious legality." 
Most of the sources point to Rudy as the main culprit. CNN stated that "Giuliani and his allies coordinated the nuts-and-bolts of the process on a state-by-state level," but Trump's lawyers don't seem to be taking any chances and have started getting ready to defend the 45th president from prosecution.  
Rolling Stone recently reported that "Donald Trump's lawyers are preemptively preparing a legal defense against criminal charges from the Justice Department, as the former president's lawyers are increasingly anxious that their client will be prosecuted for his role in the attempt to overturn the 2020 election.

Members of the ex-president's legal team have already begun brainstorming strategy and potential defenses, according to three people familiar with the matter and written communications reviewed by Rolling Stone. Trump himself has been briefed on potential legal defenses on at least two occasions this summer, two of the sources say.

In their preparations, Trump's team has discussed strategies that involve shifting blame from Trump to his advisers for the efforts to overturn the election, per the three sources, reflecting a broader push to find a fall guy — or fall guys. "Trump got some terrible advice from attorneys who, some people would argue, should have or must have known better," says one of the sources with knowledge of recent discussions in Trumpland. "An 'advice of counsel' defense would be a big one."

Other potential strategies include defenses based on the First Amendment and the right to petition the government over a political grievance. Such arguments are viewed internally as potential defenses against charges related to the "fake elector" scheme."
The Washington Examiner also shared some bad news for the former president. "The DOJ has also received the phone records of top officials in the Trump administration, including former chief of staff Mark Meadows," the newspaper's sources alleged. This investigation is trying to discover what Trump told his attorneys and senior officials to do as part of their attempts to overturn the 2020 election results, which could open up further trouble for the former president. 
Along with the fraud involved in pushing fake electors, another potential charge against Trump "is seditious conspiracy and conspiracy to obstruct a government proceeding, similar to charges brought against people who were arrested after storming the Capitol," according to the Examiner. 
A third potential trouble spot for President Trump comes in Georgia. Local ABC Atlanta affiliate WSB reported that Georgia Governor Brian Kemp "provided testimony to the grand jury investigating former President Donald Trump's efforts to overturn the 2020 election results in the state." 
Kemp became Enemy Number One for Trump World when in December 2020 he refused President Trump's entreaty to use his clout "to persuade the state legislature to overturn President-elect Joe Biden's victory in the state and asked the governor to order an audit of absentee ballot signatures." 
Despite his primary challenger, former Senator David Perdue, being fully backed by the former president and his supporters, Kemp ended up winning the 2024 Republican primary by over 50 percentage points, claiming over 73 percent of the vote. 
If there's anyone who knows how to win a court battle, however, it's Donald Trump. There's a reason he successfully defended himself from the Mueller Probe and two impeachments during his time as president. We've already reported how most America has met the January 6 Committee hearings with a yawn.
In 2016, "an exclusive USA TODAY analysis of legal filings across the United States" found that the former president and his businesses "have been involved in at least 3,500 legal actions in federal and state courts during the past three decades. They range from skirmishes with casino patrons to million-dollar real estate suits to personal defamation lawsuits."
Donald Trump also allegedly thinks that running for president will make him impossible to prosecute. In a separate report, Rolling Stone said that "Trump has made clear to associates that the legal protections of occupying the Oval Office are front-of-mind for him."
The magazine notes that the former president has "'spoken about how when you are the president of the United States, it is tough for politically motivated prosecutors to 'get to you,' says one of the sources, who has discussed the issue with Trump this summer. 'He says when [not if] he is president again, a new Republican administration will put a stop to the [Justice Department] investigation that he views as the Biden administration working to hit him with criminal charges — or even put him and his people in prison.'"
This explains why President Trump would announce his campaign so early. It has long been conjectured that the former president was worried about Florida Governor Ron Desantis's rising popularity within the Republican Party, but maybe the real thing that is rising is the temperature of these investigations. 
Though the Republican National Committee might be throwing a wrench into that plan. Vanity Fair recently penned that the RNC, "which has already paid nearly $2 million to the former president's legal defense, will reportedly stop if he officially enters the next presidential race, a threat that may keep Trump from announcing before the midterms."
[Read More: Biden Shrugs As China Threatens To Murder Nancy Pelosi]