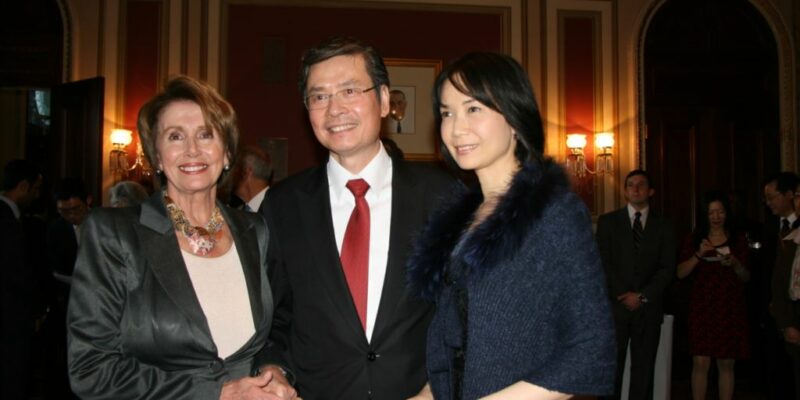 Speaker Nancy Pelosi is potentially triggering a world crisis by ignoring President Biden's wishes and going ahead with a planned trip to Taiwan later in the summer. China has issued warnings against the Speaker of the House visiting the East Asian nation that the communists lay claim to and throwing a wrench into the White House's foreign policy. 
China has issued strong warnings against the visit. One of the country's mouthpieces said they were "seriously prepared for" Pelosi's trip, and when asked "if it would be a military or a diplomatic response," he said: "If the U.S. side is bent on going its own way, China will take strong measures to resolutely respond and counteract."
The Taiwanese aren't particularly enthusiastic about the Speaker's trip. According to the Financial Times, "Several people involved in national security policy in Taiwan said the country was trapped between the risk that China would 'punish' Taipei for Pelosi's planned visit next month and the risk that Washington would cancel the trip and effectively give China a say in US-Taiwan policy.
The Biden administration finds itself in a catch-22. According to FT, "Three people in Taipei familiar with the situation said the US administration's public opposition to the trip threatened to embolden Beijing. "If the visit is called off, that means China's intimidation tactics works," said a senior official. 'That will have a chilling effect as others will shy away from engaging with us.'"
Rather than speaking to the Speaker directly, President Biden went to reporters last week to say that "the military thinks [her trip] is not a good idea right now." He previously has stated that the United States would defend Taiwan if China sent forces against it.
It looks like Pelosi has said damn the torpedoes and is hellbent on going, however.
CNN reported that "Biden administration officials are concerned that China could seek to declare a no-fly zone over Taiwan ahead of a possible visit by House Speaker Nancy Pelosi as an effort to upend the trip, potentially raising tensions even further in the region, a US official told CNN.

China could also respond by flying fighter jets further into Taiwan's self-declared air defense zone, which could trigger a response from Taiwan and the US, the official added. They did not detail what a possible response would entail.

China has sent warplanes into Taiwan's self-declared air defense zone identification zone many times in recent months, an act which does not violate any international law but which usually results in Taiwan taking precautionary defensive measures, including sometimes scrambling its fighter jets.

Tensions between Washington and Beijing over the issue of Taiwan have heightened in recent months. The Chinese Communist Party has long claimed democratically ruled Taiwan as part of its territory and has repeatedly vowed to "reunify" with the island of 24 million people — by force if necessary — despite having never governed it. The US has committed to providing Taiwan with the means to defend itself, though recent weapons sales to Taiwan have been slow to arrive, which has raised concerns among US lawmakers."
Pelosi has long been a supporter of Taiwan. In 1991 Pelosi "humiliated China's leaders" when she and two other members of Congress "staged a demonstration Wednesday in Tian An Men Square, complete with cloth flowers, a small banner and a brief speech to television cameras and dozens of Chinese onlookers. by brandishing a pro-democracy banner in Tiananmen Square."
The Speaker has received support from those least expected: the Republicans. Senator Ben Sasse encouraged her to go. He said, "Speaker Pelosi should go to Taiwan and President Biden should make it abundantly clear to Chairman Xi that there's not a damn thing the Chinese Communist Party can do about it. No more feebleness and self-deterrence. This is very simple: Taiwan is an ally and the speaker of the House of Representatives should meet with the Taiwanese men and women who stare down the threat of Communist China."
Former Speaker of the House Newt Gingrich told Fox News, "She cannot allow the Chinese communist dictatorship to think that it can bully an American Speaker of the House. And frankly, she ought to tell the Pentagon and the State Department to shut up. They're always timid. They're always risk-averse. And they don't get it. It's very important to show strength. So the Chinese communists understand that we're real, and we're not, just as Mao called us a paper tiger."
Even Trump advisors have Pelosi's back this time around. AP wrote, "Mark Esper, a defense secretary during the Trump administration, said Monday that he had recently returned from Taipei and that more high-ranking U.S. officials should visit to help shape U.S. policy in the region. He also stressed that China should not have veto power over where U.S. officials travel."
So does former Secretary of State Mike Pompeo. He tweeted, "Nancy, I'll go with you. I'm banned in China, but not freedom-loving Taiwan. See you there!"
Taiwan's capital, Taipei City, practiced defensive military drills earlier in the week, fearing that China may strike because of the Pelosi visit. "Air raid sirens were sounded in the capital Taipei and the military was holding its annual multi-day Han Kuang drills, including joint air and sea exercises and the mobilization of tanks and troops," according to AP.
The newswire also said, "In Taipei, police directed people to shelters when a siren went off shortly after lunchtime. Streets emptied and shops closed.
"'In recent years, Chinese military planes have frequently harassed Taiwan, and the war between Russia and Ukraine broke out in February this year,' Taipei Mayor Ko Wen-je told reporters, referencing concerns that a similar conflict could break out in East Asia. 'All these things make us understand the importance of being vigilant in times of peace and we need to be prepared if there is war.'"
This is not the first time that Pelosi has taken a controversial foreign trip as Speaker of the House and against the wishes of the president. In 2007, she met with Syrian President Bashar al-Assad "for talks" that were "criticized by the White House as undermining American efforts to isolate the hard-line Arab country." 
Then President George W. Bush said that Pelosi's trip signaled "that the Assad government is part of the international mainstream when it is not." At the time, the United States mentioned that Syria was allowing "Iraqi Sunni insurgents to operate from its territory, backs the Hezbollah and Hamas militant groups and is trying to destabilize the Lebanese government," which Syria denied.
A few years later, Syria found itself in a civil war sparked by the Arab Spring and helped fuel the rise of ISIS in the region. The United States Institute for Peace has labeled the war "a humanitarian catastrophe, with serious consequences for its people, surrounding states, and others around the world. Around 500,000 people have died during the war and more than 13 million have fled their homes. Factions and forces have competed for control, triggering tensions—geographic, communal, social, religious, and ethnic—among Syrians."
Pelosi plans to travel to Taiwan in August. Washington Post foreign policy writer Josh Rogin recently stated, "All sides are bracing for a possible crisis that nobody really wants."  
Not that Nancy cares. The Speaker has a statement to make: she has more guts than Lebron James.
[Read More: Fauci Set To Make Millions From Taxpayer Pension]