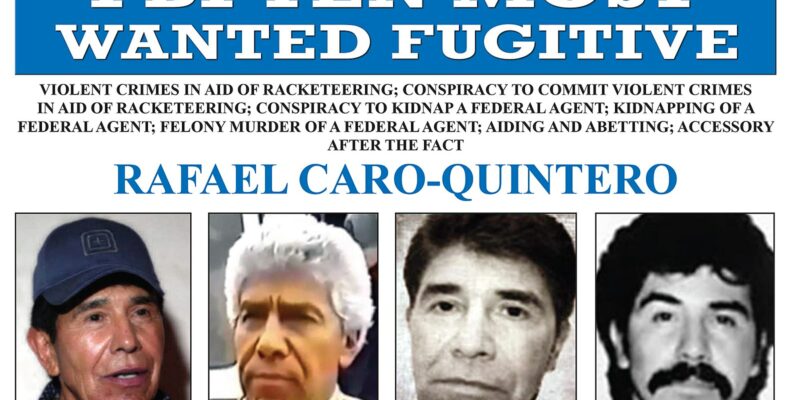 In early 1985, Special Agent Kiki Camarena "was extremely close to unlocking a multi-billion dollar drug pipeline. However, before exposing the drug trafficking operations, the drug cartel struck.
On February 7, 1985, five men surrounded Camarena and his wife Mika as they headed to a luncheon. They grabbed Kiki, threw him into a car and sped away. That was the last time anyone besides his kidnappers would see him alive.
The DEA writes that it "is believed that Special Agent Camarena's death actually occurred two days later, but his body was not discovered until March 5, 1985. He was 37 years old and was survived by his wife Mika and their three children—Enrique, Daniel, and Erik. During his 11 years with DEA, Kiki received two Sustained Superior Performance Awards, a Special Achievement Award and, posthumously, the Administrator's Award of Honor, the highest award granted by DEA."
After finding his body, the CIA reported that they had a tape of the American agent being tortured. His former partner, Pete Santellano, "says the CIA suspected Guadalajara police were involved." Camarena's story served as the basis of the Netflix hit Narcos: Mexico. Actor Michael Peña played the slain DEA agent. 
This week, justice the Camarena family received some justice. 
AP reports that the "infamous drug lord Rafael Caro Quintero, who was behind the killing of a U.S. DEA agent in 1985, was captured Friday by Mexican forces nearly a decade after walking out of a Mexican prison and returning to drug trafficking, Mexico's navy said.

Caro Quintero was arrested after a search dog named "Max" found him hiding in brush in the town of San Simon in Sinaloa state during a joint operation by the navy and Attorney General's Office, a navy statement said. The site was in the mountains near Sinaloa's border with the northern border state of Chihuahua.

A navy Blackhawk helicopter carrying 15 people crashed near the coastal city of Los Mochis during the operation, killing 14 of those aboard, the navy statement said. The available information indicated it suffered an "accident," the cause of which had not yet been determined, the statement said.

President Andrés Manuel López Obrador said via Twitter that the helicopter crashed shortly before landing after supporting those who conducted the capture of Caro Quintero. He expressed condolences to the families of the victims and said the crash would be investigated."
Quintero went free in 2013 after serving 28 years in prison for murder when a Mexican court overturned his 40-year sentence. The Washington Post noted that "he had since returned to drug trafficking and unleashed bloody turf battles in the northern Mexico border state of Sonora."
"Mike Vigil, the DEA's former chief of international operations, said Caro Quintero was believed to have been operating independently most recently, though there had been rumors he was back with the Sinaloa cartel."
"Vigil said he was surprised by Caro Quintero's arrest, considering López Obrador's stated disinterest in going after drug cartel leaders, but he added that the DEA would never stop looking for someone who killed an agent."
Quintero has been on the FBI's most wanted list for year and the United States had listed a $20 million reward for information leading to his capture. CNN wrote that he is "known as the 'narco of drug traffickers,' is considered by Mexican authorities to be the founder of the Guadalajara cartel." Authorities "accuse him of trafficking methamphetamine, heroin, cocaine and marijuana."
DEA Administrator Anne Milgram celebrated the capture of a man especially despised by U.S. officials, according to ABC News. She said, "Our incredible DEA team in Mexico worked in partnership with Mexican authorities to capture and arrest Rafael Caro Quintero. Today's arrest is the result of years of your blood, sweat, and tears." 
American Attorney General Merrick Garland and American Ambassador to Mexico Ken Salazar voiced appreciation for Mexico's work to capture the drug lord. 
Salazar said, "This achievement is a testament to Mexico's determination to bring to justice someone who terrorized and destabilized Mexico during his time in the Guadalajara Cartel; and is implicated in the kidnapping, torture, and murder of DEA agent Kiki Camarena. Caro Quintero had eluded authorities for almost a decade, but justice has no expiration date.  Holding Caro Quintero to account for his crimes is yet another win under the U.S./Mexico Bicentennial Framework for Security, Public Health, and Safe Communities.  I look forward to even closer collaboration with our Mexican partners on our seguridad compartida.
Our thoughts and prayers are with the Mexican marines who gave their lives in service of their country, and the families and comrades they leave behind. Their bravery and sacrifice will be honored in our quest to bring about greater security for our two nations." 
Garland announced that the United States will immediately seek Quintero's extradition so that he pays for his crimes. He was arrested shortly after Mexican President López Obrador met with President Biden in the White House.
[Read More: COVID Broke Our Health Agencies]