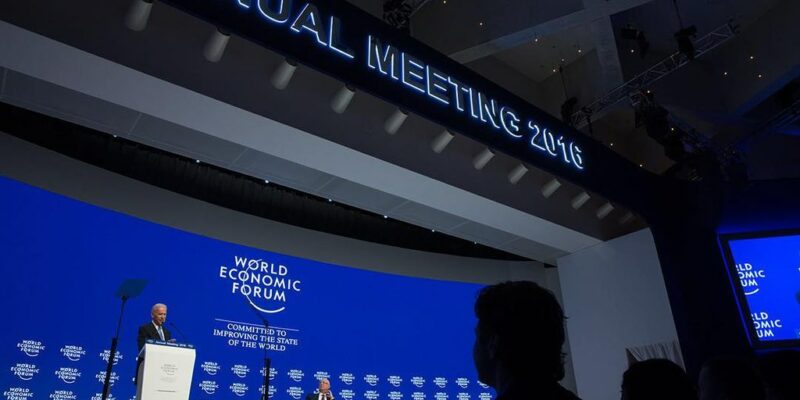 There's always an evil villain in action movies who want to control the world for some reason or another, pulling the puppet strings in the shadows to their delight and manipulating ordinary people's lives for their own benefit. In reality, these people don't really hide in secret or even try to conceal their plans. They like to talk about them, and very year the rich and powerful go to the Swiss Alps for the World Economic Forum, sip some coffee or wine, and just tell the world what they aim to do. 
Over the past week, political, business, and cultural leaders from all over the globe once again met at the Davos Conference to share their grand plans for humanity. There's always a Bond villain aspect to the forum, even if they're actually well-meaning, but this year they really seemed to turn the sinister into overdrive. 
In 1971, Klaus Schwab founded what is now the World Economic Forum by arguing that the management of a modern enterprise needed to serve both "shareholders and corporate stakeholders to achieve long-term growth and prosperity." Following the economic crash of 2008, "the three most senior leaders of the WEF – Klaus Schwab, its Executive Chairman; Mark Malloch-Brown , then its Vice-Chairman; and Richard Samans, its Managing Director – initiated and led a major re-think of global governance." 
They called this plan the ominously named "Global Redesign" and argued that world affairs would be best managed via a "self-selected coalition of multinational corporations, governments (including through the UN system), and select civil society organizations." 
This has been Schwab's driving motive for the WEF for much of his life, and in his opening speech at this year's meeting, he made no qualms about it, saying, "The future is not just happening. The future is built by us, by a powerful community such as you here in this room. We have the means to improve the state of the world."
Schwab wasn't the only business leader using the creepiest lanuage in Switzerland this year. That award for seeming to be the most totalitarian goes to Alibaba Group president J. Michael Evans. The Daily Caller delivered an excellent breakdown: "The president of Alibaba Group, a Chinese multinational technology company, bragged Tuesday about developing technology which would monitor the 'carbon footprint' of consumers.

'We're developing through technology an ability for consumers to measure their own carbon footprint. What does that mean?' Evans continued. 'That's where are they traveling, how are they traveling, what are they eating, what are they consuming on the platform?'

Evans described the technology as, 'an individual carbon footprint tracker. "We don't have it operational yet but this is something that we're working on," Evans said of the technology.'"
Or…maybe we could just not do that? The video of the speech was posted on Twitter for the world to see. 
American political leaders are often invited to Davos. In 2020, President Trump went to Davos and said, "Together, we will make our nations stronger, our countries safer, our culture richer, our people freer, and the world more beautiful than ever before.
Above all else, we will forever be loyal to our workers, our citizens, and our families — the men and women who are the backbone of our economies, the heart of our communities, and the soul of our countries. Let us bring light to their lives one by one and empower them to light up the world." Politico described the speech as "Trump Roars, and Davos Shrugs." 
In 2017, then vice president, Joe Biden joined several other Obama cabinet secretaries in attending the meeting as they looked for jobs among the elite. CNBC wrote at the time, "In the final year of the Obama administration, the gathering of financial potentates also provides an excellent opportunity for big names leaving political office next year to network for new jobs."
Biden told the world's rich and powerful people that he would defend Ukraine from any invasion. He said, "On the same trip, another leading Republican Senator, Lindsey Graham, assured Ukrainian troops serving on the frontline: 'Your fight is our fight.'
That's the same sentiment I expressed two days ago, when I made my sixth trip to Ukraine as Vice President." President Biden has skipped the meetings thus far during his tenure in the White House. 
I know what everyone is thinking. Did Hunter join his dad back in 2017? It doesn't look like it, but with him, you can never be sure. That was the same year a Chinese billionaire was told to "give 10 percent for the big guy" when the president's son allegedly got $10 million for brokering international deals. 
[Read More: George W. Bush Assassination By ISIS Foiled]