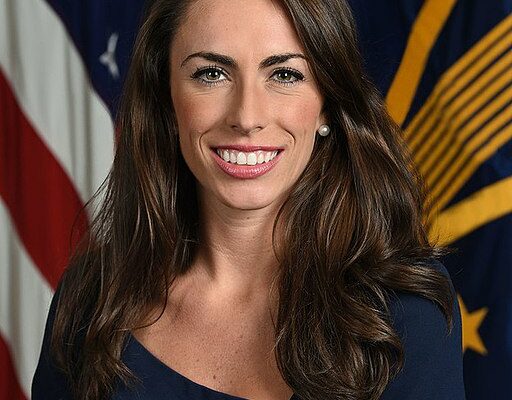 It's always interesting to see which conservatives change their stances on important issues once they've lost power, and for one former Trump official, it turns out she's opposed to anyone owning an AR-15. Alyssa Farah Griffin, hosting The View this week to "give a conservative viewpoint," recently stated that "no one needs an AR-15." But, she didn't stop there. 
In Thursday's edition of The View she also repeated her hope that Donald Trump does not seek office in 2024. She told the other three liberals on the show: 'As somebody who regrettably worked for Donald Trump, I do not want to see that man ever be president again,' she said.
'I want to see credible Republicans who represent the party I once was so proud of challenge him," Ms Farah continued. 'Put a Larry Hogan [governor of Maryland] on stage against him.'
She added: "'Larry Hogan can't win this year, but show what a real credible Republican looks like.'"
Griffin resigned from her post two weeks before losing her job after the riot at the Capitol on January 6, 2020. She had worked for a long time in conservative politics, including as press secretary for Vice President Mike Pence.  
Early last year, she began work as a CNN political contributor. Former President Trump had previously responded to Farah's comments about him. He said that he had "Heard that Alyssa Farah was terrible on The View – they could have asked the people who know her and saved a lot of time. She was a "backbencher" in the White House, and is now a nobody again. We put her out there to face the public as little as possible. It's amazing how these people leave with respect and adoration for me and others in the White House, but as soon as CNN or other cameras get shoved in their face, or the losers from the The View ask a question, or money gets thrown at them, or someone writes a fake book, inglorious lightweights like Farah change so quickly. I watched this clown on television saying exactly what they wanted her to say and I watched the lies."
Her outspoken dislike for the president who gave her one of the top jobs in the White House has caused a rift between her and her family. She recently revealed that her father, conservative author and journalist Joseph Farah, and her stepmother, Elizabeth Graham, refused to attend her wedding after she attacked Trump. She previously recounted to The View: "In my situation, personally, I had to deal with two people very close to me, my father and stepmother, who didn't want to attend my wedding" because of political differences after I spoke out against President Trump." 
She also blamed COVID and vaccinations for why she's lost so many friends. "I recently got married back in November, and this is such a tough topic, so keep in mind two things: COVID has made people shrink their friend groups, their family groups. People aren't being around each other if they are not open to getting vaccinated. Add to that, political polarization," she said.
[Read More:  Prominent Dem Donor Sentenced On Sex Murders]