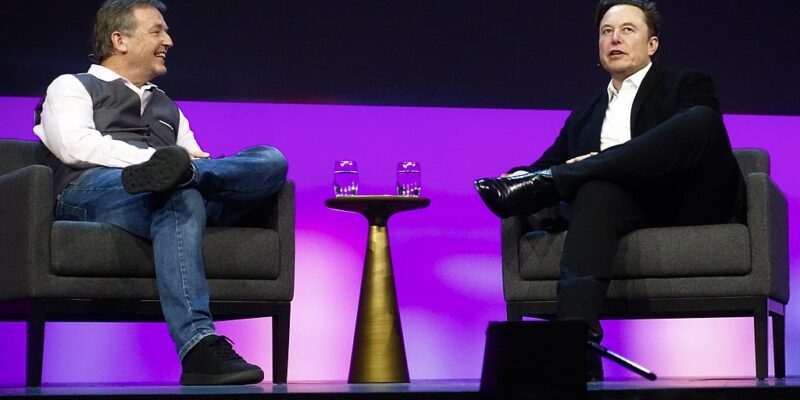 Say what you will about Elon Musk, but the man certainly knows how to make a splash, both literally and figuratively. After weeks in delays, the SpaceX, "first all-private mission to the International Space Station" splashed down "off the coast of Florida." Using a SpaceX Dragon to fly safely to and from space, the mission "was commanded by retired NASA astronaut Michael Lopez-Alegria, with real estate investor Larry Connor as the pilot, and Canadian investor Mark Pathy and former Israeli fighter pilot Eytan Stibbe as mission specialists."
Back on Earth, Musk made an even a potentially bigger splash, buying Twitter and taking the company private.
USA Today reports, "The social media giant confirmed Monday the Tesla CEO and billionaire will acquire the company in a deal worth $44 billion. Once the deal is complete, which is expected by this year, Twitter will become a privately held company.

'Free speech is the bedrock of a functioning democracy, and Twitter is the digital town square where matters vital to the future of humanity are debated,' said Musk in a statement. 'I also want to make Twitter better than ever by enhancing the product with new features, making the algorithms open source to increase trust, defeating the spam bots, and authenticating all humans.' 

'Twitter has a purpose and relevance that impacts the entire world," its CEO Parag Agrawal said in a tweet. "Deeply proud of our teams and inspired by the work that has never been more important.'

Earlier Monday, Musk said: 'I hope that even my worst critics remain on Twitter, because that is what free speech means.'"
Reaction to the news has been mixed, based upon your politics. Most conservatives praised the news as a win for free speech. On the Left, however, the announcement was met with the kind of anger that can only be seen from those upset at losing power. 
Breitbart reported, "Following reports that Elon Musk may be nearing a deal with the Twitter board to buy the company, leftist "verified" accounts on the platform once again went into meltdown mode at the prospect of the Musk, the self-described free speech absolutist, taking over." Many of the panicking lefties have begun launching conspiracy theories about the transaction. Yvette Nicole Brown wrote, "How many Russian Oligarchs are propping up this @elonmusk @twitter bid right now, do ya think? It sure would fix everything for putin, tang and the rest of the complicit super rich if this platform was run by them. After the takeover, I wouldn't DM anymore if I were you."
Robert Reich, former Labor Secretary under Bill Clinton, seemed to have a change in heart after the news came out. When Twitter was owned by billiionaire censors who would ban a sitting president or the satire news website The Babylon Bee, he had no problem, writing, "Anyone who is saying Twitter's ban violates the First Amendment doesn't know Twitter is a private company and the First Amendment protects individuals against government."
After the Musk news? Well, things have changed! Reich tweeted, "Musk and his apologists say if consumers don't like what he does with Twitter, they can go elsewhere. But where else would consumers go to post short messages that can reach millions of people other than Twitter?" 
Like many powerful liberals, Reich doesn't have a problem with the billionaires, so long as the billionaires are his friends. (See Chuck Schumer).
Much of the concern revolves around former President Donald Trump returning to Twitter, a platform that helped launch him into the White House in 2016. Rob Reiner tweeted: "Now that Elon Musk is buying Twitter, the question for all of us is: Will he allow a Criminal who used this platform to lie and spread disinformation to try to overthrow the US Government to return and continue his Criminal activity? And if he does, how do we combat it?"
Much of the concern revolves around former President Donald Trump returning to Twitter, a platform that helped launch him into the White House in 2016. The NAACP wrote, for example, "Mr. Musk: free speech is wonderful, hate speech is unacceptable. Disinformation, misinformation and hate speech have NO PLACE on Twitter. Do not allow 45 to return to the platform. Do not allow Twitter to become a petri dish for hate speech."
According to NBC: "Officials within President Joe Biden's administration are closely watching the deal, according to more than half a dozen advisors to Biden, including two administration officials. Some on Biden's team are growing increasingly concerned the Tesla CEO will allow Trump and other Republican operatives who were banned from Twitter to return to the platform, these people said, asking not to be identified in order to speak freely about internal discussions among senior Democratic advisors."
It's no a surprise that Democrats may be upset that they no longer control Twitter. Over 98 percent of political donations from the employees of the social media website went to Democrats.
Many from the political and mainstream media set who claimed to be defenders of "norms," "free speech," and "democracy" have revealed themselves in their reaction to the Twitter news, but hopefully, Musk keeps his word and defends free speech for everyone, not just the privileged few holding the favored viewpoint of the urban elite. 
[Read More: Pics Revealing Conservative Congressman Wearing Lingerie Ties Left In Knots]