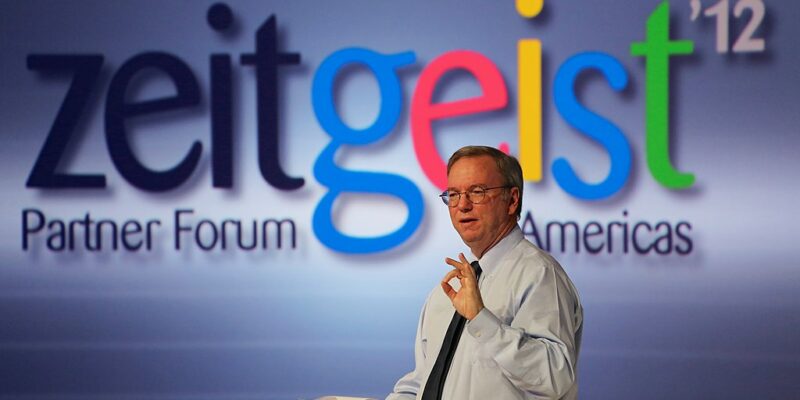 In another example of corporate domination of the White House, Politico is reporting, "A foundation controlled by Eric Schmidt, the multi-billionaire former CEO of Google, has played an extraordinary, albeit private, role in shaping the White House Office of Science and Technology Policy over the past year." 
Schmidt, who has been embroiled in several controversies over the past few years, ranging from connections to China and avoiding taxes to mistreating employees and having an "open marriage," is worth well over $20 billion. He has spent millions of dollars on candidates for office over his career. 
The political magazine continued: "More than a dozen officials in the 140-person White House office have been associates of Schmidt's, including some current and former Schmidt employees, according to interviews with current and former staff members and internal emails obtained by POLITICO." 
The New York Post also filled in more details that the former Google boss cultivated a very close relationship with Eric Lander, a science adviser to Biden who recently stepped down from running the Office of Science and Technology "after an internal investigation found 'credible evidence' that he had bullied female staffers and violated the office's 'Safe and Respectful Workplace Policy.' 

During Lander's tenure, 'significant' ethical red flags were raised about the agency allowing Schmidt Futures to foot the bill for some of Lander's staff due to the former Google exec's financial interests overlapping with the office's work on artificial intelligence and data analytics. Politico reported, citing internal emails from then-general counsel Rachel Wallace.

"Last fall, Wallace filed a formal complaint against Lander's treatment of her. She told Politico that she believes Lander's bullying was connected to her raising ethical objections to Schmidt's involvement in the office.  

'I and others on the legal team had been noticing a large number of staff with financial connections to Schmidt Futures and were increasingly concerned about the influence this organization was able to have through these individuals,' said Wallace."
The Government Accountability Project is now representing Wallace as a whistleblower. She has revealed internal White House documents that outline her concerns with the corruption occurring in the Biden Administration's science agency. She filed a whistleblower complaint in early March.
About Schmidt using the science office to promote his own interests, Benjamin Soskis, senior research associate in the Center on Nonprofits and Philanthropy at the Urban Institute, told Vox, "It's a form of shaping public policy. You can do that through trying to promote certain laws, but you can also do that through staffing. And I don't think that's necessarily nefarious, but it's certainly a type of influence."
Biden campaigned on "following the science" but has been criticized from the left and right for his handling of the COVID-19 pandemic. The White House also recently announced that it had decided to politicize the Moon by placing identity politics ahead of NASA's main mission. According to NRO, "Under Biden, $150 million of the NASA budget goes to targeting' engagement of underserved populations, including underserved students and people of color.' And $7.5 billion is devoted to a mission to 'land the first woman and person of color on the moon,' in a budget that mentions 'equity' and its derivatives more than 100 times."
[Read More: Wapo Confirms Hunter Biden Scandal]