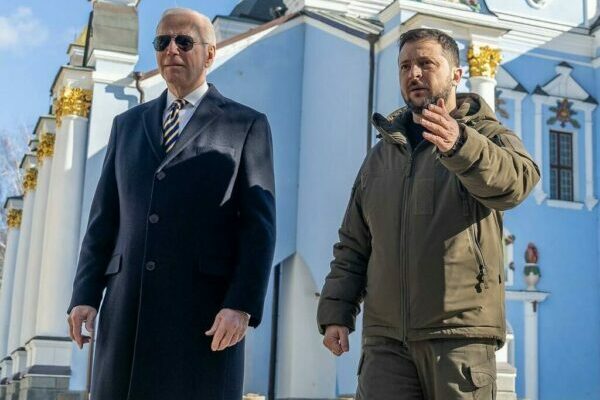 In November 1864, despite the United States being caught in the midst of a civil war that ripped the country apart, Americans, like they had for generations, went to the polls to vote for their leaders. The election for president pitted President Abraham Lincoln, who promised to continue to fight, against George McClellan, who planned to find an amicable split between the United States and the Confederacy. 
Although the election could essentially destroy the Union and lose the war, Abraham Lincoln never thought to suspend the election. The Great Emancipator, when asked why he'd not cite the emergency and delay the vote, said that "the election was a necessity. We can not have free government without elections; and if the rebellion could force us to forego, or postpone a national election it might fairly claim to have already conquered and ruined us."
While routinely taking visits from Hollywood stars and being portrayed in the media and by the White House as a great defender of democracy, Volodymyr Zelensky has revealed himself to be no Abraham Lincoln. 
The Wall Street Journal reports that Ukrainian President Volodymyr Zelensky ruled out holding elections next year, calling for political unity as his government seeks to retain Western support and public trust after a disappointing counteroffensive.

Zelensky said in a video address late Monday that "now is not the time for elections," as Ukraine should direct its resources toward defense.

The 45-year-old took office in 2019, meaning presidential elections should normally have been held early next year. But elections cannot take place in Ukraine under martial law, which was declared after Russia invaded in February last year.

Zelensky said in his address that the country needed to focus on the war and that political disagreements should be put aside, as Russia would seek to take advantage of any splits.

"Now everyone should be thinking of defending our country," he said.
Presidential elections in Ukraine were scheduled to take place every five years, with the next one scheduled for March. Zelensky was sworn into office in May 2019, meaning that his five-year term is set to expire in a few months.
Zelensky had previously tried to use holding elections and maintaining his nation's status as a democracy as a bargaining chip with the United States. Over the summer, he said that he would only hold the vote if Americans footed the bill. 
Since the Russian invasion of Ukraine, the president, who has been praised, especially by Democrats, as a great champion of democracy, has not shown a commitment to democratic values. 
Earlier in the year, Ted Galen Carpenter, a senior fellow in security studies at the Cato Institute, wrote how he believed that much of the American elite were being duped by Zelensky. "Voice of America published an article comparing Zelensky's appearance to Winston's Churchill's address to Congress in December 1941. David Frum, writing in the Atlantic, asserted that Zelensky recalled us to ourselves and our democratic values. Frum added that the Ukrainian president "came to the United States to thank us for supporting Ukraine. It is Americans who should thank him." An earlier New York Times column by Bret Stephens contended that Americans "admire Zelensky because he has restored the idea of the free world to its proper place."
Such fawning ignores the mounting evidence of Zelensky's flagrant abridgment of civil liberties and democratic norms….the Ukraine government's repression is becoming increasingly flagrant and alarming. Since the Russian invasion, Zelensky has used the war as a justification for outlawing 11 opposition parties. He also invoked martial law to issue a presidential decree that combined all national television stations into one platform. On Dec. 29, 2022, Zelensky signed a new law that his party had pushed through parliament — a measure that further curbed an independent press. Other presidential actions sought to ban the Russian Orthodox Church and imposed severe sanctions on its top clerics. A growing number of people are being jailed without due process. 
Zelensky and his closest colleagues have no tolerance for even the most peaceful opponents, domestic or foreign. In the summer of 2022, the Ukraine government's Center for Countering Disinformation published a blacklist of critics that included numerous prominent Americans. The implicitly threatening nature of that list became even more evident in late September, when the CCD issued a revised roster (including addresses) of the top 35 targets and smeared those individuals as "disinformation terrorists" and 'war criminals.'" 
Of those targeted by Zelensky's blacklist were Kentucky Senator Rand Paul, former Representative Tulsi Gabbard from Hawaii, and journalist Glenn Greenwald.
Despite no longer receiving assurances that Ukraine would hold an election, the White House proudly announced last week that it sent "additional security assistance to meet Ukraine's critical security and defense needs. This includes the drawdown of security assistance from DoD inventories valued at up to $125 million to meet Ukraine's immediate battlefield needs, as well as $300 million in Ukraine Security Assistance Initiative (USAI) funds to strengthen Ukraine's air defenses over the long term."
 [Read More: Pro-Palestine Rallies Turn Violent]