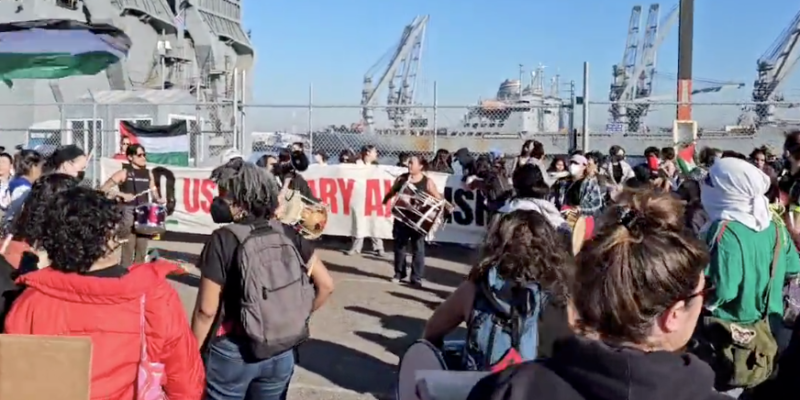 Pro-Palestinian protests across the United States are growing and becoming more violent. Last week, a mob of pro-Palestinian protesters demanding a ceasefire in Gaza gathered at the Port of Tacoma, where a military supply ship had recently arrived, and explicitly stated that they wanted to disrupt the American military's operation to reinforce supplies to Israel.
HAPPENING NOW: Protestors at the Port of Oakland are blocking a US ship that will be sending military weapons to Israel @AJEnglish @MSNBC @cnnbrk @CNN pic.twitter.com/46SqOYEQys

— Critical Resistance (@C_Resistance) November 3, 2023
ABC News wrote, "Organizers said they opposed the Israel-Hamas war and targeted the vessel — the Cape Orlando — based on confidential information that it was to be loaded with weapons bound for Israel.
Those claims could not immediately be corroborated. In an emailed statement, Air Force Lt. Col. Bryon J. McGarry, a spokesperson for the Department of Defense, confirmed that the vessel is under the control of the U.S. Navy's Military Sealift Command and is supporting the movement of U.S. military cargo.
"Due to operations security, DoD does not provide transit or movement details or information regarding the cargo embarked on vessels of this kind," McGarry said.
The Cape Orlando drew similar protests in Oakland, California, where it docked on Friday before it sailed to Tacoma. About 300 protesters delayed its departure, and the U.S. Coast Guard detained three people who climbed onto the ship."
The "protest" at the port followed a Sunday protest against Israel in Los Angeles in which a pro-Palestine "protester" murdered an elderly Jewish man.
The Los Angeles Times reported that "a 69-year-old Jewish man died Monday after suffering a head injury at a Thousand Oaks protest over the Israel-Hamas war, according to law enforcement officials.

Paul Kessler, who was part of a pro-Israel group protesting at a Free Palestine rally Sunday, died hours after he fell backward and hit his head on the ground during a confrontation between the two groups.

An autopsy determined Kessler died as a result of a blunt force head injury and called the manner of death a homicide, according to Ventura County Chief Medical Examiner Chris R. Young. The manner of death doesn't necessarily indicate a crime, Young said, but it indicates the death involved an "interaction with another person."

Young said the autopsy also found that Kessler had nonlethal injuries to his face, which could have been caused by a blow.
In what's becoming an all-too-common occurrence, in response to the murder, media outlets immediately went into spin mode to protect those who oppose Israel's right to defend itself before being called on it by media watchdogs. 
The Daily Caller noted that "NBC News quietly stealth-edited a headline previously downplaying the death of an elderly Jewish man who died during an altercation with pro-Palestinian counter-protesters.
Paul Kessler, the 69-year-old killed, died from "injuries sustained during an altercation at a Pro-Israeli/Pro-Palestinian event" in Thousand Oaks, California, Monday afternoon, the Ventura County Sheriff's Office told the Daily Caller. The Ventura County Medical Examiner's Office deemed the manner of Kessler's death a homicide.
NBC News initially headlined its report on Kessler's death as "Man dies after hitting head during Israel and Palestinian rallies in California, officials say," according to an archived version of the report. It later changed the headline to read, "Jewish man killed in altercation at dueling pro-Israel and pro-Palestinian rallies in California."
CNN also framed it around the man hitting his head @DailyCaller pic.twitter.com/xRFQ1aKwG6

— Nicole Silverio (@NicoleMSilverio) November 7, 2023
The murder of Kessler was not the only antisemitic attack to occur over the past week. In Indianapolis, a pro-Palestinian "terrorist," thinking she was attacking a Jewish school, plowed her into a building, nearly killing four children inside. 
Ironically, the pro-Palestinian driver attacked an antisemitic group on accident. Local news stated, "IMPD officers arrested a woman, who they labeled a 'terrorist,' after she drove her car into a building that she thought was a Jewish school.
However, the building is used by the Israelite School of Universal and Practical Knowledge which has been labeled and anti-semitic hate group. 
Ruba Almaghtheh, 34, was arrested on a preliminary charge of criminal recklessness.
Almaghtheh told officers she was watching news coverage of the Israel-Hamas war on television and decided to plan an attack on the building because she was offended by the "Hebrew Israelite" symbol on the front of the building."
The police officers said the terrorist made references to "her people back in Palestine" and told law enforcement, "Yes. I did it on purpose." 
Democrats, for their part, have responded to news of the murder, along with the huge increase in hate crimes targeting Jews, in a way that has become their go-to: by appealing to their antisemitic base. 
For example, Senator Elizabeth Warren took to Twitter to warn that Islamophobia could increase as more and more Jews are assaulted across the country, including at places like Warren's own Harvard University. 
The surge of hate & violence against Muslims, Arabs & Palestinian Americans is alarming. It's powerfully important that the Biden-Harris administration is developing a national strategy to counter Islamophobia. It's up to all of us to ensure there's no space for hate in America.

— Elizabeth Warren (@SenWarren) November 7, 2023
It's already been noted that Democrats are panicking over the potentially losing votes in swing states due to their belief that Israel should be allowed to prevent terrorists from putting babies into ovens and murdering concertgoers. Last week, hoping to appease the mobs, the White House announced a "national strategy" to combat Islamophobia. 
That, however, has not stopped the pro-Palestine mobs from attacking the White House and claiming that Joe Biden is committing genocide. 
"Tens of thousands of pro-Palestinian protesters massed in Washington, DC, Saturday afternoon before descending upon the White House to chant, "Allahu akbar" and "F–k Joe Biden" as they accused the president of genocide and demanded a ceasefire in the Gaza Strip, according to The New York Post.
"'From the river to the sea, Palestine will be free,' the crowd dotted with Palestinian flags and signs cried at the start of the event, which drew attendees from across the country.
The chant – which is growing increasingly popular in the wake of Hamas' deadly incursion into southern Israel last month and Israel's subsequent retaliatory attacks on Gaza – is widely considered antisemitic because it implies the elimination of the State of Israel and its people.
Others chanted, 'Long live the Intifada,' an Arabic word used to refer to Palestinian uprising, specifically to conflicts that ran from 1987 and 1993 and from 2000 to about 2005 that left thousands dead."
Video of the crowds showed pro-Palestinian "protestors" trying to scale the White House fence. 
Hard to imagine an independent voter watching this and thinking, I'm with them. https://t.co/2miwoW5LfK

— Richard Goldberg (@rich_goldberg) November 5, 2023
They also smeared red paint all over a White House gate. 
BREAKING – White House entrance has been smeared with red paint and protesters are pushing on the gate amid 'Free Palestine' march

— Insider Paper (@TheInsiderPaper) November 5, 2023
For some reason, the White House did not send out Karine Jean-Pierre, the first LGBTQ press secretary in presidential history, to explain to the crowd that the White House was keeping an eye on Islamophobia.
[Read More: Dems Want Biden To Drop Out]