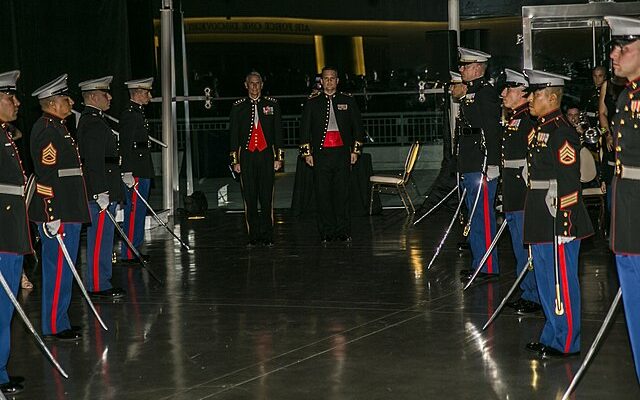 The Marine Corps Central Command Ball is an annual and beloved event that has brought together Marines and their families, as well as military and civilian leaders, to celebrate the achievements and camaraderie of those serving in the U.S. Marine Corps. 
For nearly 250 years, the ball has featured formal ceremonies, speeches, music, and dancing, creating an atmosphere of unity and honor among the attendees. It is a cherished tradition for the Marine Corps community, strengthening the bonds of brotherhood and sisterhood while commemorating the valiant efforts of those serving in a complex and challenging theater of operations.
This year's event has been canceled due to "unforeseen operational commitments." 
"Regretfully and with a strong sense of duty, I write to inform you of a decision that I had to make regarding the Marine Corps 248th Ball, scheduled for 16 November 2023," the letter from Marine Corps Commander Major General Chris McPhillips states.
"Due to unforeseen operational commitments and the nature of our current mission, it is with great regret that we must cancel this year's event."
"While we must forgo this opportunity this year, it is a reminder of the sacrifices we make in service to our country. Please know that this decision was not made lightly, and the chief consideration was the need to uphold the highest standards of readiness and the completion of our operational responsibilities."
BREAKING: U.S. Marine Corps Central Command's 248th Ball is cancelled due to "unforeseen operational commitments and the nature of our current mission." pic.twitter.com/EaHLXPyyZe

— Insider Paper (@TheInsiderPaper) November 1, 2023
Over the years, the Marine Corps Central Command Ball has faced several disruptions, with its cancellation becoming more frequent due to the evolving security situation and operational requirements in the CENTCOM region. 
The news of the current cancellation comes as the Pentagon has announced that an additional 300 American troops will deploy to the Middle East as militant groups carry out more attacks against U.S. bases in the region and the conflict between Israel and Hamas worsens.
"We have strengthened our force posture across the region to deter any state or non-state actors from escalating this crisis," Air Force Brig. Gen. Pat Ryder, the Pentagon's top spokesman, told Stars and Stripes.
The outlet noted that Defense Secretary Lloyd Austin gave pre-deployment orders earlier this month to about 2,000 troops, informing them that they might be called for a mission to the Middle East. Last week, 900 of those troops were deployed and a second group of 300 has now been activated." 
"These additional troops will provide capabilities in explosive ordnance disposal, communications and other support enablers for forces already in the region," Ryder continued.
[Read More: Staggering Amount Of Secret Emails From Biden Found]