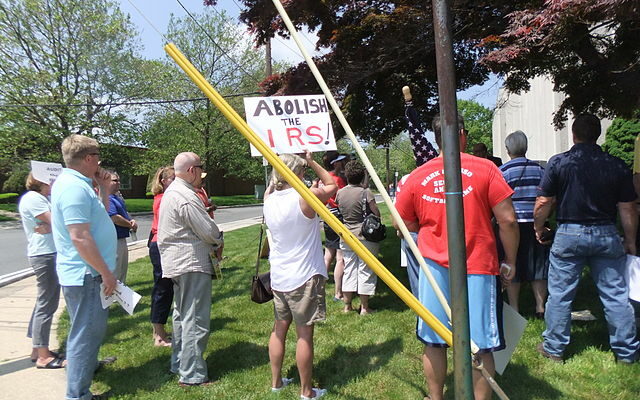 Democrats often celebrate using the power of government to crush their enemies, and Joe Biden is now stranger to using federal agencies to attack his enemies, including Jill Biden's ex-husband. 
Over the past few years, the White House has deployed the Department of Justice to attack pro-lifers, indicting them with ridiculous charges that time and time again have been slapped down by juries. 
Now, the White House has turned to the IRS to attack a chief critic of radical presidential appoints in an effort to shut them down, all with the encouragement of Democrats in the Senate. 
The IRS is investigating the tax-exempt status of the American Accountability Foundation (AAF) following its reporting on President Joe Biden's nominees, according to a letter obtained by the Daily Caller News Foundation.
The IRS is requesting AAF submit internal financial data as well as communications, including meeting notes, publications and newsletters, according to the letter from the IRS to AAF obtained by the DCNF. The conservative nonprofit organization, which the IRS approved for tax-exempt status in August 2021, alleges the investigation is in retaliation for the AAF reporting on several recent Biden nominees who later withdrew their nominations.
"This sudden request by the IRS is not random," AAF President Tom Jones stated. "The IRS is demanding '[c]orrespondence files, emails and information posted on a website that relates to current public elected officials' – clearly a sign that they are targeting our research and education activities. It's a deliberate attempt to punish and suppress AAF's activities. It is surely no coincidence that AAF—the very organization that exposed the weaponization of the IRS—is now the target of it."
AAF has actively criticized several Biden nominees, calling on them to withdraw.
For instance, Biden's FCC chair nominee Gigi Sohn donated to several Senate Commerce Democrats, including $550 to Democratic Sen. Raphael Warnock, $100 to Democratic Sens. Catherine Cortez Masto and John Fetterman and $200 to Democratic Sen. Michael Bennett, according to The Washington Examiner. AAF sent a letter to Bennett, Cortez, Masto, Fetterman and Warnock, calling on the lawmakers that received contributions to recuse themselves from voting on Sohn's nomination and calling for Sohn to withdraw.
Sohn was labeled one of the most ethically compromised appointees in history by Senator Ted Cruz. 
On top of being part of a pay-to-play scandal, Sohn also holds radical views. On top of supporting the defunding of police, she also sits on the board of a non-profit that opposes laws designed to help the victims of trafficking because it could hurt the business of online prostitutes. 
Biden's corrupt use of power has gained plenty of support in the Senate, but no one may better exemplify the weaponization of government more than Shelden Whitehouse. The senator from Rhode Island, unlike other Democrats who tacitly support punishing their enemies once they gain power, has been saying the quiet part out loud for some time. 
His number one target has been the AAF. The Daily Signal reported last year Whitehouse "called for revoking a tax exemption for a conservative group for not masking up and socially distancing during the pandemic, insisted on a slew of investigations of other conservative groups, and pressed for the Internal Revenue Service to expand its reach. 
A total of 176 pages of correspondence from and to Whitehouse was obtained from the IRS by the conservative watchdog group American Accountability Foundation through the Freedom of Information Act and shared with The Daily Signal. 
"It's abundantly clear that [Whitehouse] is trying to take the 87,000 new IRS agents and put them to work investigating me and my friends because he doesn't like their politics," Tom Jones, president and founder of the American Accountability Foundation, told The Daily Signal.
"It's Lois Lerner on steroids," Jones said of what's in the Whitehouse correspondence, referring to the Internal Revenue Service official in the middle of the Obama-era IRS scandal over the targeting of tea party groups. 
"The Lois Lerner stuff was a mid-level bureaucrat abusing [her] power to investigate conservative groups," he said. "This is a U.S. senator basically trying to turn the heat up on investigations by the Internal Revenue Service."
Again, this is corruption that Whitehouse not only doesn't hide, but brags about: 
Sheldon Whitehouse bragging about the IRS launching a blatantly partisan investigation. Imagine what this clown would do with more power. https://t.co/x4oee6LCDM

— Rob Schmitt (@SchmittNYC) November 16, 2023
In 2017, The U.S. Justice Department "reached a settlement with dozens of conservative groups that claimed the Internal Revenue Service unfairly scrutinized them based on their political leanings when they sought a tax-exempt status, court documents showed, Reuters wrote.
"In a pair of lawsuits filed in federal court in 2013, the conservative groups accused the IRS of targeting organizations with such words as 'Tea Party' or 'patriots' when they applied to the agency for tax-exempt status starting in 2010.
The IRS admitted it was wrong when it based screenings of the groups' applications on their names or policy positions, subjected the groups to heightened scrutiny and delays and demanded unnecessary information from the groups, the agreement in the Washington case said."
 [Read More: Breaking News: Temporary Ceasefire Issued In Israel]