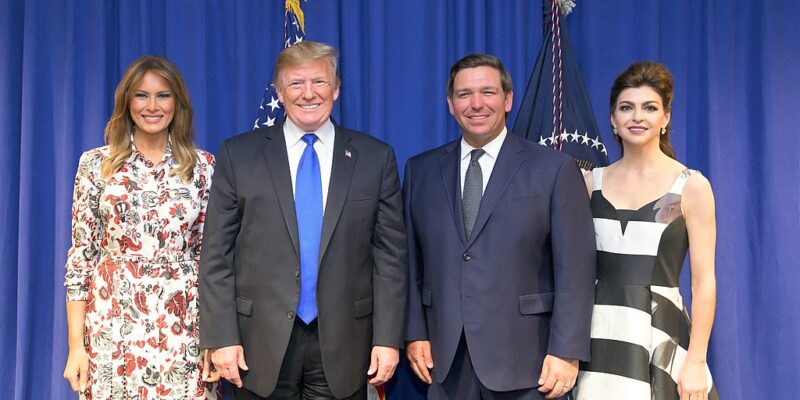 Ron DeSantis will not play second fiddle. Over the weekend, the Florida governor and candidate for the White House said that he would not accept the vice presidency if offered to him. 
"No, I'm running for president," DeSantis said in an interview on Fox News's "Sunday Morning Futures," when asked whether he would accept a theoretical offer, writes The Hill.

"We need somebody that can serve two terms. We need somebody that can win states like Georgia and Arizona, which President Trump cannot do or did not do, even though candidates like McCain and Romney had no problem winning those states," DeSantis continued, referring to the 2008 and 2012 GOP presidential nominees.

DeSantis's comments come in response to Trump's recent jab at the other GOP presidential candidates, among whom Trump said he did not see a potential running mate.

"They're all job candidates," Trump said on Wednesday about his fellow GOP candidates, in a clip played before the interview. "They'll do anything, secretary of something. They even say VP. I don't know. Does anybody see any VP in the group? I don't think so."
Although some Trump supporters have offered a Trump-DeSantis ticker as a "unity" ticket, the 12th Amendment to the Constitution prevents two people from the same state from receiving Electoral Votes for president and vice president and more recently the Florida governor has ramped up attacks on the former president.
DeSantis has lambasted Donald Trump for refusing to debate, or really even campaign. 
"I think that, with all due respect to Donald Trump, we're not going to beat the Democrats by adopting Joe Biden's basement strategy," DeSantis said.
"You can't just be missing in action. You've got to show up, you've got to earn people's votes, and if you're not willing to do that, voters will take notice as we get closer to these contests."
The Wrap noted that "after Fox News' Maria Bartiromo pointed out Trump's 'commanding lead' over the rest of the GOP field Sunday morning, she asked DeSantis about his trip and 'Gavin Newsom's California.' He described the state as the 'petri dish of American leftism' and warned that Biden will 'impose California policies' on the rest of the United States.
"They are absolutely crushing working people in California," DeSantis continued. "I saw gas for $7 a gallon for regular unleaded in parts of California. They have some of the highest, if not the highest, taxes in the United States, and that hits middle-income people with high sales taxes and high income tax … that's why you've seen California lose population under this governor in the first time in the entire state's history."
Although Trump will not debate DeSantis or any of the other Republican candidates, DeSantis does have a contest scheduled with Gavin Newsom in November that will take place on Fox News and last for 90 minutes. 
The debate will air on Sean Hannity show and be broadcasted from Georgia, though a specific location in the key battleground state remains "to be determined," Fox News said in a statement.
While DeSantis has said he has no interest in being a Number 2. The New York Times speculated that other 2024 candidates, however, might be interested. "Some of the more likely possibilities could be former Gov. Nikki Haley of South Carolina, who served as Mr. Trump's ambassador to the United Nations; Vivek Ramaswamy, an entrepreneur who has lavished praise on Mr. Trump; and Senator Tim Scott of South Carolina, whom Mr. Trump has spoken kindly of.
But on Monday, when Mr. Scott was asked on Fox News if he would consider it, he said: "You get in the race for president to win, only to win."
Others have made criticism of Mr. Trump central to their campaigns and would almost certainly have no interest. Nor would Mr. Trump be interested in him."
When the newspaper reached out to Haley's campaign, they refused to answer the question. 
Trump has said that he does not view any of his challengers as potential partners. "During a speech in Michigan on Wednesday night, Trump dismissed the GOP contenders, who were gathered in California for the second Republican primary debate, as 'all job candidates.'
'They'll do anything: secretary of something, they even say VP. Has anyone seen a VP in that group? I don't think so,' Trump told the crowd at an auto parts plant in Clinton Township.
Trump campaign spokesman Steven Cheung on Thursday did not directly say whether the former president is definitively ruling out all seven contenders from the debate, telling The Washington Post in an email only that Trump 'was very clear in his remarks.'"
[Read More: McCarthy May Expel Critic From House]