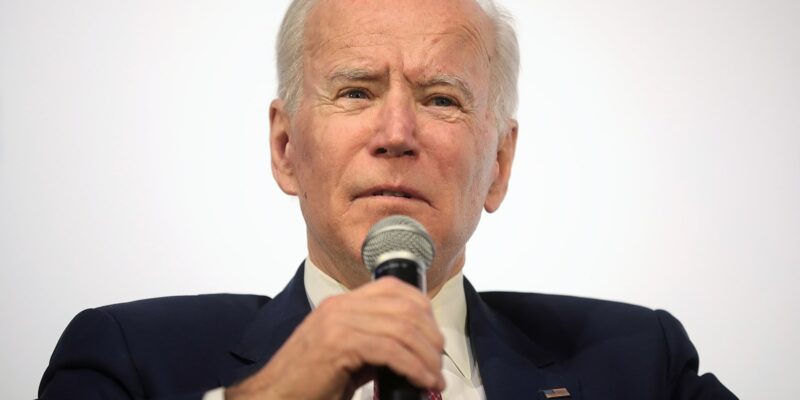 The Republican Party is tired of all the falsehoods, or as the media euphemizes, "exaggerations," that the president often deplys. As the president readies for an announcement that he will be running for re-election, the Republicans have developed an online tool to fact-check his rambling.
If the media won't do the job, someone has to, the party says.
The Washington Examiner reports that "the Republican National Committee announced the launch of 'factcheckbiden.com' to analyze the president's statements in real time and provide a record of what it considers Biden to be lying about.

'[Biden] lies about the damage that he's done to our country. Whether it's claiming that the border is secure, that our economy is strong, or that the botched withdrawal from Afghanistan was a success, Biden and his administration refuse to acknowledge the truth,' RNC Chairwoman Ronna McDaniel said in a statement.

The website will operate with the RNC Research and Rapid Response apparatus and is intended to be Biden's "least favorite website," according to the RNC. It currently features multiple remarks made by Biden that the RNC has flagged as examples of 'fake' or 'made-up stories.'

One of the instances highlighted by the website is remarks Biden made at the Ebenezer Baptist Church earlier this year, where he described himself as a '22-year-old kid on the east side in the civil rights movement.' The RNC referenced prior fact checks debunking Biden's claims that he marched in the civil rights movement.

Biden does have a history of engaging in some civil rights activities, including at least one walkout and picket, however, he has been accused of embellishing his record in the past.
Fox News writes, "Biden, 80, is widely expected to make his bid for a second term as president this week. The president and his team are hoping to make the announcement via a campaign video on Tuesday – which would mark the fourth anniversary of his 2020 campaign launch. 
Speculation has swirled for months over whether Biden would run for re-election, with his team only saying he 'intends to run,' but not making any other statements in the affirmative." 
The announcement will follow some terrible polls for Biden showing he still lingers in the 40s when it comes to national approval, but that's not the worst part. Most Americans wish he would not run for re-election. 
"According to a new poll out Sunday from NBC News, 70 percent of Americans do not want Biden to run for a second term, compared to only 26 percent who do. Among those who don't want the 80-year-old president to pursue a second term, 69 percent cite age as a reason why, with 48 percent calling it a "major" reason.
Worse yet for Biden, the new survey shows him facing a steep uphill climb in a general election. The NBC poll shows 41 percent of Americans plan to vote for Biden in 2024, compared to 47 percent who say they will back the Republican nominee.
If there is a silver lining to the dismal numbers for Biden, it's that he is still more popular than his most likely 2024 opponent. In all, 38 percent have a positive view of Joe Biden, compared to 48 percent who have a negative view. And while those numbers might ordinarily spell doom for an incumbent seeking a second term, they are significantly better than those of former President Donald Trump — about whom just 34 percent of Americans hold a positive view, compared to 53 percent who have a negative view," noted Mediate.
 Biden would be the first person to begin a presidential term in his 80s. 
Throughout his term, The Washington Free Beacon has tracked the president's "senior moments." 
[Read More: Tucker Out At Fox News]