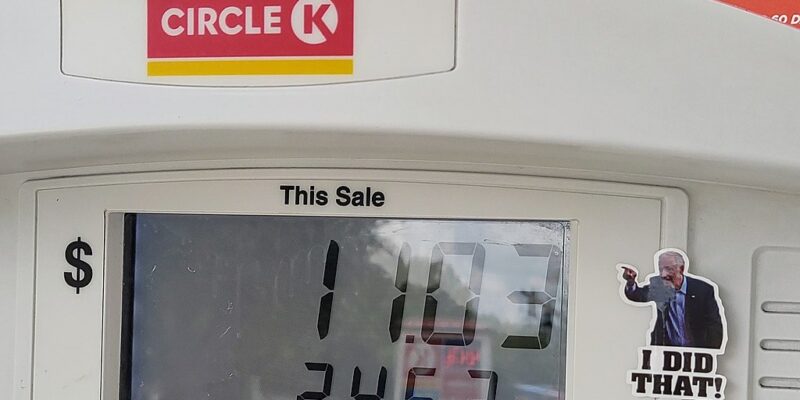 As gas prices continue to rise and his numbers continue to fall, President Biden has come up with a genius idea: the way to fight inflation is to cause more inflation. He wants to suspend the gas tax for a whopping, a ploy that will only lead to gas going higher over the long term.
How bad is this idea? Even Obama thought it was a gimmick. In 2008, while on the campaign trail, the 43rd president attacked Hillary Clinton and John McCain for proposing the same idea, saying, "I know we are debating right now about gas tax holiday. I know how brutal this is on folks. I know they need relief…Rising gas prices…But for us to suggest that 30 cents a day for 3 months is real relief. That's a real energy policy – means we are not tackling problem…We are offering gimmicks." 
Maybe he just forgot? It's been 14 years since Obama said that, and well, in the words of one Democratic strategist, "He's f—— old and everyone knows it, but no one wants to talk about it for fear of offending him or anyone around him." 
Nonetheless, Biden seems ready to forge ahead on this terrible idea. The New York Times wrote, "President Biden called on Congress on Wednesday to temporarily suspend the federal gas tax, an effort to give Americans "just a little bit of breathing room" from soaring fuel prices even as economists and lawmakers in both parties expressed skepticism that the move would make much of a difference.

During an afternoon speech, Mr. Biden asked Congress to lift the federal taxes — about 18 cents per gallon of gasoline and 24 cents per gallon of diesel — through the end of September, shortly before the fall midterm elections. The president also asked states to suspend their own gas taxes, hoping to alleviate the economic pain that has contributed to his diminishing popularity.

"I fully understand that the gas tax holiday alone is not going to fix the problem," Mr. Biden said. "But it will provide families some immediate relief. Just a little bit of breathing room as we continue working to bring down prices for the long haul."

The White House faces an uphill battle to get Congress to approve the holiday, however. While the administration and some congressional Democrats have for months discussed such a suspension, Republicans widely oppose it and have accused the administration of undermining the energy industry. Even members of Mr. Biden's own party, including Speaker Nancy Pelosi, have expressed concern that companies would absorb much of the savings, leaving little for consumers.
USA Today reported, "Revenue from the federal gas tax funds the Highway Trust Fund, which is used to pay for transportation and mass transit projects. Biden wants Congress to offset the loss of highway funds – estimated to be about $10 billion – with other federal tax revenue. With the federal government's deficit down $1.6 trillion this year, the U.S. can afford to pause the gas tax, an administration official said." 
In effect, the president wants to take taxes off gas, which we're paying attention to, and either move it to something on which the public isn't focused or pile on more debt, adding to inflation. 
I guess that's better than his previous plan to tinker with the amount of ethanol in gasoline, which "could result in irreversible engine damage" to our lawn equipment and put safety at risk. Still, I doubt it'll instill confidence in the three-quarters of the country who think we're heading in the wrong direction.
Waiving the tax could also cause more problems and raise gasoline prices over the long run. A recent study from the Wharton School at the University of Pennsylvania showed that when "states have opted to suspend their own fuel taxes in the past, sometimes prices come back higher than what they would have been had the tax-holiday never occurred."
Bloomberg explained why this is the case: "One reason waiving fuel taxes to lower prices sometimes brings the opposite effect is because cheaper gas encourages more demand, in turn driving prices higher." 
Patrick De Haan, head of petroleum analysis at GasBuddy, told the news outlet, "It could exacerbate the imbalances between supply and demand, which is one reason prices are already high. Lowering price could boost demand and constrain supply at a time prices are already high." He also noted that Americans spend about $722 million more every day on gasoline to this time last year. 
Many critics of Biden have noted that Biden may not care about the price of gasoline because it will help drive the push for "clean energy" solutions, especially since he seems willing to try everything except the obvious: increasing oil production. Fox News recently pointed out how "the Biden administration has simultaneously doubled down on its climate agenda, canceling multiple oil and gas lease sales, revoking the Keystone XL pipeline permit and begging Middle Eastern producers to boost output."
The president isn't exactly keeping his true feelings a secret. Last month, Biden praised high gas prices: "Here's the situation. And when it comes to the gas prices, we're going through an incredible transition that is taking place that, God willing, when it's over, we'll be stronger and the world will be stronger and less reliant on fossil fuels when this is over." 
Yesterday, Energy Secretary Jennifer Granholm echoed that view, telling a press conference, "As long as our nation remains overly reliant on oil and fossil fuels, we'll feel these price shocks again…the only way out…is diversifying our fuel sources by deploying clean energy."
The other solution Democrats have offered to rising gas prices is to buy electric vehicles. Last year, Transportation Secretary Pete Buttigieg "was ripped by critics Monday after he argued that more Americans should purchase electric vehicles so that they 'never have to worry about gas prices again.'"
Michigan Senator Debbie Stabenow used a similar talking point just a few weeks ago. During a committee hearing discussing the pain at the pump, she said, "I just have to say, on the issue of gas prices, after waiting for a long time to have enough chips in this country to get my electric vehicle, I drove it from Michigan to Washington, D.C. this last weekend and went by every single gas station and it didn't matter how high it was." 
Biden has also pointed to high gas prices as a reason to switch to electric. He recently said, "My mother had an expression: out of everything lousy, something good will happen. We have a chance to make a fundamental turn toward renewable energy, electric vehicles, and across the board."
The White House is doubling down on pressing Americans to purchase electric vehicles, which currently average around $55,000 and whose batteries are often made with materials produced by Chinese slave labor. Biden recently announced that he will be signing an executive order "that sets a new target of electric vehicles representing half of new vehicles sold in 2030."
Over the past few years, Democrats have been losing working-class voters, and how they've dealt with rising prices best exemplifies why. Liberals have moved from "inflation isn't happening" to "inflation is happening but too bad" to "who cares if prices are high? suck it up." A recent MSNBC guest hammered home this liberal delusion perfectly, telling host Chris Jansing, "There is a great deal of Americans where it is uncomfortable that they're spending more, but they are not gonna go under. You've got to stop complaining. You still have your job. So, I'm gonna need you to calm down and back off." 
The midterm elections for Congress are Tuesday, November 8, 2022. 
[Read More: 'Failing' Navy Pushes Wokeness On Sailors At Cost To Readiness]