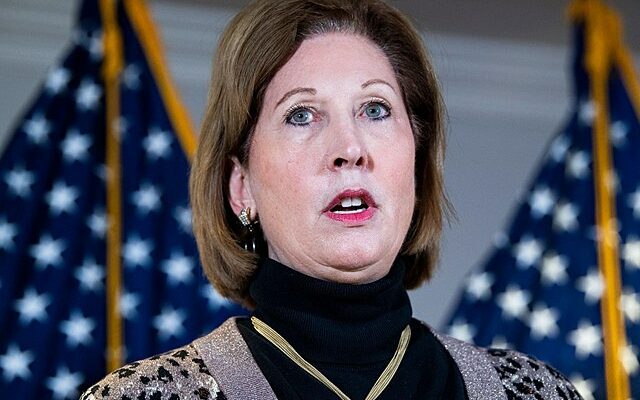 In the aftermath of the 2020 Election, Sidney Powell, a close member of Donald Trump's legal team promised to "release the Kraken," purported evidence showing that Democrats stole the election for president. Powell famously argued in favor of conspiracy theories, saying that Venezuela, Cuba or China had hacked voting systems and breaking into a computer in Coffee County, Georgia, to reveal the proof of her claim. 
The problem for her, and Trump, however, was that the "Kraken" never arrived. While the former president continues relitigating the 2020 election, the evidence has always been lacking.
In a surprise move, Powell appears to have chosen her own skin rather than going to jail for Trump. The former president's lawyer has "flipped" and will be testifying against him in court. 
Ms. Powell, 68, who appeared in a downtown Atlanta courtroom, was sentenced to six years of probation for conspiracy to commit intentional interference of election duties. That is a significantly less-severe outcome than she would have faced if found guilty of the charges for which she was originally indicted, which included a violation of the state racketeering law, writes The New York Times.

She was also fined $6,000 and agreed to pay $2,700 restitution to the state of Georgia, as well as write an apology letter to its citizens.

Prosecutors said in court that Ms. Powell had given them a recorded statement on Wednesday as part of her plea deal. She has agreed to testify against any of the 17 remaining defendants. Ms. Powell has also agreed to turn over documents in her possession related to the case.

The guilty plea was a blow to Mr. Trump, who faces the most charges of any defendant along with Rudolph W. Giuliani, his former personal lawyer. Both men face 13 counts. Significantly, it means that a member of the Trump legal team will cooperate with the prosecution as it pursues criminal convictions related to efforts to keep the former president in power after he lost the 2020 election.

Few defenders of Mr. Trump promoted election fraud theories after his 2020 defeat to Joseph R. Biden Jr. as stridently as Ms. Powell. In high-profile appearances, often alongside other members of the Trump legal team, she pushed conspiracies involving Venezuela, Cuba and China, as well as George Soros, Hugo Chávez and the Clintons, while baselessly claiming that voting machines had flipped millions of votes.
The head of Trump's "strike force" for challenging the election joins a list of other former confidants of the former president who have allegedly been testifying against him. 
Mike Roman, the director of Election Day operations for Trump's campaign spoke to Special Counsel Jack Smith's office in February, serving as a crucial aspect of the criminal investigation into attempts to change the vote in the Electoral College in 2021. 
"Roman reportedly spoke to prosecutors under what is known as a proffer agreement," New Conservative Post reported. "This means he can share information with investigators on the understanding that the statements will not be used against him in future criminal proceedings. Roman also may not have to appear before the grand jury as part of the agreement. It is unclear what precisely Roman was asked about during his meeting with prosecutors, or what information he may have provided." 
In July, former New York City Mayor Rudy Giuliani allegedly testified against Trump. After reports that he also flipped on the former president caused him to feel the wrath of the Trump clan, he strenuously denied the charge. 
"Any speculation that Mayor Rudy Giuliani 'flipped' against President Donald Trump is as false as previous lies that America's Mayor was somehow a Russian Agent," he said in an email to Salon. "In order to 'flip,' on President Trump—as so many in the anti-Trump media are fantasizing over—Mayor Giuliani would've had to commit perjury because all the information he has regarding [this] case points to President Trump's innocence." 
Powell has always been a wildcard in the Atlanta investigation. During the gathering of evidence in the defamation lawsuit between Dominion Voting Machines and Fox News, evidence came out that even Donald Trump's biggest supporters thought she was nuts. 
The New York Times published some of the messages by some of the most popular hosts at Fox News. "The hosts Tucker Carlson, Sean Hannity and Laura Ingraham, as well as others at the company, repeatedly insulted and mocked Trump advisers, including Sidney Powell and Rudolph W. Giuliani, in text messages with each other in the weeks after the election, according to a legal filing on Thursday by Dominion Voting Systems. Dominion is suing Fox for defamation in a case that poses considerable financial and reputational risk for the country's most-watched cable news network.
'Sidney Powell is lying by the way. I caught her. It's insane,' Mr. Carlson wrote to Ms. Ingraham on Nov. 18, 2020.
Ms. Ingraham responded: 'Sidney is a complete nut. No one will work with her. Ditto with Rudy.'
Mr. Carlson continued, 'Our viewers are good people and they believe it,' he added, making clear that he did not."
The documents filed in court also show just how out there Sidney Powell was following Trump's defeat in 2020. Business Insider stated that she sent Fox host Maria Bartiromo a message from a woman who claimed to be "a decapitated time-traveler" as evidence of voter fraud. 
"This was before Powell appeared on the November 8, 2020, edition of Bartiromo's Fox Business show, 'Sunday Morning Futures,' the outlet noted.
One particularly odd section deals with how the source claims to have gotten her information. It says:
'Who am I? And how do I know all of this?…I've had the strangest dreams since I was a little girl….I was internally decapitated, and yet, I live….The Wind tells me I'm a ghost, but I don't believe it.'
At another point, she described herself as being able to "time-travel in a semi-conscious state.'" 
At that marathon event, Powell repeatedly claimed that an 'algorithm' had been used to underweight Trump votes and overweight those for Biden, but that an overwhelming number of Trump votes 'broke' the formula and required another round of tampering by Trump opponents.
Three days later, Giuliani declared Powell was no longer part of the president's team, although she continued to attend Oval Office meetings and Trump repeatedly considered naming Powell as a special counsel to investigate alleged election irregularities."
None of Powell's (or Trump's) lawsuits have succeeded, but their challenges may be putting the former president in some hot water. 
Powell had been set to go to trial on Monday, along with co-defendant and former Trump campaign lawyer Kenneth Chesebro, and her 11th-hour decision to testify against Trump adds more legal problems for the former president. 
Trump has been accused of running for president in order to pay for his mounting legal bills rather than taking on Democrats. Despite focusing on his personal issues, not debating, and not traveling that much, the former president still leads challengers Ron DeSantis and Nikki Haley in national polling. 
[Read More: Former PLO Spokesperson In Charge Of Vetting Asylum Seekers]