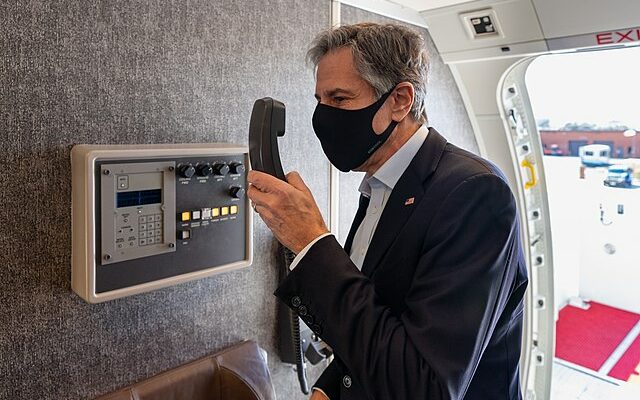 Iran's foreign minister has warned both the United States and Israel that a ground offensive in Gaza to wipe out the terrorist group Hamas would force Iran to intervene, a move that would escalate the violence in the Middle East. 
The likelihood of an Israeli ground incursion into Gaza was increasing following a sudden attack by Hamas militants on October 7th. This attack resulted in the loss of 1,300 Israeli lives, with the majority being civilians, and saw the capture of numerous hostages who were taken back to Gaza.
It's beginning to look like Iran is not "our partner in peace," after all. Who could have seen that coming? 
"We announced to the Zionist regime, through its supporters, that if it does not stop its crimes in Gaza, tomorrow will be too late," Amir-Abdollahian said in an interview with Al Jazeera during a visit to Qatar on Sunday. Iran helps provide arms and funding for Hamas, and has expressed strong support for the militant Palestinian group's actions against Israel, writes Newsweek.

The Iranian official then issued a threat directed at the U.S. "Iran cannot just watch this situation as a bystander. If the scope of the war expands, heavy losses will be inflicted on the United States," he said.

Iran has denied involvement in the attack, a sensitive matter for President Joe Biden, who tried to pursue some of the rapprochement with Tehran started by the Obama administration, in which he was vice president. U.S. and Israeli officials, while accusing Iran of having a long history of supporting Hamas militarily, financially and otherwise, have not identified any clear connection between Tehran and the Hamas attacks.

Any direct Iranian involvement would create multiple headaches for Biden, potentially widening the war in the Middle East and putting an unwelcome spotlight on his diplomacy with Iran including trying to revive a nuclear non-proliferation deal scuppered by his predecessor, former President Donald Trump, and a controversial decision to unfreeze some $6 billion of Iranian funds in a sanctions-bound bank account as part of deal to free American prisoners.
Over the weekend, Joe Biden took to "60 Minutes" to discuss the ongoing crisis in the Middle East and sounded exactly like he sounds when talking about the ongoing war in Ukraine, slightly tired and confused. 
Once a year, as the world falls apart, Biden goes on 60 Minutes to say this. pic.twitter.com/XuuhqkAh6l

— MAZE (@mazemoore) October 16, 2023
Although mumbling "don't, don't, don't" did not work against Putin, the president did at least say that the United States is preparing for every possible contingency. 
The New York Times reported that the White House has grown anxious from the saber rattling coming out of Iran. The administration worries "that Israel's enemies may seek to widen the war with Hamas by opening new fronts, a move that could compel the United States to enter the conflict directly with air and naval forces to defend its closest ally in the region.
The administration has sought to use diplomatic and military avenues to head off any expansion. The Pentagon dispatched a second aircraft carrier to the region over the weekend along with additional land-based warplanes, even as Washington sent back-channel messages to Iran through intermediaries in Qatar, Oman and China warning against escalation.
Fears of a second front deepened on Sunday as intense clashes broke out along Israel's northern border. Hezbollah, the Iranian-backed militia that controls southern Lebanon, fired missiles into Israel, and Israel responded with artillery fire and airstrikes. A full-fledged attack on the north could overwhelm Israel, as most of its forces are focused on a potential ground invasion of Gaza, in the south.
Some experts warned that such a scenario remains frighteningly possible because Israel's vulnerability was exposed by Hamas's surprise attack that killed more than 1,300 people, including at least 29 Americans. Hezbollah poses a markedly more serious threat to Israel than Hamas because of its vast arsenal of precision-guided missiles and thousands of experienced and well-trained fighters. Iran and Hezbollah may decide this is a moment of maximum opportunity to take on a wounded Israel, which is focused on recovering 150 hostages and destroying Hamas as a viable organization in Gaza."
The potential escalation comes as America learns that Biden's State Department is filled with staffers sympathetic to Iran and Hamas, from Secretary of State Antony Blinken all the way down. Although there were reports revealing that Robert Malley, Biden's former special envoy to Iran was accused of spying on the United States for that country, new investigations have shown that the White House should have expected such a betrayal. 
The New York Post reports that Malley "grew up with Palestine Liberation Organization leader Yasser Arafat as his unofficial 'godfather' and once wrote that the Israeli treatment of Arabs was 'shameful.'
Malley, who served as the Biden administration's special envoy for Iran since Jan. 2021, is now teaching at the Yale Jackson School of International Affairs at Yale University.
Before that, he served as president and CEO of the George Soros-backed International Crisis Group, a non-profit that works to prevent wars, according to its website.
In his capacity as a Middle Eastern analyst, he has regularly spoken with Hamas, and tried to normalize the US' relationship with Iran — a situation that has earned him the moniker 'Mullah Malley' among his many detractors in the Iranian opposition.
In 2008, Malley was forced to resign from the campaign of then-candidate Barack Obama after it was discovered that he was talking to officials in the Islamic Resistance Movement of Hamas — only to later return to the Obama administration as the senior director of the National Security Council and one of the main architects of the United States foreign policy in the Middle East."
The Biden administration has faced major backlash from their funding of Iran and Hamas, especially in light of the new, outspoken threats to the United States. The Hill noted that Democrats are being forced to play defense on President Biden's controversial deal to free up $6 billion in Iranian assets in exchange for the release of five American prisoners, which Republicans are now demanding be reversed after terror attacks by Hamas.
Many Senate Democrats were caught off guard when outlines of the prisoner exchange deal emerged in August, while the Senate was out of session.
Now they are scrambling to determine whether the $6 billion in Iranian funds, frozen in South Korea, can be held up pending an investigation into what involvement Iran had in supporting or greenlighting the attacks on Israeli civilians over the weekend."
The White House has insisted that the $6 billion ransom handed off to Tehran will only be used for peaceful reasons. Critics have raised concerns that state the obvious, according to US News, that "Iran could find – or could have found – a way to manipulate the system by, for example, diverting millions or even tens of millions of dollars earmarked for medical supplies to other purposes with the knowledge that it could still acquire such supplies from the pool of recently released funds.
"If you give Iran access to more money it frees up access to domestic funds for nefarious purposes," former Trump administration official Richard Goldberg, who oversaw Iran policy and became a senior adviser at the Foundation for Defense of Democracies, told The Wall Street Journal at the time the money was released.
Matthew Kroenig, a Georgetown University professor of government and foreign service, touted the premise while speaking to PolitiFact.
"If you had a large end-of-year bonus payment coming your way, might you start spending more money in the meantime? Of course. Money is fungible," he said.
Blinken more recently was made to look like a fool as he traveled to Egypt and Saudi Arabia begging them for help. The Washington Post reported that he "faced stiff resistance from the Arab world's most powerful strongmen on Sunday, trying to convince Egypt's Abdel Fatah El-Sisi and Saudi Arabian Crown Prince Mohammed bin Salman to embrace Washington's view of the Israel-Hamas conflict, despite deep public sympathies for the Palestinian cause in the respective countries.
'I heard a lot of good ideas about some of the things we need to do moving forward,' Blinken told reporters on Sunday following his meetings with the two leaders. But differences of views emerged immediately on Israel's right to wage a massive offensive in Gaza, which both Sisi and Mohammed raised concerns about.
The top U.S. diplomat is hopscotching the Middle East with the goal of convincing Arab partners to condemn Hamas's horrific assault in Israel and refrain from stoking domestic unrest in response to Israel's devastating bombing campaign in Gaza. The violence has resulted in the death of more than 1,300 Israelis and more than 2,600 Palestinians.
In Riyadh, the Saudi ruler kept Blinken waiting several hours for a meeting presumed to happen in the evening but which the crown prince only showed up for the next morning.
Once the meeting began, Mohammed 'stressed' the need to stop the military operations 'that claimed the lives of innocent people" — a reference to Israel's offensive — and lift the 'siege of Gaza' that has left the Palestinian territory without water, electricity or fuel, according to the Saudi summary of the meeting."
Hamas is allegedly holding nearly 200 hostages, hoping to leverage them to end airstrikes against their compounds. No word on whether Blinken has just offered them more money as ransom. 
[Read More: Joe Biden Facing Surprise Challenger]