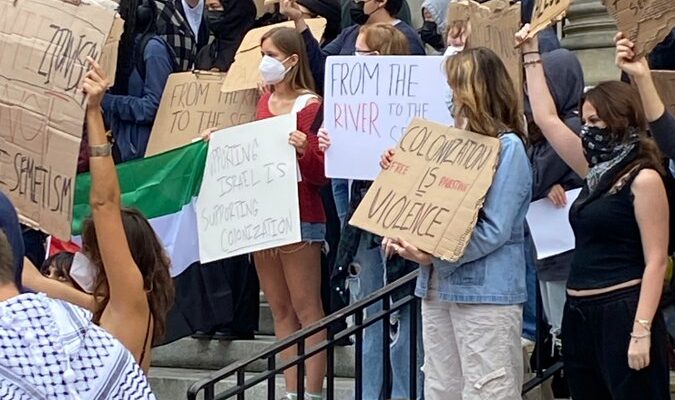 America may be on its most defensive national security stance since after the events of September 11, 2001. According to multiple reports, Hamas has declared October 13 a "global day of Jihad."
Special security fencing goes up around the Capitol ahead of "Day of Rage." pic.twitter.com/3qPyu653Lt

— Chad Pergram (@ChadPergram) October 13, 2023
On October 10, 2023, Hamas issued a statement designating the upcoming Friday, October 13, 2023, as a day of general mobilization for the "Al-Aqsa Flood" operations. In the statement, it urged Palestinians in the West Bank and within Israel to participate in large-scale rallies and confront Israeli soldiers at every opportunity, reports The Middle East Media Research Institute.

Extending its call to Palestinians, Arabs, Muslims, and advocates of freedom worldwide, Hamas exhorted them to dedicate this coming Friday as a day of unwavering support, to "expose the occupation and earn the honor of taking part in defending Al-Aqsa Mosque."

Addressing Palestinians residing within Israel, it implored them to participate in guarding duties (Ribat) within Al-Aqsa Mosque "to safeguard it, its Islamic heritage, and its divine message, and to prevent the settler gangs from desecrating it, and to thwart the fascist occupation's plans aimed at dividing and Judaizing it, and building its alleged temple… and to unite with the sons of your people in Gaza and the West Bank."

Additionally, the statement called upon Arabs, Muslims, and Palestinians in refugee camps worldwide to converge in massive gatherings near the borders of Palestine, showcasing their unwavering solidarity with Palestine, Jerusalem, and Al-Aqsa. Those living farther away from Jerusalem were urged to assemble at the nearest point leading to the city."
NBC News placed the announcement from Hamas into context: "Historically, such calls for action or for a "day of rage" have produced large demonstrations and unrest in Gaza and the West Bank. But they have not led to large-scale attacks in the U.S. in the past.
Oren Segal, the vice president of the ADL Center on Extremism, said that such calls are common in the Middle East but that now they are becoming more common here.
"Right now, we're concerned about the vulnerability of the Jewish community and the possibility of violence targeting the community," he said. "We're seeing how white supremacists online are glorifying what happened in Israel. We are also seeing organization on the left at rallies and other events who justify and celebrate that violence, as well."
Multiple law enforcement officials said they are monitoring "a lot of chatter" on social media about retaliatory attacks against Israel's counterstrikes on Gaza, which have also killed over 1,300." 
The response by American authorities has been to beef up security across the country in predominantly Jewish areas. The city of Oak Park, outside of Detroit, for example, "is stepping up its security and increasing patrols around synagogues and throughout the Jewish community in light of the Hamas terror attack on Israel.
Local officials say it's just a precautionary step.
Almost half of the community members in Oak Park identify as Jewish, so city leaders want to make sure they are safe and comfortable." 
In New York City, Jewish schools and religious centers have closed out of precaution. The New York Post reports, "The NYPD will be out in full force Friday in anticipation of possible mayhem stemming from the global 'day of Jihad' called for by Hamas' ex-chief — which has left religious centers on edge and some Jewish parents scared to bring their kids to school.
During a meeting with Jewish community leaders Thursday, Deputy Commissioner of the NYPD Intelligence and Counterterrorism Bureau, Rebecca Weiner, stressed that police were bolstering their presence out of "an abundance of caution" and that there were no credible or specific threats to the city.
Police advised religious centers to limit access to buildings, ensure doors are locked at all times, double check their security cameras and alarms are working properly, conduct perimeter sweeps, and screen any mail and packages.
All officers have been ordered to report for duty in uniform ahead of the expected protests, according to a memo circulated to all members of the NYPD Wednesday night, which noted nobody would be granted excusals or shift changes and the order would remain in effect 'until further notices.'"
The global day of Jihad will happen as calls for genocide or celebrating the attacks against Israel have occurred on several college campuses over the past two days, including advertising events that featured a drawing celebrating the paratroopers who murdered hundreds at a music festival in southern Israel over the weekend. 
Student activists at Georgetown are currently holding a vigil for the Hamas "martyrs" who savagely butchered 1,300 Israelis.

Here are some signs from that vigil, which endorse the attacks as a "tangible" step toward "decolonization." pic.twitter.com/6x1H1pw8df

— Aaron Sibarium (@aaronsibarium) October 13, 2023
#Jewish students at @UW campus witnessing pro-#Palestinian rally break down. "They want us dead, how you are allowing this?" #Hamas #Gaza pic.twitter.com/0eQqCREajZ

— Natasha Mozgovaya (@mozgovaya) October 12, 2023
UVA students call the horrific events of this weekend "an unprecedented feat for the 21st century" and "a step towards a free Palestine."

I never thought I'd see students from Charlottesville say such a thing – shame on them. https://t.co/eWtP7y87i8 pic.twitter.com/sxJhPiKyBO

— Gabriel Noronha (@GLNoronha) October 10, 2023
Joe Biden is still very focused on forgiving hundreds of billions worth of student loans. 
[Read More: Dem Called Terrorist 'Mouthpiece']