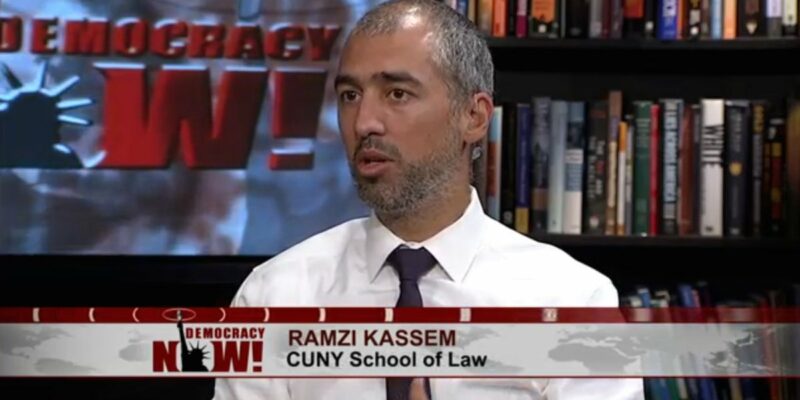 The reactions and demonstrations by several leftwing congressional leaders and Democratic allies to the despicable terrorist attack on Israelis over the weekend have been documented widely over the past few days. The shocking capture of so many levers of power within the liberal establishment, including several elite universities, is shocking, even if it was expected.
What has become more clear over the past several days, however, is that many of these radical antisemites do not view Hamas decapitating of babies or lighting Israeli holocaust survivors on fire with horror. Instead, they see it as a positive good and their chance to push support for the total destruction of Israel. 
It turns out that the people who continually called conservatives "Nazis" or talked about how much they wanted to "punch a Nazi" were the ones who ended up holding up Nazi flags in support of the largest mass slaughter of Jews since the Holocaust. 
Photo from yesterday's pro-Palestine rally in Times Square organized by the Democratic Socialists of America (DSA). Reps Ocasio-Cortez, Bush, Tlaib, and Bowman helped bring you this.

Remember this at the next election.

Also, ends the debate if Nazi are socalists or not. pic.twitter.com/XInM3YfoGO

— A. Jack Hole Esq. 🇮🇱 (@AJackHole) October 9, 2023
Yesterday, New Conservative Post reported that an Iranian spy was discovered working for the Biden administration. Today, another Biden appointee has announced that he will be funding the defense of protestors who support terrorism against Israel. 
Ramzi Kassem, a member of the president's Domestic Policy Council, in 2009 founded CLEAR, a City University of New York project that offers free legal support to New York City Muslims. CLEAR said on Sunday it would ensure pro-Hamas demonstrators are "protected" as they "continue on until Palestine is liberated," reports The Washington Free Beacon.

The guarantee of legal protection is likely to embolden those demonstrators, who flocked to Times Square on Sunday brandishing flags and signs with the slogan, "From the river to the sea, Palestine will be free," which calls for the Jewish state's eradication. The protesters were expressing solidarity with the Iran-backed terrorist group's slaughtering of Israelis. One demonstrator argued that the killings were conducted in "self defense," while another displayed a swastika on his phone. Police arrested three people for disorderly conduct, though it is not clear if Kassem's group is defending them.

CLEAR's vow to protect terrorist sympathizers reflects the Biden administration's embrace of anti-Israel activists. Biden tapped Kassem, a City University of New York professor, to serve as a policy adviser on immigration last year. Before that, Kassem defended al-Qaeda terrorists held at Guantanamo Bay and has expressed his contempt for the Jewish state, arguing in a series of 1998 articles that Israel engages in "systematic genocide" and "ethnic cleansing" and that a Jewish majority in Israel is neither "viable" nor "desirable."

Neither the White House nor CLEAR returned requests for comment. An online bio for Kassem identifies the professor as a senior policy adviser for immigration at the White House Domestic Policy Council.
The Free Beacon has been following Kassem's role in the White House since this past summer. The outlet noted at the time, "Kassem is a vocal Israel critic who spent a portion of his time as an undergrad at Columbia University writing scathing criticisms of the Jewish state, a Washington Free Beacon review found. Kassem, who helped defend terrorists held at Guantanamo Bay, charged the Jewish state with genocide and decried 'unconditional' support for Israel.
Kassem's hiring comes as the Biden administration fights the perception it is feeding Israel's opponents. A closely watched White House plan on combating anti-Semitism, for instance, was recently watered down by anti-Israel activists. The State Department admitted on Monday that it is boycotting research partnerships with certain Israeli organizations.
CUNY announced that Kassem 'will work to support the Biden-Harris agenda across a range of immigration issues" using his expertise as 'a national leader on progressive immigration reform.'" 
You will likely not be shocked to learn that on top of supporting those celebrating the murder of thousands of innocents, including children, Kassem has been busy influencing Biden's disastrous border policies and has previously argued for the abolishment of ICE altogether.
The Daily Caller reported that "Ramzi Kassem, who joined the White House in 2022 as the senior policy advisor for immigration at the Domestic Policy Council, helped produce research reports with anti-ICE groups for the City University of New York's Creating Law Enforcement Accountability & Responsibility (CLEAR), a group he founded in 2009. He and his organization directly collaborated with, and still list as partners, several groups that have pushed to scrap ICE altogether as well as defund police departments.
For example, the Marguerite Casey Foundation named Kassem a 'freedom scholar,' a position reserved for those considered to be at the "forefront of abolitionist, Black, feminist, queer, radical, and anti-colonialist studies," in 2020. The foundation's then-vice president of programs Jonathan Jayes-Green said in 2020 that "we need to abolish ICE,' arguing that this 'amoral, cruel and rotten system cannot be reformed.'
'It is clear based on their personal agendas that the senior officials in the Biden administration were hand-selected to carry out dangerous border security and immigration policies that have ultimately undermined our homeland security," House Homeland Security Committee Chairman Mark Green told the DCNF of Kassem's ties. "Putting a man who has supported such groups in such a high position of authority is incomprehensible, particularly at a time when our nation is facing significant, unprecedented national security threats.'" 
Should Kassem's work to support terrorism against Jews be connected to his radical push for open borders? It's something the White House should be asked about. 
NBC noted last month that "this year U.S. border agents have encountered a 'growing number of individuals' on the FBI's terrorist watchlist trying to enter the country via the southern border, according to the Homeland Threat Assessment released Thursday by the Department of Homeland Security. 
As of July, 160 migrants whose identities match those on the Terrorist Screening Dataset had been apprehended by Customs and Border Protection trying to cross the U.S.-Mexico border during fiscal year 2023, compared to 100 in fiscal year 2022. Fiscal years end on Sept. 30."
[Read More: Iranian Spy Found At Pentagon]