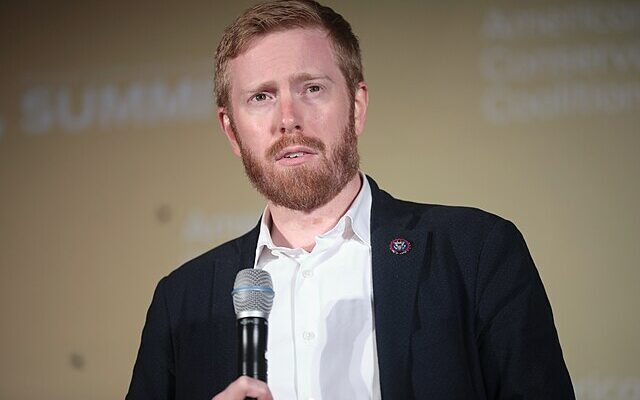 One of the biggest critics of Donald Trump in the Republican Party appears to be readying a run for higher office. Former Congressman Peter Meijer, from the west side of Michigan, voted in favor of impeaching the president in the aftermath of the mobbing of the Capitol on January 6, 2021, receiving the ire of the former president who personally worked to primary Meijer in 2022. 
While Trump was successful in ensuring Meijer lost the Republican nomination, the former president's move ended up costing the GOP a solidly "red" seat. John Gibbs, a former Trump administration official, lost the general election to a Democrat. A Democrat had not represented the area in decades. 
Now Meijer's back and he's focused on Democrats, not other Republicans. 
Meijer launched the exploratory committee earlier this week, according to a filing with the IRS, which allows him to start raising money and hire campaign staffers while he mulls a Senate bid. If he decides to run, Meijer will face a crowded GOP primary and an even tougher general election should he clinch the party's nomination, writes The Washington Examiner.

Meijer represented Michigan's 3rd Congressional District in the House after being elected in 2020 but was later ousted in the GOP primary during the midterm elections. Meijer was one of only 10 House Republicans who voted to impeach Donald Trump in 2021, prompting the former president to endorse John Gibbs, who won the GOP primary but later lost to Rep. Hillary Scholten.

If he chooses to run, Meijer would benefit from high name recognition and strong fundraising prowess. However, he would need to run in the backdrop of Trump's presidential campaign, meaning the primary could be influenced by the former president should he decide to weigh in with an endorsement against Meijer.

Stabenow announced her intent to retire earlier this year, making her the first Democratic incumbent senator to announce her retirement for the next election cycle. Her retirement opens up a seat in Michigan that the Democrat has held since 2001, giving Republicans a key pickup opportunity as Democrats seek to hold on to their slim majority next year.

Stabenow's retirement has attracted a number of Democrats vying to take her place, including Rep. Elissa Slotkin (D-MI). The race is expected to be one of the most competitive races of the 2024 cycle, according to the nonpartisan Cook Political Report.
When he left Congress, Meijer warned Republicans that "chasing after conspiracy theories" would hand Democrats a "tangible advantage" with voters.
"So much of the energy is ultimately expended down avenues that are just hamster wheels. I think that gives Democrats a tangible advantage," Meijer told Politico. "We saw that electorally, when they can at least pretend to be speaking to issues and not seem crazy, even if they are unwilling to change their policy outcomes that are not making those issues better. 
"At least rhetorically, they seem to be coming from a more reality-grounded place," he added.
Meijer has turned the page on Trump, and now has his sights on stopping the current Democrat in the White House. He told The Detroit News, "Winning in 2024 is the only way we can stop (President Joe) Biden's ruinous economic policies and mass weaponization of government. The unserious old guard establishment that left us in this mess can't be trusted to secure the border, restore our economic might to beat the CCP (Chinese Communist Party), or repair America's image abroad after Biden betrayed our Afghan allies."
"It will take someone who can't be bought and is willing to be bold, and I am considering running for Senate to do my part to get us out of this mess," he continued. 
Meijer, an Iraq veteran who served one term in the U.S. House, stood by his vote to impeach Donald Trump. He has said that he has no regets and, like former Vice President Mike Pence, has insisted that Trump "betrayed his oath of office" by the way he acted on January 6, 2021, demanding Pence prevent the Electoral College from counting votes to validate Joe Biden's presidency. 
The Detroit News noted that "if Meijer gets in the U.S. Senate race, he would give Michigan Republicans a candidate with a prominent name and the ability to raise money who could appeal to swing voters. Some in the Michigan GOP believe Meijer would be an ideal general election candidate to try to flip the Senate seat, but they've questioned whether he can survive a primary race that could be influenced by Trump, who's running for president."
[Read More: GOP Candidate Surprises Media By Going After Mitch McConnell]