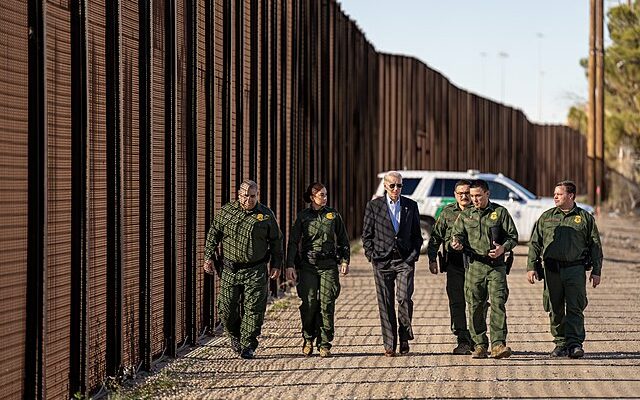 During the Trump Administration, the president created a policy for dealing with illegal immigration by forcing those caught at the border to "remain in Mexico." Implemented in January 2019 and administered by the Department of Homeland Security, the policy required migrants seeking asylum to stay in Mexico until their US immigration court date.
The policy was heavily criticized by Democrats, and Joe Biden ended Remain in Mexico upon taking over the White House. As more and more illegal immigrants have arrived in blue cities across the United States, the supporters of "sanctuary cities" proved themselves to be for "sanctuaries" in name only. 
As the Washington Free Beacon noted, for example, "In April, New York City mayor Eric Adams's (D.) administration launched a campaign to celebrate immigrants. Now, Adams says unrestrained immigration 'will destroy New York City.'
Immigrants 'contributed to our city's cultural richness and economic prosperity,' Adams said as he announced the launch of the "We Love Immigrant New York" campaign.
The mayor appears to have reversed that position, however, as hundreds of thousands of migrants this year poured across the southern border. Despite the Biden administration's claims to the contrary, the surge has continued after President Joe Biden allowed the border security measure Title 42 to lapse, with the largest number of migrants going to New York.
'This issue will destroy New York City,' Adams thundered on Wednesday. 'We're getting 10,000 migrants a month.'
'Every community in this city is going to be impacted,' the mayor warned. 'We're going to have to cut every service. … The city we knew, we're about to lose.'"
Adams has been a major critic of Joe Biden on the left, and, as New Conservative Post has reported, the president doesn't like making liberals feel discomfort in any way, even at the expense of their own terrible policies. To solve the crisis on the border, the Biden administration is considering not a return to Remain in Mexico, but instead creating a Remain in Texas. 
Yes, the president wants to put the toothpaste back in the tube and make illegal immigration a "red state" problem, so Democrats can go back to yelling, "no person is illegal!" without consequences. 
The Los Angeles Times broke news of plan, reporting that the Biden administration is considering forcing some migrant families who enter the country without authorization to remain near the border in Texas while awaiting asylum screening, effectively limiting their ability to travel within the United States, three U.S. officials told The Times.

Administration officials have been considering the idea as a way to stem recent increases in the numbers of migrant families crossing the southern border, which reportedly reached an all-time high last month. Supporters of the remain-in-Texas idea, which has yet to be finalized, hope that it would help the administration advance its goals of quickly deporting families who fail initial asylum screenings and deterring other families from crossing in the first place.

But the proposal, which recalls President Reagan's efforts to limit asylum seekers' movements in the late 1980s, is likely to draw fierce opposition from immigrant rights groups and border-state officials. Since 2022, Texas Gov. Greg Abbott, a Republican, has bused thousands of migrants out of his state to Democrat-run cities such as Los Angeles, New York and Washington, D.C.

The Biden plan would force certain migrant families to remain in Texas — or possibly other border states — by tracking their location through GPS monitoring devices, such as ankle bracelets, according to the three officials, who were not authorized to speak publicly on the matter. The families would be put through an asylum screening process to determine whether they could stay in the U.S. and proceed with their claims. Officials have discussed working with local organizations to provide housing for the families.
The administration says that keeping illegal immigrants in Texas would, according to the Times, make it easier to deport. 
Surely, this has nothing to do with the wave of protests across Democratic states that have been so panicked by a few hundred migrants joining their "pro-immigrant" communities that they have called out the National Guard or, in the case of Chicago, claimed that "Politically, having over 500 people in our community will completely wipe out any interests we have."
Chicago residents worry that migrants will eventually dilute the black vote

"Politically, having over 500 people in our community will completely wipe out any interests we have."

They will "destroy our neighborhood and silence our voices even further."
pic.twitter.com/9vSsZkQOUE

— End Wokeness (@EndWokeness) September 8, 2023
Texas Governor Greg Abbott is having none of this plan. On Thursday, according to Fox News, he promised to send "even more buses" of illegal immigrants to cities, "including Washington, D.C., if the Biden administration moved forward with a reported plan to keep migrants in Texas — just as the administration is facing pressure from left-wing officials in cities like New York City over migrant traffic.
'Biden considers forcing migrant families to remain in Texas. This scam was tried years ago & was shot down by a judge,' Abbott said on X, formerly known as Twitter. 'We will send Biden the same swift justice.'
'And, we will add even more buses of migrants to Washington D.C.,' he said.
Republicans, including Abbott, have blamed the administration's policies for the ongoing crisis. Democrats and the administration have instead called for more funding and a comprehensive immigration reform bill, which Republicans have rejected in part due to the inclusion of a pathway to citizenship for illegal immigrants already in the U.S."
 As of July, the situation at the southern border remains unstable. Border Patrol sectors have been struggling to keep up with a surge in numbers over the summer that saw around 183,000 enter the United States illegally. 
[Read More: Biden Sacrificed Kids To Leftwing Activists]