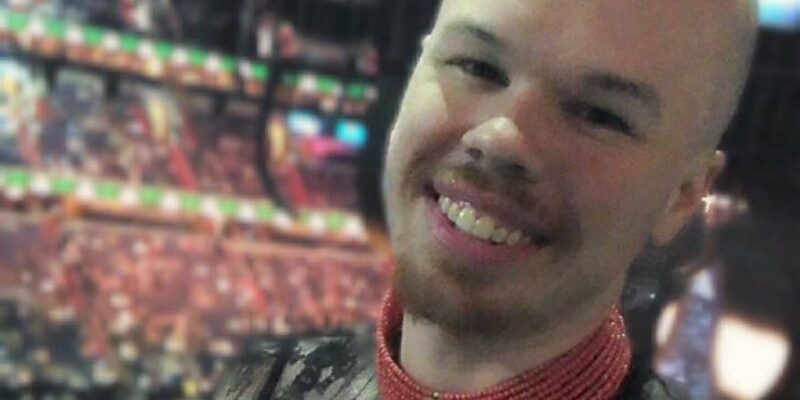 In what may undoubtedly be one of the weirder news stories of the week, Biden's first pick to lead the handling of nuclear waste, Sam Brinton, has been accused by a Tanzian fashion designer of stealing her bag at the airport and wearing her clothing at public events. 
This isn't the first time Brinton's been accused of stealing bags at the airport. The National Review wrote, "This marks the third incident of luggage theft Brinton is potentially associated with. He's alleged to have swiped bags from luggage carousels at the Minnesota and Las Vegas airports and is facing at least five years in prison in connection with the charges. Brinton had traveled to these cities from Washington, D.C., in both instances.
The former nuclear-waste official was released without bail last week and ordered not to contact any of the victims after a court appearance in Minnesota. He had previously appeared in Las Vegas court in December, being released after posting a $15,000 bond. The judge in that case warned Brinton to 'stay out of trouble.'"
This doesn't seem like the "good trouble" liberals typically talk about. 
Asya Khamsin, who has designed and hand-made her own clothing line for years, said she recently saw a report that Brinton had been charged with stealing multiple pieces of luggage across the country and noticed that the former official appeared to be wearing her clothes in several photos. Khamsin said she had packed the same clothes in a bag that vanished on March 9, 2018, at Ronald Reagan Washington National Airport.

"I saw the images. Those were my custom designs, which were lost in that bag in 2018," she told Fox News Digital in an interview. "He wore my clothes, which was stolen."

Khamsin added that she had flown to Washington, D.C., to attend an event where she was invited to put her clothing on display. However, the disappearance of her bag prevented her from participating.

Shortly after the apparent theft of her bag, she and her husband filed a police report with the Metropolitan Washington Airports Authority Police Department, but the case was never solved. They also filed a claim with Delta Air Lines, which is the airline that she used to travel from Houston to Washington, D.C.

In communications between Khamsin and Delta Air Lines officials from March 2018 shared with Fox News Digital, Khamsin pleaded for help locating her bag, saying that it contained expensive clothes, shoes, jewelry and other personal belongings.
— asyakhamsin (@asyakhamsin1) February 23, 2023
"Brinton, who identifies as "non-binary" and uses they/them pronouns, worked as deputy assistant secretary for the Office of Nuclear Energy before being sacked after two separate charges of airport luggage theft.
The Biden administration and sympathetic media outlets had previously celebrated Brinton's appointment as the first gender-fluid senior government official," The National Review continued.
Brinton's entire time at the Department of Energy was filled with controversy. In February 2022, news broke that "there were "substantial irregularities" in the Department of Energy's hiring process for a senior nuclear waste management position, an unidentified DOE employee alleged in a recent letter to the inspector general of the federal government's personnel agency.
In a Feb. 2 letter to Office of Personnel Management (OPM) Deputy Inspector General Norbert Vint, the DOE employee alleged that 'prohibited personnel practices' were utilized in selecting Sam Brinton for the position of deputy assistant secretary for spent fuel and waste disposition (NE-8) in DOE's Office of Nuclear Energy. The letter requested that OPM investigate the matter.
The employee alleged that "undue political influence and preferences were applied" at DOE to select Brinton for the position. The letter also raised concerns about Brinton's qualifications for a position in the Senior Executive Service (SES) — the class of federal career officials who rank just below top presidential appointees in seniority.
The DOE employee complained that Brinton's 'background is limited to select advocacy work and an academic background at the graduate-degree level which together satisfy requirements for the competitive placement of a qualified GS-11 in federal career service, not a high-standing member of the SES,' the employee said."
One profile of the troubled former Deputy Assistant Secretary of Energy said, "Brinton holds graduate degrees in nuclear science and engineering from MIT and undergraduate degrees in mechanical engineering and vocal music performance from Kansas State University. Brinton uses the pronouns them/they and has been an outspoken critic against conversion therapy, testifying before the United Nations against the practice. 
On Twitter, Brinton acknowledged being "welcomed with open arms" at the Department of Energy from Secretary Jennifer Granholm on down. Brinton said they are responsible for a $45 million budget and oversee a staff of hundreds."
[Read More: Senate Dems Caught In Scandal]