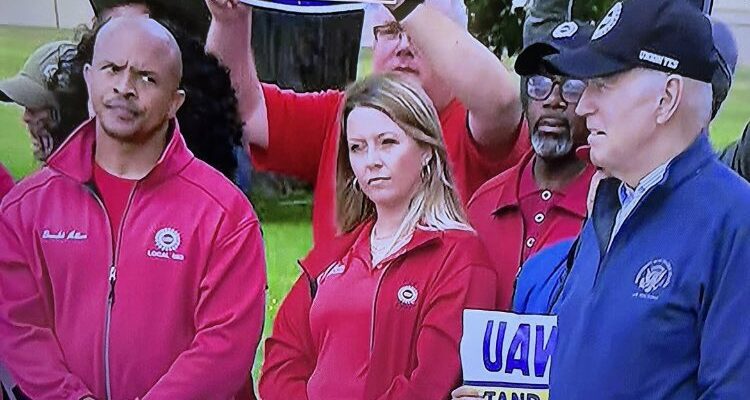 For months, Democrats and their media allies have claimed that there was "no evidence" that Joe Biden did anything corrupt when it comes to his son, and several other members of his family, receiving millions of dollars from foreign entities over the past decade. 
While anyone with eyes could easily ignore such nonsense from liberal partisans, Chairman of the House Oversight Committee James Comer has said not so fast. Here's more.  
In an exclusive report, Fox News writes that Hunter Biden received wires that originated in Beijing for more than $250,000 from Chinese business partners during the summer of 2019 — wires that listed the Delaware home of Joe Biden as the beneficiary address for the funds, Fox News Digital has learned from a congressional committee.

As part of the investigation, Comer subpoenaed financial records related to a specific bank account and received records of two wires originating from Beijing and linked to BHR Partners.

BHR Partners is a joint-venture between Hunter Biden's Rosemont Seneca and Chinese investment firm Bohai Capital. BHR Partners is a Beijing-backed private equity firm controlled by Bank of China Limited. Hunter Biden reportedly sat on the board of directors of BHR Partners.

The first wire transfer sent to Hunter Biden, dated July 26, 2019, was for $10,000 from an individual named Ms. Wang Xin. There is a Ms. Wang Xin listed on the website for BHR Partners. It is unclear if the wire came from that Wang Xin.

The second wire transfer sent to Hunter Biden, dated Aug. 2, 2019, was for $250,000 from Li Xiang Sheng — also known as Jonathan Li, the CEO of BHR Partners — and Ms. Tan Ling. The committee is trying to identify Ling's role.
The beneficiary for the wires was listed as Robert Hunter Biden and the address was 1209 Barley Mill Rd., Wilmington, Delaware. That address is President Biden's main residence. At the time that the wires were sent, Hunter was no longer living with his parents. Instead, as reporter Sarah Bedford noted, he was married and living in California. 
By the time these wires were sent in late summer 2019, Hunter Biden was married and living in California with his new wife, according to his memoir.
Not living at his dad's house. https://t.co/KU6bIECg34

— Sarah Bedford (@sarahcbedford) September 26, 2023
"The revelation is another blow to President Biden's insistence that he had no knowledge or discussion of his only surviving son's foreign business interests," explains The New York Post.
"Hunter Biden is known to have spent time living in father Joe's Wilmington home following his 2017 divorce from wife Kathleen Buhle, even falsely claiming he owned the property on a July 2018 background check form as part of a rental application.
Hunter also listed his dad's house as the billing address for his personal credit card and Apple account in 2018 and 2019, respectively."
"Bank records don't lie but President Joe Biden does. In 2020, Joe Biden told Americans that his family never received money from China. We've already proved that to be a lie earlier this year, and now we know that two wires originating from Beijing listed Joe Biden's Wilmington home as the beneficiary address when he was running for President of the United States. When Joe Biden was vice president, he spoke on the phone and had coffee with Jonathan Li in Beijing, and later wrote a college letter of recommendation for his children," said Chairman Comer.
During a presidential debate against Donald Trump, Joe angrily claimed that his son had never received funds from China. 
"Joe Biden's abuse of public office for his family's financial gain threatens our national security. What did the Bidens do with this money from Beijing? Americans demand and deserve accountability for President Biden and the First Family's corruption. The Oversight Committee, along with the Judiciary and Ways and Means Committees, will continue to follow the evidence and money to provide transparency and accountability," Comer continued.
The money was transferred to the Bidens from Jonathan Li, a business partner of Hunter whose son Joe Biden wrote a college recommendation for in 2017. In 2022, The Daily Mail wrote, "The president's letter for the son of Jonathan Li, CEO of Chinese investment firm BHR, was sent directly to the president of Brown university through FedEx, according to a chain of emails that have resurfaced." 
Evolution of a narrative:

❌Biden never discussed business with his son

❌Biden wasn't involved in business deals with his son

❌There's no evidence Biden profited from business with his son

YOU ARE HERE 👇

There's no evidence money sent to Joe Biden's house went to Biden https://t.co/jr0ccDhHdU

— Jason Howerton (@jason_howerton) September 26, 2023
Republicans have long accused Biden of serving Chinese interests and launched a House Oversight investigation upon taking a House majority in 2022. 
In a WhatsApp exchange dated from August 2017, Hunter Biden told a leader from the Chinese Energy Conglomerate connected to the ruling CCP, "If you think this is about the money it's not. The Bidens are the best I know at doing exactly what the Chairman wants from this partnership. Please let's not quibble over peanuts."
🚨BIDEN FAMILY COVER-UP🚨

In a WhatsApp exchange dated 8/3/2017, Hunter Biden tells CEFC associate Gongwen Dong, aka Kevin:

"The Biden's are the best I know at doing exactly what the Chairman wants from this [partnership]."

CEFC is a CCP-linked Chinese Energy Company. pic.twitter.com/ZzRvpMeuNn

— Oversight Committee (@GOPoversight) June 27, 2023
The next day, Hunter received $100,000. It is not clear what Hunter meant when he said that it was not about the money, but former Hunter associate, Gal Luft, who Joe Biden's Department of Justice recently indicted, claimed that the president's son had a "mole" in the FBI. He claimed that Hunter was helping China promote its Belt and Road Initiative to spread China's influence across the country. 
[Read More: Poland Wants To Try Trudeau's Favorite Nazi]