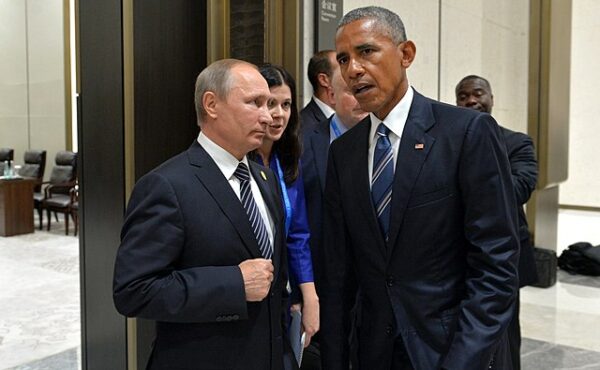 Over the past decade, the FBI has had a "Russiagate" of its own. One of the bureau's top leaders was arrested earlier in the year for working with a foreign agent, and now it looks like he's not even going to plead his innocence. 
CNN reported that "Charles McGonigal, a 22-year veteran of the FBI who retired in 2018, pleaded guilty in federal court to one count of conspiracy to violate the International Emergency Economic Powers Act (IEEPA) and money laundering, per a plea deal struck with prosecutors from the US Attorney's Office for the Southern District of New York.
The disgraced former FBI ranking official was arrested at John F. Kennedy International Airport in January and charged in two separate indictments in New York and Washington, DC, for allegedly working with the sanctioned Russian oligarch Oleg Deripaska and concealing hundreds of thousands of dollars he received from a former employee of an Albanian intelligence agency while he was a top official at the bureau. McGonigal's attorney Seth DuCharme recently indicated to a federal judge in Washington that they may resolve the Albania-related case by the end of the month."
The former head of counterintelligence for the FBI in New York pleaded guilty in federal court in Manhattan on Tuesday to a single reduced charge of conspiring to violate US sanctions and laundering payments from a prominent Russian oligarch, explained The New York Times.

The plea by the former agent, Charles F. McGonigal, represented a remarkable turn for a man who once occupied one of the most sensitive and trusted positions in the American intelligence community, placing him among the highest-ranking FBI officials ever to be convicted of a crime.

Appearing before Judge Jennifer H. Rearden of Federal District Court on Tuesday, an emotional Mr. McGonigal stood up and said that he had broken the law after his retirement in 2018 from the bureau, where he had been an expert in Russian counterintelligence, by aiding an effort by Oleg V. Deripaska, a Russian billionaire under US sanctions, to investigate a rival.

"I have understood what my actions have resulted in, and I'm deeply remorseful," Mr. McGonigal said, his voice breaking. "My actions were never intended to hurt the United States, the FBI and my family and friends."
According to Newsweek, the former head of counterintelligence for the FBI in New York "was also one of the key figures who helped trigger special counsel Robert Mueller's investigation into allegations that Trump's campaign team colluded with Russia to help the former president win the 2016 election.
McGonigal, while serving as chief of the cybercrimes section at the FBI headquarters in Washington, DC, was among the first FBI officials to be made aware of allegations that George Papadopoulos, a 2016 campaign adviser for Trump, boasted that he knew Russians had political dirt on Democrat candidate Hillary Clinton.
This information led to the FBI launching 'Crossfire Hurricane,' which would examine whether Trump officials had been coordinating 'wittingly or unwittingly" with Russia's attempts to interfere in the 2016 presidential election.
In September 2020, FBI. Deputy Assistant Director Jonathan Moffa said, during Senate Judiciary Committee questioning, he received an email in July 2016 from McGonigal about Papadopoulos that 'contained essentially that reporting, which then served as the basis for the opening of the case.'"
In 2017, McGonigal and the rest of the FBI's were relieved of their investigation by special counsel Robert Mueller as part of his comprehensive examination into the Trump campaign's ties with Russia to influence the 2016 election.
Mueller finished his nearly two-year-long investigation into the president that was instigated by McGonigal and other anti-Trump FBI agents and "submitted a report to Attorney General William Barr on Friday, March 22. Barr and Deputy Attorney General Rod Rosenstein reviewed the report over the weekend and filed a four-page summary of the report to Congress Sunday afternoon that was also released to the public.
In his letter to Congress, Barr summarizes the Mueller investigation as looking at two areas: Interference by Russia in the 2016 presidential election and obstruction of justice.
The special counsel found that Russia did interfere with the election, but 'did not find that the Trump campaign, or anyone associated with it, conspired or coordinated with the Russian government in these efforts, despite multiple efforts from Russian-affiliated individuals to assist the Trump campaign,'" noted some legal watchers.
As far as obstruction, Mueller laid out facts on both sides but did not reach a conclusion about whether the president had committed a crime. William Barr explanation letter said that "the Special Counsel states that 'while this report does not conclude that the President committed a crime, it also does not exonerate him.'"
The FBI nor Barr have said anything about glass houses, but FBI Director Chris Wray, who himself has been caught not being completely truthful to Congress, told the bureau that "the alleged criminal behavior of former FBI agent Charles McGonigal does not represent the actions of the rest of the Federal Bureau of Investigation."
[Read More: Trump Prosecutor Accused Of Colluding With Biden DOJ]