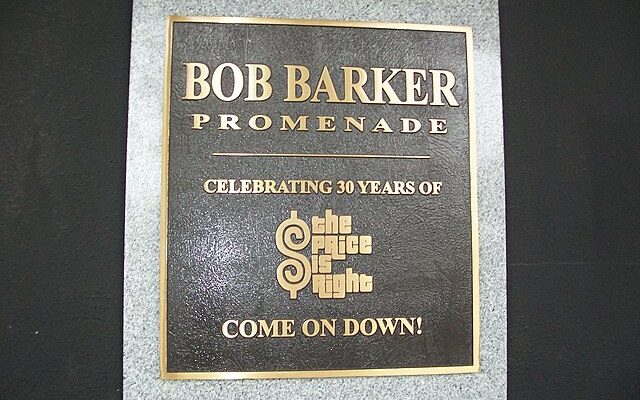 A television legend has passed away. Bob Barker, a staple on our television sets hosting "The Price is Right" died earlier today at the age of 99. 
"It is with profound sadness that we announce that the World's Greatest MC who ever lived, Bob Barker has left us," publicist Roger Neal said in a statement Saturday.
Neal served as Barker's publicist from 1987 to 1994 and again from 2020.
"When producers hired Barker to host 'The Price Is Right' in 1972, they hit the jackpot," writes NBC. "The game show had faded significantly from its glory days in the late '50s and had been punted by two networks before it landed at CBS.
But in Barker, the show found its voice, and it has continued to air a decade and a half after he retired.
Robert Thompson, the director of the Bleier Center for Television and Popular Culture at Syracuse University, said one reason Barker became an iconic game show host was the sheer length of his career. Barker spent more than half a century on TV, taking over as host of the popular 'Truth or Consequences' in 1956 and retiring from 'The Price Is Right' in 2007."
Born Dec. 12, 1923, in Darrington, Washington, Bob Barker "served in the Navy in World War II, though he never participated in combat, and later worked in radio. He moved to California to pursue broadcasting and hosted the radio program The Bob Barker Show in 1950 before his big TV hosting break with 'Truth or Consequences.'
Beyond his daytime TV stints, he served as the MC for the Miss U.S.A. and Miss Universe beauty pageants until 1987, leaving the latter when the producers refused to replace real furs for synthetic ones as finalists' prizes. He also served as an MC for the Rose Parade. In 1996 he played himself in Adam Sandler's Happy Gilmore.
He received a star on the Hollywood Walk of Fame in 1976, and was inducted into the Academy of Television Arts & Sciences Hall of Fame in 2004 and into the NAB Broadcasting Hall of Fame in 2008. He won 19 Daytime Emmys for hosting The Price Is Right, where he presided over 6,586 episodes, according to Rolling Stone.
Barker was a longtime animal rights activist and ended each episode of "The Price Is Right" with the plea: "Help control the pet population. Have your pets spayed or neutered."
People for the Ethical Treatment of Animals issued a statement on Barker's passing, writes Deadline:
"Bob's influence on the entertainment industry is indisputable, but what mattered to him most was using his voice and prominent position to protect animals. Of course, everyone is familiar with his "spay and neuter your pets" sign-off on The Price Is Right—a show where he refused to allow fur prizes—but he was also one of the first stars to go vegetarian, more than 30 years ago.
"He joined PETA in urging families to stay away from SeaWorld, demanded the closure of cruel bear pits masquerading as tourist attractions, implored Hollywood to take action to protect animals used in film and TV, and, as a Navy veteran, called for the end of military medical drills on live animals.
His generous donation allowed PETA to open its West Coast headquarters, the Bob Barker Building, in 2012, and it stands as a testament to his legacy and profound commitment to making the world a kinder place. To us—and to so many animals around the world—Bob will always be a national animal rights treasure."