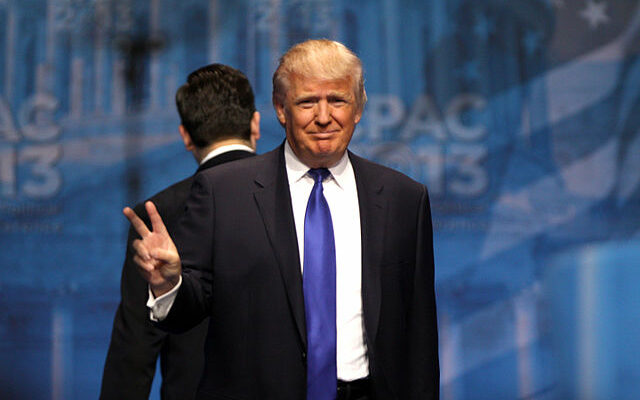 Earlier in the week, former President Donald Trump's promised a huge press conference where he would be providing direct evidence to refute the criminal indictment made against him by the Fulton County District Attorney's Office. 
The former president promised to release a report exonerating his actions following the 2020 election in typical Trump style. The press conference was scheduled just days before Fulton County District Attorney Fani Willis said Trump and his co-defendants are expected to surrender to authorities on August 25.
Now his grand reveal, however, may be off. According to reports, his lawyers are against it so he may quit pushing it.
Sources tell ABC News that Trump's legal advisers have told him that holding such a press conference with dubious claims of voter fraud will only complicate his legal problems and some of his attorneys have advised him to cancel it.

Trump announced the planned press conference with a social media post shortly after he and 18 co-defendants were indicted late Monday in Georgia. He said he would present, "A Large, Complex, Detailed but Irrefutable REPORT on the Presidential Election Fraud which took place in Georgia."

Georgia's Republican governor responded to that with his own social media post declaring, "The 2020 election in Georgia was not stolen. For nearly three years now, anyone with evidence of fraud has failed to come forward — under oath — and prove anything in a court of law."

Campaigning in Iowa, Florida Gov. Ron DeSantis said he agreed with Kemp. And so did former Vice President Mike Pence, who said on Wednesday, "The Georgia election was not stolen."
Georgia has been ground zero for Trump's fight against other Republicans as they have found themselves having to defend against the notion that their state "rigged" the election against Trump, and only Trump, in 2020 as other GOP candidates went on to garner more votes than their Democratic counterparts in that year's November election. 
After Donald Trump was indicted for the fourth time, a handful of Georgia Republicans at the heart of the case issued a sharp political rebuke of the former president. Ex-lieutenant governor Geoff Duncan argued that Republican voters should assess the damage Trump has wrought and "hit the reset button." Gov. Brian Kemp refuted Trump's false election claims and said, "The future of our country is at stake in 2024 and that must be our focus," noted The Washington Post.
They have often stood alone as Trump supporters have begun making claims that ring eerily similar to Democrat Stacy Abrams following her loss in 2018.
One prominent supporter of the former president, for example, called Governor Brian Kemp a "nazi" who "stole" the election against Abrams. (Warning Foul Language)
Yes but you stole the election from Stacy Abrams you russian nazi fuck https://t.co/vzuXWF2hZT

— Tim Pool (@Timcast) August 15, 2023
The newspaper continued: "The diverging responses were a testament to the deep and uneven divide within the GOP over the former president and his efforts to overturn the 2020 election. Much of the party has stuck by Trump, the runaway polling leader in the 2024 primary race, with many officials and politicians wary of crossing him and his enthusiastic base. As some of them try to occupy a middle ground, a smaller though vocal minority that is critical of the ex-president has persisted, forcing the party to grapple with enduring frictions over an issue many would rather not talk about in the lead-up to the next presidential election.
'There's only one position to take on what played out yesterday in the Fulton County courthouse, and that is, it's disgusting,' said Duncan, one of the last witnesses to testify before the Fulton County grand jury, in a Tuesday interview. 'To think that we are going to stand behind somebody that's in that level of trouble — times four — is ridiculous,' added the former lieutenant governor, who was one of the state officials whom Trump contacted as he urged them to take steps that would reverse his Georgia loss."
[Read More: Mark Meadows Makes His Move]