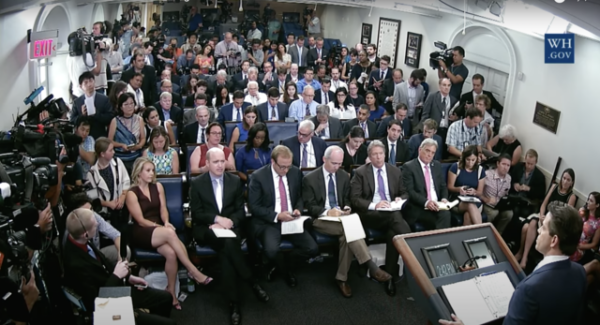 Is the media manipulating the public to try and make the 2024 election Donald Trump versus Not Joe Biden, a matchup that would likely favor the Democrats? Both David Catron and Peter Laffin think so, though they don't seem to have put two and two together yet. 
In The American Spectator Catron says he believes the media has turned on the aging incumbent Democrat, who recently joked yesterday that he was "selling state secrets." The joke fell flat because his son has been accused of selling state secrets. 
Has the mainstream media begun dreaming of President Newsom? 
Catron writes, "Something changed last week inside the Beltway that suggests the people who run the Democratic Party now realize President Biden's tenure in office is not sustainable beyond 2024. The "tell" was not, however, the latest revelation by IRS whistleblowers about his corrupt administration. It was instead the sudden awakening of the White House press corps. The same "reporters" who snored through more than two years of preposterous claims by Press Secretary Karine Jean-Pierre and her predecessor simultaneously woke up Friday. Correspondents from media outlets CNN, CBS, NBC, and even the New York Times aggressively questioned Jean-Pierre about the metastasizing Hunter Biden scandals.

This wasn't spontaneous. The word has gone out that regime change is coming. Thus, the "news" outlets that usually repeat Biden's claim that he and his son never discuss the latter's business deals actually reported the testimony of IRS whistleblowers who allege political interference in their Hunter Biden investigation. CBS, for example, ran an unusually honest story about the whistleblowers that prominently included full transcripts of their testimony before the House Ways and Means Committee. The committee released the transcripts after it was announced that Hunter Biden had agreed to plead guilty to misdemeanor tax charges. The two IRS whistleblowers testified that he committed felony tax evasion:

"One of the IRS whistleblowers was Gary Shapley, an agent who worked on the Hunter Biden probe and recently spoke exclusively with CBS News' Jim Axelrod. In his transcribed interview with the House Ways and Means Committee, Shapley told congressional investigators that the IRS' findings supported both felony and misdemeanor charges, and that charges were blocked in jurisdictions outside of Delaware, including in Washington, D.C."

There isn't the slightest possibility that CBS or any of the media outlets noted above would have run a story like this a year ago. Nor would any member of the corporate media have pressed Attorney General Merrick Garland aggressively enough for him to angrily characterize legitimate questions about the Department of Justice as "an attack on an institution that is essential to American democracy, and essential to the safety of the American people." Garland, like Karine Jean-Pierre and National Security Council spokesman John Kirby, isn't accustomed to probing questions and he clearly doesn't like answering them. It will nonetheless be difficult to avoid additional queries from a press corps that has been let off its leash.
There has been a lot of buzz surrounding California Governor Gavin Newsom and his near-constant media appearances. Recently, Newsom made headlines for his interview with Fox News' Sean Hannity. As of late, there has been growing concern within the Democratic Party regarding President Biden's age and low approval ratings, which has led some to question Newsom's motives. 
We asked last week: What does Gavin Newsom know that we don't?
Meanwhile, in The Washington Examiner, Laffin noted that the press has "turned Trump up to 11" again. 
"Democrats and their allies in the legacy media, Justice Department, and intelligence agencies had to learn the hard way that former President Donald Trump 's influence grows the more he's in the headlines. Hillary Clinton 's strategy to make the 2016 presidential election a referendum on Trump's malformed personality, punctuated by her seminal campaign ad that featured ethnically diverse toddlers watching MAGA rallies on TV (why toddlers were watching MAGA rallies on TV remains unclear), came back to bite her in the end. In the social media era, regardless of the arena, whether it be politics, entertainment, the news media, etc., the largest presence wins. Clicks, views, and follows equal "influence." And influence equals power.
In recent years, the establishment has learned to manage Trump's influence by adjusting his volume as it suits their political needs at a given moment. Since the primary season began in earnest, the Democrat machine has turned the Trump dial to 11." 
Laffin claims there are two important reasons for liberal press to push this:
"First, they know that targeting him boosts his standing within his own party, which is ideal since they view him as the most beatable Republican currently in the running for the White House. And with good reason. Despite his relatively strong polling numbers in a hypothetical general election rematch with the octogenarian incumbent, President Joe Biden, Trump is loathed by independent voters. A recent Marist poll shows that two-thirds of independents "don't want him to be president." He's doing even worse with suburban women, 70% of whom don't even want to see Trump running in the first place. It's difficult to imagine these abysmal numbers improving over the coming year since everyone on the planet already has a baked-in opinion of the man, who is perhaps the most well-known figure on Earth.
This makes it nearly impossible for him to win. Indeed, a Trump nomination presents the only conceivable path to reelection for Biden. Many, including the Washington Examiner's editor-in-chief Hugo Gurdon, suggested that the indictment of Trump in New York by Alvin Bragg worked to the mutual advantage of the Democrats and Trump by keeping him in the headlines and in the polling lead. This take has borne out in the months since, as Trump's lead ballooned at that moment and has yet to subside. Seemingly at will, the Democratic establishment has the power to boost Trump's political fortunes within his own party.
But that's not the only way Trump is uniquely useful to the opposition. Due to his boundless narcissism, poor judgment, and diminishing political acumen, Trump diverts attention away from the poor judgment and even criminality of Biden and his family. Of course, it was not a coincidence that the announcement of Trump's federal indictment by special council Jack Smith came on the same day that members of Congress were provided bombshell evidence that alleges Biden (AKA the "big guy") earned a $5 million dollar bribe to alter U.S. foreign policy as vice-president. They were holding it in their back pocket for just such an occasion."
Is the media working an angle in hopes of brushing Biden (and Kamala) aside to get a Newsom-Trump battle royale? Both men seem to hate Florida Governor Ron DeSantis. So does the media and professional "Never Trumpers."
It's a win-win-win situation for everyone involved.