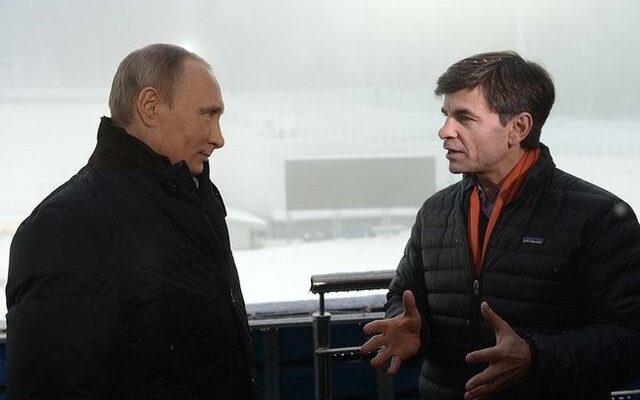 ABC's George Stephanopoulos spoke to President Donald Trump's former lawyer over the weekend and the result was a meltdown and media hypocrisy that we haven't seen since Candy Crowley interjected in a presidential debate to help Barack Obama. A former Clinton media flack, Stephanopoulos asked Jim Trusty if he believed in the principle that "no person is above the law."
The answer he got made ABC News' top host start spinning like he was back in the White House attacking critics of Bill Clinton. 
"No person is below the law, that's really the issue here," Trusty said. "You've got these investigations in Delaware that are 1,000 times more serious by a sitting president who has authorized his DOJ [Department of Justice] to try to sink the candidacy of his prime opposition while that guy has unsecured documents that he stole out of a skiff dozens of years ago. Look, we're not talking," noted The Daily Caller.

"What are you talking about?" Stephanopoulos said. "What are you talking about? That is a ridiculous statement!"

"There's this issue – nice try. There's an issue that anyone that reads any newspapers would agree is a parallel track, which is the Delaware document scandal of Joe Biden where there's a special counsel, Rob Hur, that's investigating it. You know that there were documents that were sensitive, that were marked classified, found in a garage near a Corvette, that made their way through Chinatown to the Penn Biden Center," Trusty said. "There's 1,850 boxes that have never been fully looked at at the University of Delaware."

"You have the ultimate unclean hands of a current sitting president who had no declassification, had none of the protections of President Trump, and who literally had to have stolen stuff from a skiff," Trusty alleged. "Even Dick Durbin commented about how this was an outrageous possession of classified material by Vice President – at that point – Joe Biden. So that's what we're talking about. You can scoff and act like there's nothing to it. The whole country knows the basic notion of unequal treatment and fairness. That's what's at issue with this prosecution."

"I think that is certainly what is at issue," Stephanopoulos said. "We will see how it plays out because I don't think you have any evidence to back up any of the charges you just made."
Stephanopoulos can't handle the truth from Trump lawyer Jim Trusty.pic.twitter.com/smiZhvzMpZ

— Citizen Free Press (@CitizenFreePres) June 12, 2023
Trump's two lawyers, Jim Trusty and John Rowley, met with the Department of Justice earlier in the week to try and prevent the former president from being indicted, but he failed. Biden's Department of Justice indicted the president on dozens of federal charges. 
The interview was revealing for how it blatantly shows that there is not only an apparent two-tiered legal system for Democrats versus Republicans but a media narrative, as well. Over the past few months, dozens of boxes of classified information have been seized from Joe Biden, who had been storing them in various unsecured locations. In at least once circumstance, House investigators have claimed that the president's son, Hunter Biden, revealed classified information to a Ukrainian business contact.  
Joe Biden was recently accused of accepting a $5 million bribe from a Ukrainian oligarch. 
That Stephanopoulos would feign shock shows how biased most of the media has become. While Trump may be guilty, in their minds, apparently, Democrats never are. Liberal corruption is an impossibility.
Both lawyers resigned once the indictment was announced. "It has been an honor to have spent the last year defending him, and we know he will be vindicated in his battle against the Biden Administration's partisan weaponization of the American justice system," Trusty and Rowley said in a statement. "Now that the case has been filed in Miami, this is a logical moment for us to step aside and let others carry the cases through to completion."
The two lawyers may be doing their best to save face because the charges against Trump do appear to be strong. Mediate reported, "Former President Donald Trump's Attorney General, Bill Barr, believes his old boss is in very serious trouble — if "even half" of what is laid out in the 37-count federal indictment against him is true.
In a stunning analysis of the former president's legal peril on Fox News Sunday, Barr cited and concurred with the assessment of Fox News legal contributor Andy McCarthy.
'If even half of it is true, he is toast," Barr said. "I mean, it's a very detailed indictment, and it's very, very damning.'
Barr went on to take a flamethrower to Trump's claims that he is being politically persecuted.
'This idea of presenting Trump as a victim here or a victim of a witch hunt is ridiculous,' Barr said. 'Yes, he's been a victim in the past. His adversaries have obsessively pursued him with phony claims. And I've been at his side defending against them when he is a victim. But this is much different. He's not a victim here. He was totally wrong that he had the right to have those documents. Those documents are among the most sensitive secrets that the country has. They have to be in the custody of the archivist. He had no right to maintain them and retain them.'"
Barr has previously defended the former president on "Russiagate" and called out the "flimsy" charges from leftwing Manhattan DA Alvin Bragg. 
Two up-and-coming Republicans have blasted the Trump charges, calling it proof that law enforcement goes after Republicans while letting Democrats skate. 
Relying on his history as a JAG officer, Florida Governor Ron DeSantis asked, "Is there a different standard for a Democrat secretary of state versus a former Republican president? I think there needs to be one standard of justice in this country. Let's enforce it on everybody and make sure we all know the rules."
Virginia Governor Glenn Yougkin also blasted the DOJ, calling the former president's criminal indictment as "sad" proof of the nation's "two-tiered justice system."
On Friday, Youngkin tweeted, "These charges are unprecedented and it's a sad day for our country, especially in light of what clearly appears to be a two-tiered justice system where some are selectively prosecuted, and others are not." 
"Parents in Virginia know firsthand what it's like to be targeted by politically motivated actions," Youngkin continued, weaving in a theme of parental rights that helped propel the political newcomer to the Executive Mansion and national prominence in 2021. "Regardless of your party, this undermines faith in our judicial system at exactly the time when we should be working to restore that trust," he continued.
[Read More: Ballplayer Cut For Standing Up For Religion]