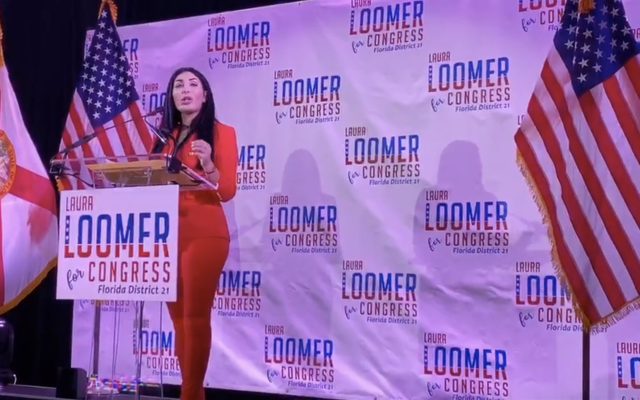 Former President Donald Trump went over a line that even his most ardent supporter, Marjorie Taylor-Greene, won't cross before he retreated and changed his mind. Earlier in the week, Maggie Haberman of the New York Times reported the news that Trump had ordered his campaign manager to find a place for Laura Loomer, a loony "conservative" activist who most recently lost a congressional race by double digits in Florida. 
The New York Times reported that "Former President Donald J. Trump recently told aides to hire Laura Loomer, a far-right and anti-Muslim activist with a history of expressing bigoted views, for a campaign role, according to four people familiar with the plans.

Mr. Trump met with Ms. Loomer recently and directed advisers to give her a role in support of his candidacy, two of the people familiar with the move said. On Tuesday, after Mr. Trump's arraignment in Manhattan, Ms. Loomer attended the former president's speech at Mar-a-Lago, his resort and residence in Palm Beach, Fla.

Some of Mr. Trump's aides were said to have concerns that such a hire would cause a backlash, given her history of inflammatory statements and her embrace of the Republican Party's fringes.

'Someone asked me, 'Are you pro-white nationalism?' Yes. I'm pro-white nationalism,' Ms. Loomer said. 'But there's a difference between white nationalism and white supremacy. Right? And a lot of liberals and left-wing globalist Marxist Jews don't understand that.' She added, 'So this country really was built as the white Judeo-Christian ethnostate, essentially. Over time, immigration and all these calls for diversity, it's starting to destroy this country.'
The Seattle Times noted that Loomer likely caught the attention of Trump's inner circle, along with the former president himself, after she began posting personal attacks on Florida Governor Ron DeSantis on social media, a likely Trump rival for the 2024 nomination. 
The newspaper wrote, "Loomer has accused DeSantis and his wife, Casey, who had breast cancer, of wanting "to play the 'cancer survivor' card to make people think they are untouchable from criticism."
On Twitter in February, Loomer posted, "Ron and Casey DeSantis are social climbers who will NEVER be Donald and Melania Trump," adding, "Ron DeSantis will never have what it takes to be ICONIC like Trump."
Loomer also organized a group of Trump supporters outside an event in Leesburg, Florida, where DeSantis was signing his new book.
'Anybody who follows me knows that I'm the person who has been independently leading the charge on opposition research, aggressively exposing damning and consequential stories about Ron DeSantis and other Trump opponents,' Loomer said Friday."
The potential move received scorn from one of Trump's most loyal congressional supporters, Marjorie Taylor Greene. 
Laura Loomer is mentally unstable and a documented liar.

She can not be trusted.

She spent months lying about me and attacking me just because I supported Kevin McCarthy for Speaker and after I had refused to endorse her last election cycle.

She loves the alleged FBI… pic.twitter.com/1D78hU59Z0

— Marjorie Taylor Greene 🇺🇸 (@mtgreenee) April 7, 2023
Greene warned Trump against hiring the far-right activist, labeling her "mentally unstable" and a "documented liar." 
"Greene, a close ally of Trump, said Loomer "loves" Nick Fuentes, another far-right activist who has made racist and antisemitic comments, according to The Hill. 
"Trump had dinner with Fuentes and rapper Ye, formerly known as Kanye West, in November at his Mar-a-Lago residence in Florida, for which he received widespread backlash. Trump has said he was not aware of Fuentes' views and did not know who he was. 
'Never hire or do business with a liar. Liars are toxic and poisonous to everything they touch. I'll make sure he knows,' Greene said, indicating that she plans to talk to Trump about it."
Fortune noted, "Loomer declined to comment to the Times about her potential new role, but expressed strong loyalty for Trump, who she said he 'likes [her] very much.'"
The formr president previously "supported Loomer's 2020 congressional campaign to represent a Palm Beach County district where Mar-A-Lago is located. 'Great going Laura,' he tweeted when she won the primary. Loomer's second congressional bid—in which she lost the Republican primary last year by a seven-point margin—was supported by Trump's longtime advisor Roger Stone."
In 2022, Republican Rep. Daniel Webster narrowly beat Loomer in the Republican primary for Florida's 11th Congressional District, winning the election with just over 51 percent. 
In the aftermath of her defeat, she refused to accept her loss and instead claimed that the election had been stolen from her by the other Republican. She said, "I'm not conceding, because I'm a winner and the reality is our Republican Party is broken to its core," Loomer told supporters in a speech following her loss. "What we have done tonight has really honestly shocked the nation. We have further exposed the corruption within our own feckless, cowardly Republican Party."
"We are losing our country to big-tech election interference," she yelled with tears streaming down her face.
She later asked that her voters in the primary to not support the Republican nominee, thus helping the Democrats and risking Nancy Pelosi having another term as Speaker of the House. She posted a message online that read, "I encourage all of my supporters and all of my voters to NOT support Daniel Webster and the establishment RNC and Big Tech voter fraud machine that is propping his feeble body up and depriving my constituents of the representation they deserve and need," Loomer wrote. She also added: "I am calling for Daniel Webster to RESIGN, because everyone knows he is beyond unfit to serve."
It's becoming more clear why Trump likes her.
[Read More: Conservative Speaker Held Hostage By Leftwingers At Public U]