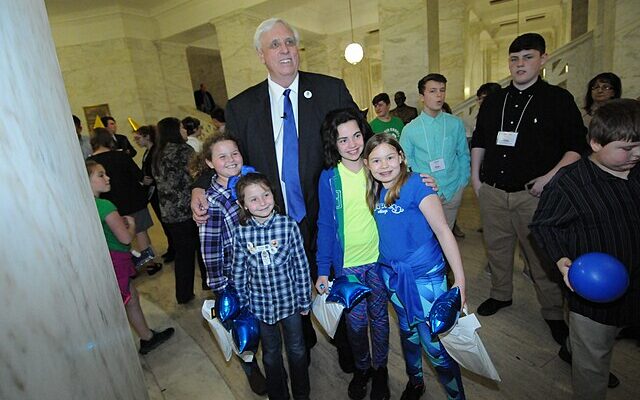 The Biden Department of Justice has shown a blatant disregard for political norms in its relentless attack on pro-lifers, but now they might be upping their undermining of democracy and directly going after Republican candidates for Senate. 
In April, Governor Jim Justice of West Virginia announced he was running for Senate in 2024, "setting up a hotly contested Republican primary in a key race in the fight for Senate control and a possible bid against Democratic Sen. Joe Manchin," reported NBC News.
"I want to tell you that tonight I am officially announcing my candidacy for the United States Senate. And I absolutely will promise you, to God above it, I will do the job, and I will do the job that will make you proud," Justice said shortly after taking the stage at a campaign rally.
NBC continued: "As a popular two-term governor who can leverage his vast personal wealth, Justice gives the GOP a formidable recruit in a state that's critical to its path to the Senate majority. Republicans see West Virginia as a top pickup opportunity in a state former President Donald Trump won by almost 40 points in 2020 — regardless of whether Manchin chooses to run for re-election."
Now that Justice has announced and is likely to win, Biden's DOJ has decided to go after some of his wealth. The Justice Department filed a lawsuit on Wednesday against Justice's coal empire for allegedly "failing to pay more than $5 million in civil penalties assessed by the Department of the Interior."
The 128-page civil action, filed against 13 of the Justice family businesses and Justice's adult son, comes as the governor, a Republican, launches a Senate bid against Sen. Joe Manchin (D-W. Va.), writes Yahoo.

The suit alleges that the businesses failed to pay fines for more than 100 violations of federal mining regulations that created "health and safety risks" or threatened "environmental harm." Justice Department attorneys are seeking a court order to force the Justice companies to repay the fines, with interest.

The bulk of the lawsuit spells out the individual violations of federal mining regulations, overseen by the Office of Surface MIning Reclamation and Enforcement. The Justice Department notes that the imposition of these penalties was "uncontested."

In addition to the 13 mining companies, the suit identifies Jay Justice, the governor's son, as the "owner, controller, and/or agent of each of the Justice Companies." Although the suit doesn't name the elder Justice, he's faced scrutiny before for the unpaid fines as well as reports that he's still maintained a firm grip on the family business.
This is not the first time Justice's coal mines have run afoul of the federal government. Fox News noted in April that a "federal appeals panel has affirmed $2.5 million in penalties against Appalachian coal mines owned by West Virginia Gov. Jim Justice over claims they violated a settlement meant to prevent pollution.
A three-judge panel of the 4th U.S. Circuit Court of Appeals in Richmond, Virginia, made the ruling Tuesday in an appeal by Southern Coal Corp. and Premium Coal Co. Inc. of a lower court's decision. The ruling also requires remediation work to be completed at mine sites.
The U.S. and several states settled and signed a consent decree with the companies in late 2016 to resolve allegations of Clean Water Act violations from Justice-owned mines in Alabama, Kentucky, Tennessee, Virginia and West Virginia. The Environmental Protection Agency had said Southern Coal didn't submit complete and timely discharge monitoring reports, made unauthorized discharges and wouldn't respond to the EPA's requests for information."
The governor, according to The Hill, is leading "incumbent Sen. Joe Manchin (D-W.Va.) by 22 points in a hypothetical U.S. Senate matchup in 2024, according to a poll released Tuesday.
Justice leads Manchin 54 percent to 32 percent, with 13 percent of respondents saying they are undecided, according to an East Carolina University Center for Survey Research poll of registered voters in West Virginia. 
Manchin, a Democrat, has not announced whether he would run for reelection in 2024 and has entertained speculation that he could instead make a bid for the White House.
In a hypothetical 2024 GOP primary matchup, Justice holds a decisive lead against Mooney, the candidate more closely aligned with former President Trump. Justice leads by 41 percentage points, with 53 percent to Mooney's 12 percent."
Justice is one of the most popular governors in the country. 
[Read More: Trump Shocks Conservatives With This Attack]