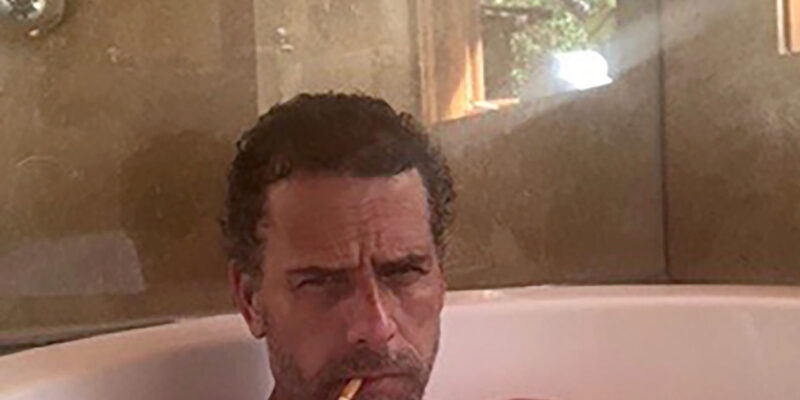 Some of the highest-ranking aids at the White House are clashing with Hunter Biden and his defense team following the announcement by the president's son last December that he intended to be more aggressive against those who think he shouldn't profit from foreign agents trying to buy influence in the United States.
Hunter decided to go on offense, suing conservatives and hosting fundraisers to pay for his legal defense team. He has gone so far as to even ask the DOJ to investigate his enemies and prosecute them.
None of that seems to be sitting well with some of Joe Biden's closest advisers who appear to have to remind the president's son that the presidency comes before him. The report stated that heavy hitters in the Democratic Party are concerned about the ethics of the president's shady son hitting their donors for the creation of a legal defense fund.
Axios reports, "The tensions led Hunter — without involving the president's top aides — to hire prominent lawyer Abbe Lowell in December, as part of a plan to take a more combative approach than the White House and Hunter's previous lawyer had taken.

Hunter's team also is moving toward creating a legal defense fund, and hiring ethics advisers for it. High-level Democrats and others are worried about the idea of the president's son soliciting money to pay for his legal troubles.

'For this fund to work, it must be extraordinarily transparent and even restrictive by prohibiting foreign citizens and registered lobbyists from contributing, Anthony Coley, the former top spokesman for the Justice Department who was senior adviser to Attorney General Merrick Garland, told Axios.

"Without these type of guardrails, the fund will be a legitimate headache for the White House."

Lowell's hiring was abrupt and unwelcome among some involved in Hunter Biden's legal matters. Hunter, 53, is facing a Justice Department investigation into his taxes and a potential gun charge, probes from House Republicans, and a child-support court case in Arkansas."
White House press liaisons have largely dodged questions about the troubled first son.
But an IRS whistleblower recently expressed concern about the handling of the Hunter criminal probe, adding pressure to Biden administration officials.
Hunter appeared in Arkansas court Monday amid a child support case that may reveal more about his finances, as he has claimed to be in debt millions of dollars and unable to make payments to Lunden Roberts, by whom he sired 4-year-old daughter Navy Joan Roberts.
Lowell told the court in Batesville, Ark., that the president's son has already forked over $750,000 in child support payments to Roberts.
Another Hunter attorney, Chris Clark, met last week with prosecutors overseeing the Delaware US attorney's inquiry into potential tax and gun offenses by the first son, though an indictment has yet to be announced.
The Axios story comes on the heels of Attorney General Merrick Garland pushing back against the accusation from an IRS whistleblower that the agency was taking it easy on the president's son over potentially charging him with tax crimes. 
His back taxes were previously paid off by a "sugar brother" who allegedly gave him $2 million to pay his back taxes. (You can do the math on how much money you'd have to have earned to owe $2 million in taxes.)
 ABC News wrote that the Attorney General "gave his first public response to an IRS supervisor-turned-whistleblower who claimed to have information for Congress about potential mishandling of the yearslong federal investigation into President Joe Biden's son Hunter Biden.
Among the allegations laid out in a letter to lawmakers last month was that the whistleblower would contradict Garland's testimony on Capitol Hill that the Hunter Biden probe has remained free from any improper political interference, sources have told ABC News.
In an unrelated news conference Tuesday morning, Garland was asked whether he stood by those previous statements.
'Yes, it's still the case I stand by my testimony, and I refer you to the U.S. attorney for the District of Delaware who is in charge of this case and capable of making any decisions that he feels are appropriate,' Garland said."
 Garland's tenure at the Department of Justice has controversial. He's been accused of labeling parents protesting at school board meetings terrorists, sending SWAT teams to the houses of pro-life activists, and under his watch, the FBI reportedly began trying to place informants into the Catholic Church. 
[Read More:Fav Liberal Supreme Court Justice All About That Cash]