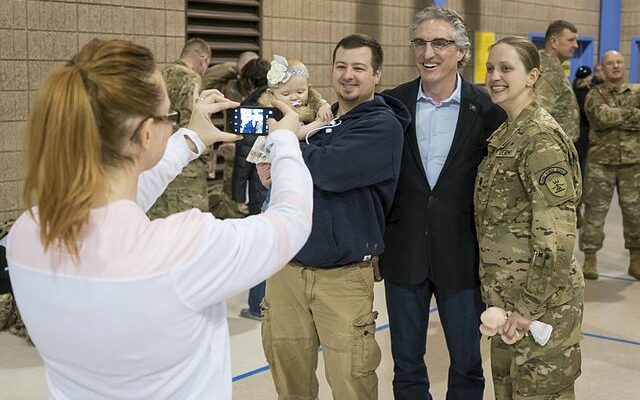 An unexpected entrant may soon be entering the GOP primary for president, and he's going to have the money to make his case for why he should be the next president of the United States. 
North Dakota Governor Doug Burgum, according to several reports, appears to be readying a campaign for the White House. The Washington Post writes, "The wealthy tech entrepreneur turned governor was first elected to his job in 2016, when he won a three-way race with nearly 77 percent of the vote. Allies of Burgum — who made a trip to Iowa in March to address Story County Republicans — point to the potential appeal of a governor with business experience who understands the ethos of the Great Plains and the Midwest.
The people familiar with Burgum's thinking spoke on the condition of anonymity to discuss private deliberations.
Burgum has not established much of a national political footprint and would face a challenge building name recognition in a prospective GOP field with more well-known candidates. Already in the race is former president Donald Trump. Florida Gov. Ron DeSantis plans to officially enter the race next week."
Burgum will pitch himself as the anti-DeSantis and anti-Trump, someone who will bring together the nation rather than fight ideological culture wars against the Democrats. 
He told his local newspaper that "he believes 60% of American voters are an exhausted "silent majority" that's been neglected as the political debate is dominated by candidates on the ideological fringes.
"All the engagement right now is occurring on the edge," he said. "There's definitely a yearning for some alternatives right now."
CBS noted that the governor has not shied away from talking about his presidential ambitions. "In a meeting with the editorial board of a North Dakota newspaper, the Republican governor, who easily won reelection in 2020, acknowledged that a presidential run has been on his mind.
He also acknowledged where he'd start in the presidential primary: "There's a value to being underestimated all the time," Burgum said, referencing the steep uphill climb he faced in his first gubernatorial race, according to the newspaper. "That's a competitive advantage."
CBS continued, "Burgum has also brandished his conservative record as governor of North Dakota, hewing to the model of another potential presidential candidate, Florida's DeSantis.
Last month, Burgum signed into law one of the strictest anti-abortion laws in the country, an abortion ban that allows limited exceptions up to six weeks' gestation, and only for medical emergencies at any other point in the pregnancy. After signing the bill, he said the legislation 'reaffirms North Dakota as a pro-life state.'
Like DeSantis, Burgum has also signed legislation to restrict transgender rights, including a transgender athlete ban, and a measure that would make it a crime to give gender-affirming care to minors."
Burgum will not have a money problem. The governor grew his small business, Great Plains Software, into a $1 billion software company that was eventually bought by Microsoft. Yahoo said that "According to his advisors, the North Dakotan stayed on as senior vice president after the corporation retained his company's workers in North Dakota. As was true of his gubernatorial campaigns, Burgum would rely on his extensive personal wealth and financial network in a presidential campaign, according to Republican sources. Financially, he'd sit at the top of the emerging Republican field with former President Trump and former biotech entrepreneur Vivek Ramaswamy as the wealthiest Republican contenders."
Burgum's potential presidential run doesn't seem so crazy to those who know him. Forbes, for example, recently said that "if Doug Burgum ran for president, he could pull the upset of the century and win in 2024. As the recent chairman of the bipartisan Western Governors Association, he is the perfect candidate to win back Arizona and Nevada, possibly even New Mexico and Colorado. I like Burgum's chances in energy rich but economically shackled Pennsylvania, too. Those states comprise a winning electoral hand.
THE BIGGER question is whether Burgum can find a lane in the 2024 Republican primary. With Trump polling at 45% and DeSantis at 30% — with all others below 5% — it's hard to see one. But the same words were spilled about Jimmy Carter in 1976, Bill Clinton in 1992, and Barack Obama in 2008.
As someone who travels around the country for business events, I have a feeling 2024 could produce a major upset. Just a feeling, but it's palpable. From my talks with leaders of businesses, large and small, the Republican primary electorate is primed to embrace a candidate like Doug Burgum, the only governor and business leader who would join the race. Most Republican primary voters are still economic voters. Most think the Republicans needs a new face. No candidate is competing for them."
Stranger things have happened. Who could have guessed in 2015 that the next president would be a former gameshow host? 
 [Read More: FBI Crosses The Line…Again]